Click here if you are having trouble viewing this message. If images are not appearing, try pausing Adblock.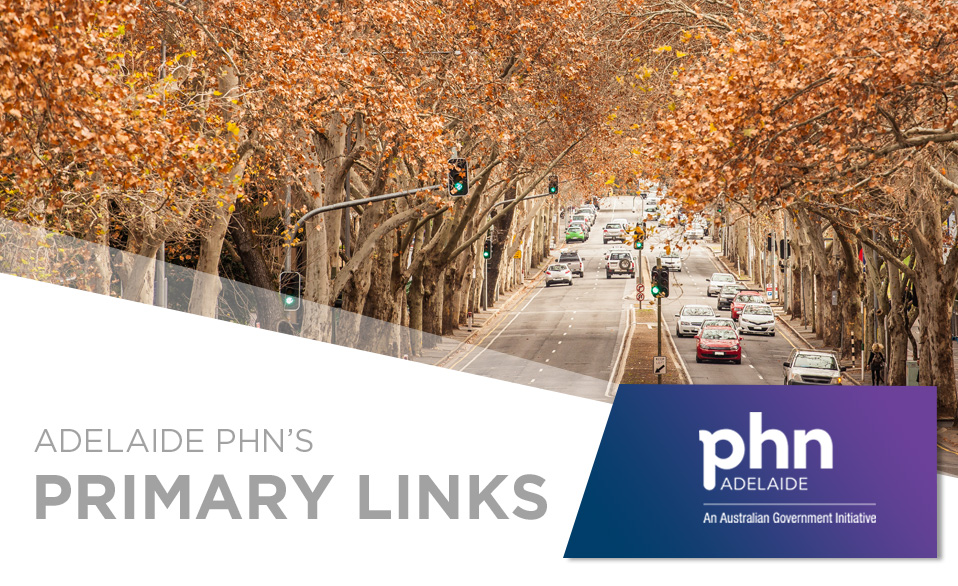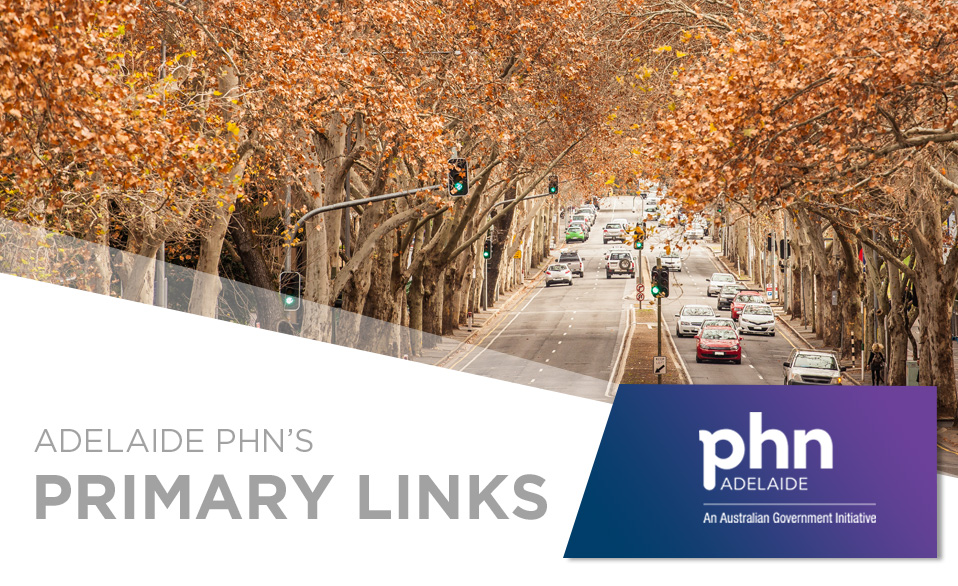 EDITION | 19 MARCH 2020
An update for primary care providers on the South Australian and Commonwealth response to COVID-19
A highlight of upcoming local professional development opportunities for primary health care providers. Find more events via our website here.
In support of the COVID-19 response, Adelaide PHN will only be promoting webinar or other online based education events for the immediate future. Please refer to our website for other training and education.
A highlight of resources to support primary health care providers. Find more Adelaide PHN resources via our website resource library here.
The Living Well with Persistent Pain program supports individuals to better understand their chronic pain & equips them with tools to improve their quality of life. This program aims to provide an accessible local service & has a focus on people who are waiting for hospital-based pain management services. 
This program runs two Adelaide locations: 
Northern region 
Phone: 8289 1222 | Fax: 8289 1255
Central western region 
Phone: 8440 5200 | Fax: 8440 5299
GPs & specialists are reminded that referral forms should be faxed to the applicable service location & not via Adelaide PHN's Central Referral Unit (CRU) fax number.
For more information about the program, please visit Adelaide PHN's website. 
The Australian Technical Advisory Group on Immunisation (ATAGI) has developed advice for immunisation providers regarding the administration of 2020 seasonal influenza vaccines, including information about: 
The influenza vaccines available for use in Australia in 2020 (by age)
Influenza virus strains included in the 2020 seasonal influenza vaccines
Timing of vaccination 
Vaccination for pregnant women 
Eligibility for influenza vaccines funded under the National Immunisation Program (NIP)
Medical conditions that are associated with an increased risk of influenza complications 
To download the clinical advice or find out more, please visit the Department of Health's website. 
The following supporting resources have also been developed by SA Health: 
Access to post exposure prophylaxis (PEP) after eligible exposure to HIV is a medical emergency. Your response to patients presenting for PEP can support them in preventing a life-long infection with HIV.
A brief online training module has been created to support health professionals to:
Increase understanding of PEP as an emergency presentation & vital HIV prevention measure 
Assist in providing patients with optimal care & support when seeking PEP in the emergency setting 
This course has been designed for medical officers, registered nurses in hospital emergency departments, & targeted primary care clinical & rural sites that hold PEP starter packs in SA.
To access the training module, please visit the SHINE SA website.
Join local GP Clinical Editor, Dr Katrina Couchman, in a new HealthPathways SA video as she provides examples on how this resource can be used in consultation with patients.
The video includes an outline of pathway elements (assessment & referral), pathway development & feedback. Explore case examples, referral options & both patient & provider resources. 
HealthPathways is an online portal providing GPs & other health professionals with easy access to comprehensive, evidence-based assessment, management, service & referral information. 
To find out more about HealthPathways or to register for a login, please visit the HealthPathways website.
A highlight of news relating to the delivery of primary health care in Adelaide. Find more Adelaide PHN announcements via our website here
Cyber attackers are using heightened public interest in the COVID-19 pandemic as a 'hook' to help spread malware by including recipients to click on malicious links or open malicious files. 
COVID-19 themed emails & SMS messages are being distributed, giving malicious links an authentic appearance.
For more information & to see what you can do to stay safe, please visit the Stay Smart Online website.
Engage with Adelaide PHN
8219 5900  |  enquiry@adelaidephn.com.au  |  adelaidephn.com.au 
Do you want to receive Adelaide PHN Communications? You can subscribe here.
Want to submit content to Primary Links? Please email comms@adelaidephn.com.au.
If you would like to adjust, or stop the communications you receive from Adelaide PHN, you can unsubscribe or change your preferences here.
Adelaide PHN distributes Primary Links to provide beneficial and relevant information. The content is sourced from credible organisations, but please note we do not undertake extensive quality reviews. While the Australian Government helped fund this document, it has not reviewed the content and is not responsible for any injury, loss or damage however arising from the use of or reliance on the information provided herein.
Adelaide PHN acknowledges the Kaurna peoples who are the Traditional Custodians of the Adelaide Region. We pay tribute to their physical and spiritual connection to land, waters and community, enduring now as it has been throughout time. We pay respect to them, their culture and to Elders past and present.