Click here if you are having trouble viewing this message. If images are not appearing, try pausing Adblock.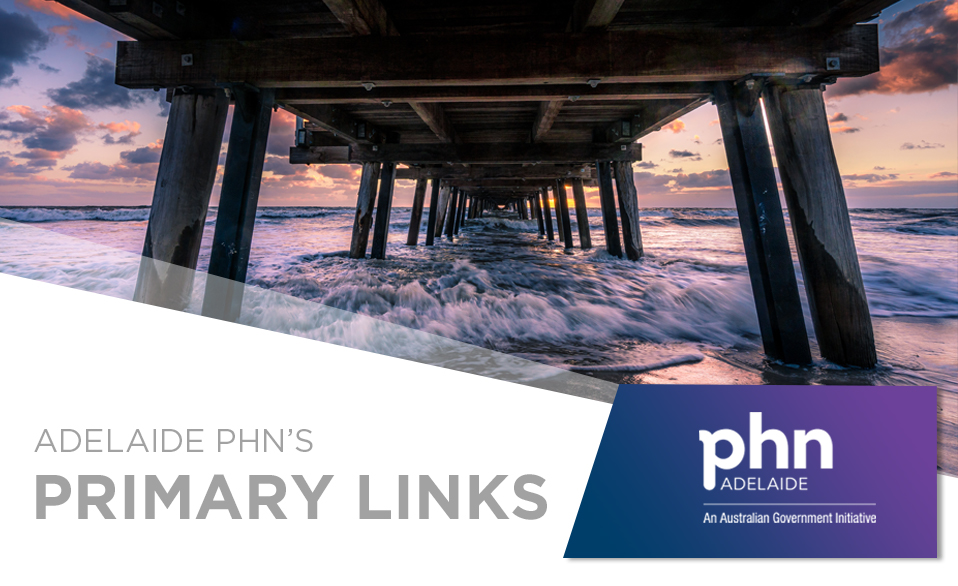 EDITION | 14 MAY 2020
A highlight of upcoming local professional development opportunities for primary health care providers. Find more events via our website here.
A highlight of resources to support primary health care providers. Find more Adelaide PHN resources via our website resource library here.
Adelaide PHN has developed the 'Quick Guide to Telehealth' patient resource that can be used by GPs, nurses & other providers who are offering telehealth services to their patients. 
The resource summarises what patients can expect, provides tips for preparing & includes a notes page for use during a telehealth appointment. Providers are encouraged to offer the resource to their patients in the lead up to an appointment.
Download the resource here or find a copy at adelaidephn.com.au/resources.
With 1 in 2 Australians living with chronic disease, there's no better time to upskill in chronic disease management & healthy ageing. APNA's new 12 month program is designed for nurses by nurses in primary health care & includes:
An online workshop worth up to 6 CPD hours 
Comprehensive self-assessment 
A huge suite of online learning 
Community of practice & nurse support 
Places are limited. Applications close 7 June 2020. 
For more information & to register, please visit APNA's website. 
The Department of Health currently have a range resources available to provide information about getting vaccinated against influenza in 2020, including:
Information on why & when to get vaccinated against influenza
Who is eligible for a free vaccine under the National Immunisation Program (NIP)
Influenza in pregnancy
Influenza vaccine safety
Resources are also available in other languages. 
For more information & to access these resources for your practice or patients, please visit the Department of Health website. 
Asthma Australia have partnered with Reed Medical Education to create Asthma in Australia: Practical Solutions for Challenges in Primary Care Accredited Learning Module (ALM). 
Based on current Australian guidelines, the ALM covers best practice diagnostic & management principles, strategies for preventative care & reducing the risk of hospitalisation, & real-world tips for making the most of your consultation time with a patient. 
Patient case studies & downloadable resources are included, as well as information on ways to tailor treatment for Aboriginal & Torres Strait Islander people & for culturally & linguistically diverse populations. 
For more information & to register, please visit the ThinkGP website.
The RACGP has launched a timely general practice public advertising campaign encouraging people to continue to consult with their GP to maintain their health during COVID-19.
The Expert Advice Matters campaign aims to cut through health misinformation to remind the community that GPs are the best source for expert medical advice. People will be encouraged to learn more about phone, online & safe in-person consultations with their usual GP. 
GPs can download campaign resources, record a selfie & help share the message that general practice is still open for business. 
For more information, visit the RACGP website.
SA Health have developed a list of local providers with supplies of Fluad Quad vaccine. 
The list includes providers who, at 7 May 2020, had Fluad Quad stock available for vaccination of those 65 years & older. Availability is a 'point in time' & cannot be guaranteed – practices are advised to call first to double check. 
Click here to download the resource or find the PDF on SA Health's website (use the main search bar & search by key word 'fluad' or the document name 'Influenza vaccine for persons 65 years & older). The list will be available to both providers & the public until Friday 22 May. 
A highlight of news relating to the delivery of primary health care in Adelaide. Find more Adelaide PHN announcements via our website here
Adelaide PHN continues to keep general practices up to date with the latest State & Federal COVID-19 information, resources available to support local primary health care delivery via our:
Our expanded PPE distribution also continues to general practices across metro region - including surgical masks, P2/N95 masks, gloves, gowns & hand sanitiser. PPE stock is from the National & State Stockpiles & the hand sanitiser has been privately sourced & funded by Adelaide PHN. Practices can request allocation of PPE via the Expressions of Interest (EOI) on our website. Those who have already received their allocation but need additional supply should complete & resubmit the relevant EOI - where available & appropriate, Adelaide PHN is supporting resupply. Find out more here. 
Adelaide PHN has established & opened three metropolitan GP-led & Commonwealth funded Respiratory Clinics across Adelaide to support the SA COVID-19 response. A fourth GP Respiratory Clinic was opened Mon 11 May and is now operating in Athelstone. Find out more here or visit adelaidephn.com.au/respiratoryclinics.
SA Health will be introducing a Secure Messaging Service to replace the use of fax machines & traditional posted mail for communications with GPs, private specialists & allied health care workers. This will allow GP clinics to receive messages & documents directly into their existing clinical software. 
Last week, Adelaide PHN sent a survey to all general practices within the metro region to assess practice's technical readiness to adopt the Secure Messaging Service.
If you haven't completed the survey, Adelaide PHN's Practice Facilitators will be in contact from Fri 15 May. If your practice didn't receive the survey or have any questions, please email digitalhealthinfo@adelaidephn.com.au.
In response to COVID-19, Central Adelaide Local Health Network (CALHN has implemented new measures to reduce the volume of patient movement through hospital Outpatient Departments (OPD) across the RAH, QEH & other services. 
See the 4 May bulletin to review details including categorisation of patients with existing appointments (delay appointment, continue with scheduled appointment, telehealth appointment) & guidelines for new patient referrals (including notice that CAT 3 referrals will no longer be seen at CALHN until further notice & an alert that CALHN will not accept any out of catchment referrals & will be returning these referrals back to GPs). 
The RACGP have released their draft Standards for General Practice Residential Aged Care (1st edition) (the Standards for GPRAC) for further consultation. 
Initial feedback was sought from members & stakeholders in late 2019 & the comments received were reviewed & incorporated (as appropriate) into the second draft.
RACGP are now seeking further member & stakeholder feedback on the Standards for GPRAC. 
For more information & access draft Standards for GPRAC, please visit the RACGP website. 
Adelaide PHN is taking part in the Push-Up Challenge to raise awareness of mental health concerns & to help keep our staff active & engaged across COVID-19 isolation. 
45% of Australians will experience mental health issues at some point in their life & this challenge is supporting our staff to practice three activities known to promote better mental health:
Exercise
Community building
Mental health education
Together, our staff teams will be completing 3,046 push-ups in 21 days to represent the number of Australian lives lost to suicide in 2018. You can track Adelaide PHN's progress (& funds raised for Adelaide metro region headspace centres). 
To find out more & get involved (or donate), please visit thepushupchallenge.com.au. 
A highlight of research and consultation opportunities for primary health care providers.

Engage with Adelaide PHN
8219 5900  |  enquiry@adelaidephn.com.au  |  adelaidephn.com.au 
Do you want to receive Adelaide PHN Communications? You can subscribe here.
Want to submit content to Primary Links? Please email comms@adelaidephn.com.au.
If you would like to adjust, or stop the communications you receive from Adelaide PHN, you can unsubscribe or change your preferences here.
Adelaide PHN distributes Primary Links to provide beneficial and relevant information. The content is sourced from credible organisations, but please note we do not undertake extensive quality reviews. While the Australian Government helped fund this document, it has not reviewed the content and is not responsible for any injury, loss or damage however arising from the use of or reliance on the information provided herein.
Adelaide PHN acknowledges the Kaurna peoples who are the Traditional Custodians of the Adelaide Region. We pay tribute to their physical and spiritual connection to land, waters and community, enduring now as it has been throughout time. We pay respect to them, their culture and to Elders past and present.