Click here if you are having trouble viewing this message. If images are not appearing, try pausing Adblock.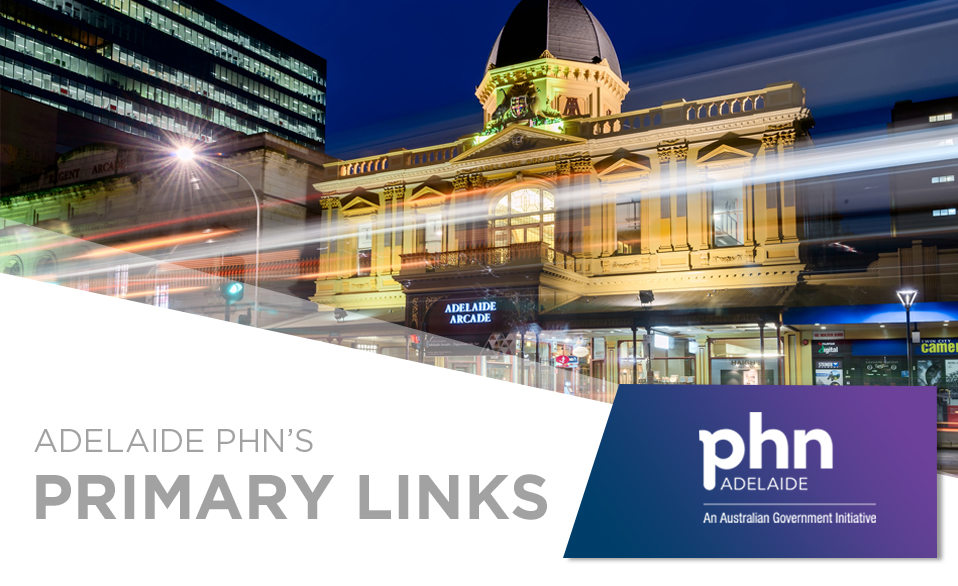 EDITION | 28 MAY 2020
Photo of Grenfell St, Adelaide CBD
A highlight of upcoming local professional development opportunities for primary health care providers. Find more events via our website here.
A highlight of resources to support primary health care providers. Find more Adelaide PHN resources via our website resource library here.
This winter season poses a serious risk for people living with COPD who are more likely to experience an exacerbation of symptoms & to contract respiratory viruses. 
To support you & your patients during this time, the Lung Foundation have launched their winter campaign 'Come Prepared'. This campaign provides tools & resources to help manage your COPD patients, keeping them as well as possible & reducing their need for emergency medical intervention this winter. 
Support prevention efforts with your patients this winter by: 
For more information, please visit the Lung Foundation website. 
The Aboriginal Health Council of South Australia (AHCSA) & SHINE SA have released a new social media campaign for health professionals that aims to raise awareness of syphilis screening & treatment during COVID-19. 
While we deal with the pandemic, the syphilis outbreak in SA continues. It's essential that we continue to test, treat, cure & notify partners during this time. 
To help support this campaign & reinforce key messages around syphilis prevention & treatment, SHINE SA have developed a range of social media tiles & posters to download. 
To access the resources & find out more, please visit the SHINE SA website.
A highlight of news relating to the delivery of primary health care in Adelaide. Find more Adelaide PHN announcements via our website here
Adelaide PHN continues to keep general practices up to date with the latest State & Federal COVID-19 information, resources available to support local primary health care delivery via our:
We continue to distribute PPE to general practices across metro region, though we note that as commercial supplies become more readily available, the range & availability of various PPE supply through Adelaide PHN will change. We are currently distributing surgical masks, P2/N95 masks & hand sanitiser. PPE stock is from the National & State Stockpiles & the hand sanitiser has been privately sourced & funded by Adelaide PHN. Practices can request (& re-request) PPE allocation via the Expressions of Interest (EOI) on our website.- find out more here. 
Adelaide PHN has established & opened four metropolitan GP-led & Commonwealth funded Respiratory Clinics across Adelaide to support the SA COVID-19 response. Anyone with respiratory symptoms (even if very mild) can book an appointment online or over the phone. Details at adelaidephn.com.au/respiratoryclinics.
Adelaide PHN will soon be inviting applicants from suitably qualified & experienced organisations to deliver the Continuity of Service (CoS) Program & will be holding a Pre-Tender Briefing to provide more information & support potential providers in preparing their application. 
This program will provide psychosocial support activities for clients who previously accessed support under Partners in Recovery (PIR), Support for Day to Day Living in the Community (D2DL) & Personal Helpers and Mentors (PHaMs) & who have been found ineligible for the National Disability Insurance Scheme (NDIS).
The Pre-Tender Briefing will be held on Monday 1 June 2020.
We encourage all interested applicants to register to receive alerts via Adelaide PHN's Tenderlink portal. 
To find out more & to register for the briefing, please see Adelaide PHN's announcement.
SA Health have released a health alert (20 May) to notify providers that screening for Carbapenemase-Producing Enterobacterales (CPE) is no longer required for direct patient transfers from Flinders Medical Centre (FMC) to health care or residential care facilities. 
Until recently, all such adult patients who spent >24 hours at FMC were recommended CPE screening. This recommendation followed a cluster of CPE cases identified at FMC (18 confirmed) last year. With no such cases since November 2019, screening of these patients is no longer required. 
Doctors are reminded that all confirmed/suspected CPE cases should still be notified to CDCB within three days of receiving information from the laboratory. 
See the current health alert for further information & management advice. 
The Australian Digital Health Agency (ADHA) has fast tracked the introduction of the electronic prescribing token system. This system is being progressively rolled out from the end of May & uses a unique QR barcode (known as a 'token') sent via an app (if the patient has access), SMS or email. Whilst the 'token' is not a legal prescription, it can be used by an authorised pharmacy to unlock the legal prescription.
Before prescribing in this way, it is important to understand what your practice or pharmacy needs to do to get prepared in terms of workflows, systems and supporting patients. 
For more information on electronic prescribing, including the technical requirements of getting started, visit the ADHA website. Specific information for dispensers is available here, and prescribers here. Contact the ADHA via: digitalhealthinfo@adelaidephn.com.au.
While immunisation providers have needed to adapt their environments to reduce the transmission of COVID-19, it is important to maintain routine immunisation services & ensure on-time vaccination according to the current recommended schedules.
Standard infection control precautions should be observed by all & providers should maintain social distancing during the pre & post vaccination period, momentarily entering the 1.5 metre space for the administration for the vaccine(s) only. 
For more information, please visit the Department of Health website. 
A highlight of research and consultation opportunities for primary health care providers.

Engage with Adelaide PHN
8219 5900  |  enquiry@adelaidephn.com.au  |  adelaidephn.com.au 
Do you want to receive Adelaide PHN Communications? You can subscribe here.
Want to submit content to Primary Links? Please email comms@adelaidephn.com.au.
If you would like to adjust, or stop the communications you receive from Adelaide PHN, you can unsubscribe or change your preferences here.
Adelaide PHN distributes Primary Links to provide beneficial and relevant information. The content is sourced from credible organisations, but please note we do not undertake extensive quality reviews. While the Australian Government helped fund this document, it has not reviewed the content and is not responsible for any injury, loss or damage however arising from the use of or reliance on the information provided herein.
Adelaide PHN acknowledges the Kaurna peoples who are the Traditional Custodians of the Adelaide Region. We pay tribute to their physical and spiritual connection to land, waters and community, enduring now as it has been throughout time. We pay respect to them, their culture and to Elders past and present.