Click here if you are having trouble viewing this message. If images are not appearing, try pausing Adblock.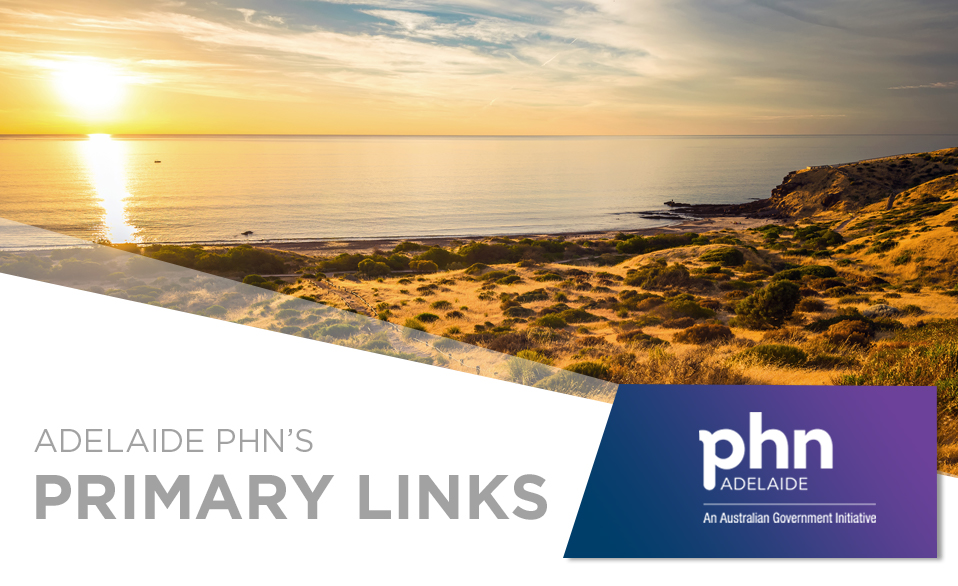 EDITION | 11 JUNE 2020
Photo of Hallett Cove, Adelaide South
A highlight of upcoming local professional development opportunities for primary health care providers. Find more events via our website here.
A highlight of resources to support primary health care providers. Find more Adelaide PHN resources via our website resource library here.
SA Health is undertaking a project to implement Secure Messaging (SM), which will replace fax & hard copy correspondence with secure, digitised options such as electronic referrals & discharge summaries. 
Once implemented, SA Health will request their provider partners to cease using fax & hard copy options, & transition to SM. The Northern Adelaide Local Health Network (NALHN), will pilot the project towards the end of 2020. A state-wide roll out will then follow in a staged approach. 
By completing the self assessment questionnaire, you will be able to gather supporting information & allow SA Health to provide site specific assistance if required. 
A 12-month trial of a state-wide palliative care support line is underway & has been established to provide assistance to GPs, palliative care teams, medical & nursing staff. 
This new phone line will provide support for clinicians with a palliative care caseload who require advice for their patients from a Palliative Care Consultant. The trial aims to expand community access to more timely palliative treatment services, optimise patient care & reduce hospital admissions for symptom management.
Clinicians can call the state-wide palliative care support line 24/7 on 1300 673 122. Find out more via SA Health's website.
Provision of contraception is an essential service & it is important to ensure that access is maintained during the COVID-19 pandemic.  
In Shine SA's Sexual Health Matters Clinical Podcast, Dr Amy Moten & Dr Jessica Floreani discuss the importance of facilitating contraceptive consultations throughout COVID-19 & offer practical suggestions for utilising telehealth consultations. Guidance is given in regard to a variety of contraceptive methods including assessment & provision of the oral contraceptive pill, emergency contraception, & special COVID-19 recommendations on extended use of long acting contraception (LARC).
Adelaide PHN is proud to be supporting the Breakthrough Mental Health Research Foundation for the 2020 #CrazySocks4Docs campaign. 
June is the time to shine a spotlight & raise awareness of the mental health issues experienced by our doctors. You can help by purchasing crazy socks, taking part in the 'Walk the Block in Your Socks' fundraising challenge (during the last week of June) or simply sharing the campaign with the hashtag #Crazysocks4docs on social media. 
To find out more, please visit the CrazySocks4Docs website.
A highlight of news relating to the delivery of primary health care in Adelaide. Find more Adelaide PHN announcements via our website here
A case of congenital syphilis in SA has triggered a sentinel public health event, indicating that quality of preventive &/or therapeutic medical care may require improvement. 
In April 2020 an Aboriginal woman presenting for her first antenatal visit at 22 weeks was diagnosed with infectious syphilis & despite treatment delivered a child with congenital syphilis one week later.
This follows multiple health alerts released about a multi-jurisdictional outbreak of infectious syphilis affecting rural & remote Aboriginal communities. What started in Nov 2016 as an outbreak extending into the Far North & Western regions of the state then spread to metro Adelaide in 2018. 111 outbreak cases have been notified. 
Providers are urged to visit the health alert to review recommendations & support the response.
Adelaide PHN continues to keep general practices up to date with the latest State & Federal COVID-19 information and resources available to support local primary health care delivery via our:
We continue to distribute PPE to general practices across metro region, though we note that as commercial supplies become more readily available, the range & availability of various PPE supply through Adelaide PHN will change. We are currently distributing surgical masks, P2/N95 masks & hand sanitiser. PPE stock is from the National & State Medical Stockpiles & the hand sanitiser has been privately sourced & funded by Adelaide PHN. Practices can request (& re-request) PPE allocation via the Expressions of Interest (EOI) on our website.- find out more here. 
Adelaide PHN has established & opened four metropolitan GP-led & Commonwealth funded Respiratory Clinics across Adelaide to support the SA COVID-19 response. Anyone with respiratory symptoms (even if very mild) can book an appointment online or over the phone. Details at adelaidephn.com.au/respiratoryclinics.
The long awaited Iron Deficiency in Adults Pathway now available via the HealthPathways portal. 
Iron deficiency is a common GP presentation with multiple causes. GPs play a pivotal role in the identification, diagnosis & management of patients with (or at risk of) anaemia & iron deficiency.
To assist in determining the most appropriate treatment path for patients, the HealthPathways SA team & a panel of subject matter experts from BloodSafeSA have collaboratively developed the pathway as a dynamic reference tool for GPs. 
To find out more or to register for a login, please visit the HealthPathways website.
Adelaide PHN would like to advise practices of the following updates: 
PIP QI
Practices with an existing PIP QI data exemption in place will now have until 15 October 2020 to submit their PIP Eligible Data Set to Adelaide PHN. Should practices have any concerns about meeting this date, they must contact the Department by 30 September 2020. 
To access recently released guidance materials, please visit The Department of Health's website.
PenCS licensing 
PenCS is continuing to be the required method for data submission to Adelaide PHN.
Adelaide PHN will continue to offer free PenCS licensing for practices that agree to share full de-identified data set to Adelaide PHN. Practices that wish to only share the 10 PIP QI measures will need to contact PenCS to arrange to purchase a licence for their practice.
If your practice has a current PenCS licence that has been supplied by Adelaide PHN, our team will contact you shortly about contracts for the new financial year.
For more information, please contact your practice facilitator via email at practicesupport@adelaidephn.com.au. 
To help Australian's respond to the COVID-19 pandemic, NBN is providing up to $50 million to assist phone & internet providers to support small to medium business, as well emergency services organisation, essential services organisations & telehealth providers. 
For more information, including FAQs, please visit the nbn website.
Applications for APNA's Transition to Practice Program - a 12 month education, support & mentoring program for nurses new to primary health care - has been extended. 
APNA are looking for:
Nurses who are new to primary health care, both recently graduated & experienced nurses 
Engaged, motivated & committed nurses with 4+ years' experience in primary health care to become clinical & professional mentors. Remuneration is provided to complete training & work with mentees. 
Applications now close COB Fri 19 June 2020. 
If you know a nurse who might be interested in transitioning to primary health care, please let them know about this opportunity. For more information & to apply, please visit the APNA website.
A highlight of research and consultation opportunities for primary health care providers.

Engage with Adelaide PHN
8219 5900  |  enquiry@adelaidephn.com.au  |  adelaidephn.com.au 
Do you want to receive Adelaide PHN Communications? You can subscribe here.
Want to submit content to Primary Links? Please email comms@adelaidephn.com.au.
If you would like to adjust, or stop the communications you receive from Adelaide PHN, you can unsubscribe or change your preferences here.
Adelaide PHN distributes Primary Links to provide beneficial and relevant information. The content is sourced from credible organisations, but please note we do not undertake extensive quality reviews. While the Australian Government helped fund this document, it has not reviewed the content and is not responsible for any injury, loss or damage however arising from the use of or reliance on the information provided herein.
Adelaide PHN acknowledges the Kaurna peoples who are the Traditional Custodians of the Adelaide Region. We pay tribute to their physical and spiritual connection to land, waters and community, enduring now as it has been throughout time. We pay respect to them, their culture and to Elders past and present.