Click here if you are having trouble viewing this message. If images are not appearing, try pausing Adblock.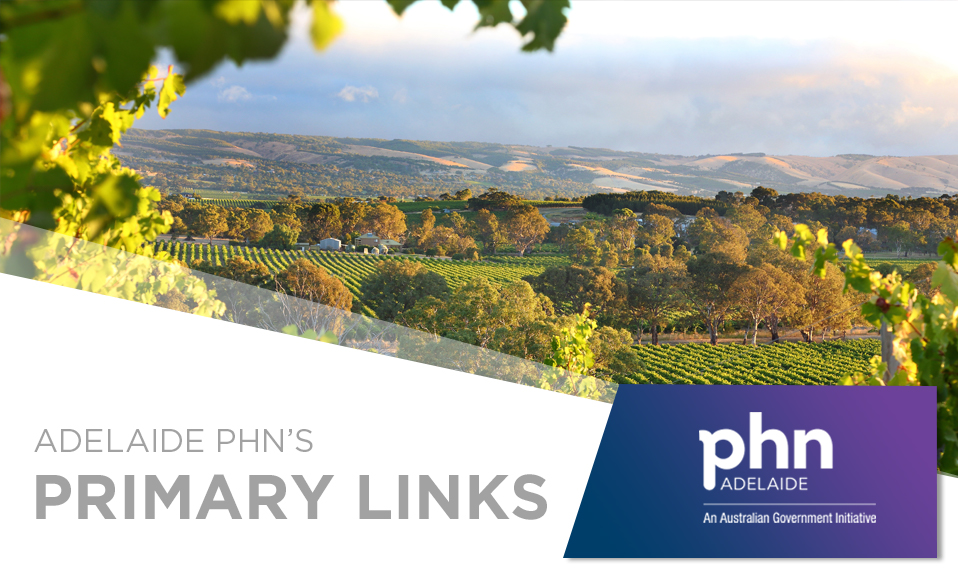 EDITION | 25 JUNE 2020
Photo of McLaren Vale, Adelaide South
A highlight of upcoming local professional development opportunities for primary health care providers. Find more events via our website here.
A highlight of resources to support primary health care providers. Find more Adelaide PHN resources via our website resource library here.
Adelaide PHN is pleased to release Kite Support - a wellbeing support app for anyone working in primary health care across metropolitan Adelaide. Created by mental health & training experts, this app is designed to help you develop resilience & take care of your wellbeing as part of your professional development. 
Adelaide PHN is providing free access in acknowledgment of the challenging work environments facing the primary health care workforce. 
To try Kite Support for yourself - contact your practice facilitator & request registration, or email practicesupport@adelaidephn.com.au. The team will need an email address (functions as your username) & to verify you work within metropolitan Adelaide. 
For more information, please click here.
As a result of COVID-19, many general practices have experienced a reduction in patient attendance. As patients may be hesitant to initiate appointments themselves & in acknowledgment that ongoing chronic disease management is critical to supporting better health outcomes, Adelaide PHN has developed a resource to guide practices through an approach to patient re-engagement. 
The resource includes promotion of two FREE resources available to support patient identification using your practice software, & details relevant billing codes practices can utilise as part of patient re-engagement.  
Download the resource directly here, or find via Adelaide PHN's online resource library adelaidephn.com.au/resources
Electronic prescription legislation has passed in South Australia. These amendments to the Controlled Substances (Poisons) Regulations 2011 now recognise electronic prescriptions. See the SA Health factsheet for more information.
Before prescribing in this way, it is important to understand what your practice or pharmacy needs to do to get prepared in terms of workflows, systems & supporting patients. 
Visit the ADHA website for more information, including technical requirements of getting started & specific information for dispensers & prescribers.
Alternatively, please get in touch with Adelaide PHN's digital health team via email: digitalhealthinfo@adelaidephn.com.au 
Looking for reliable information for your patients regarding AOD but don't know where to start? The Alcohol & Drug Foundation (ADF) support the Drug Information Directory (DID) - a searchable directory for research & information on AOD. The directory includes a collection of websites formally reviewed & rated out of 5 stars by the ADF.
Search the directory to find ratings, reviews & summaries of websites related to drugs & alcohol, mental health & health promotion. DID is particularly useful for stakeholders who operate in the AOD, health promotion, social work & research space.adf.org.au/resources/drug-information-directory/
APNA have developed a new guide to making the most of the nurse role during COVID-19 'why general practice needs nurses more than ever'. It shows how nurses attract revenue streams that will sustain practices today & into the future.
The guide has been endorsed the Royal Australian College of General Practitioners (RACGP), the Australian College of Rural & Remote Medicine (ACRRM), the Australian Association of Practice Management (AAPM) & the Australian Primary Health Care Nurses Association (APNA). 
Funded by Adelaide PHN, PANDA's Intensive Care Coordination Program offers free telephone based care coordination, proactive support, counselling & service navigation for expecting & new parents who might be otherwise unable to engage with universal or specialist services. 
The program is designed to support people who:
Are pregnant or a new parent (men & women) with an infant under 1 year

Are experiencing significant mental health decline or existing mental health diagnosis or psychosocial complexity that impacts on capacity to care for self & infant

Would benefit from care coordination to ensure connection with generalist & specialist services
General practice or others can refer individuals/families via: 
Central Referral Unit (CRU) 
Secure Messaging: ReferralNet or Argus 
Name: Central Referral Unit | URN: refnet:CRU 
Fax: 1300 580 249  
Or community organisations wanting to refer or individuals wanting to self refer can complete PANDA's online referral form & follow the prompts.
For more information, please visit the PANDA website.
The Central Adelaide Local Health Network (CALHN) Burns Unit at the Royal Adelaide Hospital (RAH) is renowned for their treatment of burns & introducing innovative, world-first procedures to South Australia. 
In support of Burns Awareness Month, the team have revised their Burns First Aid book that is specific to adult burn management, covering topics such as:
Emergency management of various burns
Resources available through the RAH
Criteria for Burn Unit referral at the RAH.
For more information about the Adult Burns Service, or to download the revised manual, please visit the RAH website.
A highlight of news relating to the delivery of primary health care in Adelaide. Find more Adelaide PHN announcements via our website here
Adelaide PHN invites proposals from qualified & experienced organisations to deliver the Living Well With Persistent Pain (LWwPP) Program - North. This program has been successfully delivered by general practice teams across the metropolitan region, & we invite general practices (among other private not-for-profit or private for-profit organisations) to consider applying via the current Request for Tender (RFT).
This program is all about supporting those living with chronic pain to better understand their pain, equip them with tools to improve quality of life & provide community based pathways of care. 
For more information, visit Adelaide PHN's website.
RFT closes Fri 10 July - all applications & enquiries via tenderlink.com/adelaidephn.
SA Ambulance Service is strengthening its management of Triple Zero calls, by using experienced paramedics to provide clinical assessment via telephone for low-acuity patients.
From June 29, low-acuity callers may be transferred to paramedic telehealth clinicians who will conduct a detailed clinical assessment & recommend the most appropriate care, which could include:
Ambulance transport to hospital - either urgent or non-urgent
Referral to the patient's GP or other primary health services
Referral or transport to a Priority Care Centre
Home-based care
There is no change for urgent Triple Zero calls which will continue to receive an emergency ambulance response.
For more information, please visit the SA Ambulance Service website.
Adelaide PHN is working with the Australian Digital Health Agency (ADHA) to support the implementation & ongoing use of My Health Record (MyHR).
Specialists can access key information about their patient's care in a timely manner. This is inclusive of current medications, MBS/PBS history, hospital discharge summaries, GP summaries & more. 
Adelaide PHN is pleased to offer you: 
Sponsored access to the electronic Therapeutic Guidelines (eTG) upon successful MyHR registration 
Support in meeting National Safety & Quality Health Service Standards (NSQHS) indicators 1.17 & 1.18 (inclusive of advisory interpretation, gap analysis & policy template access) 
Registering your practice as a MyHR provider, provide training & help overcome any MyHR barriers you may be facing 
For more information, please visit the ADHA website, or if your practice requires support, contact our practice support team via email at practicesupport@adelaidephn.com.au.
HealthPathways SA is pleased to launch the Osteoarthritis (OA) pathway. 
The pathway has been localised by HealthPathways GP Editor, Dr Simon Lockwood, in collaboration with Rheumatologist, Dr Susanna Proudman, & wide-ranging local clinician input. 
The newly released OA pathway provides:
Up-to-date information on best practice OA assessment & management in primary care
Resources for health professionals & patients
New referral pages & considerations for self-management supports, allied health & specialist services
To find out more or to register for a login, please visit the HealthPathways SA website.
On 13 June 2020, the HPOS navigation pathway in 'My Programs' was changed to combine the previous 'Health Care Identifiers' & 'My Health Record Services' tiles to the new 'Health care Identifiers & My Health Record'. 
Services in the newly developed tile include:
Registering a seed organisation  
Managing organisation details
Requesting/renewing NASH certificates
Suthorising employee in My Health Record to HPI-O
CSP linking
HPI-I Services for non-AHPRA allied health:

Request an HPI-I
Adding a profession to an existing HPI-I
Providing ongoing evidence of professional membership prior to HPI-I expiry
For additional information & support please call the HI Service on 1300 361 457.
While COVID-19 dominates headlines, SA Health are advising doctors to remain alert for other significant infections. Invasive meningococcal disease (IMD) should be considered in the differential diagnosis of any systemic febrile illness in any age group.
Notifications of IMD usually increase in winter & spring. IMD can occur in any age group, with peaks in children less than 5 years & young adults aged 15-24 years. Two cases of IMD (1B & 1Y) have been notified in SA residents since January 2020, with 27 cases notified in 2019 (19B, 4W & 4Y). 
For more information, including management advice & vaccination, please visit the Health Alert page on the SA Health website. 
Adelaide PHN continues to keep general practices up to date with the latest COVID-19 information & resources available to support delivery of primary health care via our:
We continue to distribute PPE to general practices across metro region, though we note that as commercial supplies become more readily available, the range & availability of various PPE supply through Adelaide PHN will change. Practices can request (& re-request) allocation via the Expressions of Interest (EOI) on our website - find out more here. 
Adelaide PHN has established and supported the opening of four metropolitan GP-led & Commonwealth funded Respiratory Clinics across Adelaide to support the SA COVID-19 response. To meet testing demand, three of the Respiratory Clinics have recently expanded their opening hours. Anyone with respiratory symptoms (even if very mild) can book an appointment online or over the phone (no GP forms or referral required). For details: adelaidephn.com.au/respiratoryclinics.
A highlight of research and consultation opportunities for primary health care providers.

Engage with Adelaide PHN
8219 5900  |  enquiry@adelaidephn.com.au  |  adelaidephn.com.au 
Do you want to receive Adelaide PHN Communications? You can subscribe here.
Want to submit content to Primary Links? Please email comms@adelaidephn.com.au.
If you would like to adjust, or stop the communications you receive from Adelaide PHN, you can unsubscribe or change your preferences here.
Adelaide PHN distributes Primary Links to provide beneficial and relevant information. The content is sourced from credible organisations, but please note we do not undertake extensive quality reviews. While the Australian Government helped fund this document, it has not reviewed the content and is not responsible for any injury, loss or damage however arising from the use of or reliance on the information provided herein.
Adelaide PHN acknowledges the Kaurna peoples who are the Traditional Custodians of the Adelaide Region. We pay tribute to their physical and spiritual connection to land, waters and community, enduring now as it has been throughout time. We pay respect to them, their culture and to Elders past and present.