Click here if you are having trouble viewing this message. If images are not appearing, try pausing Adblock.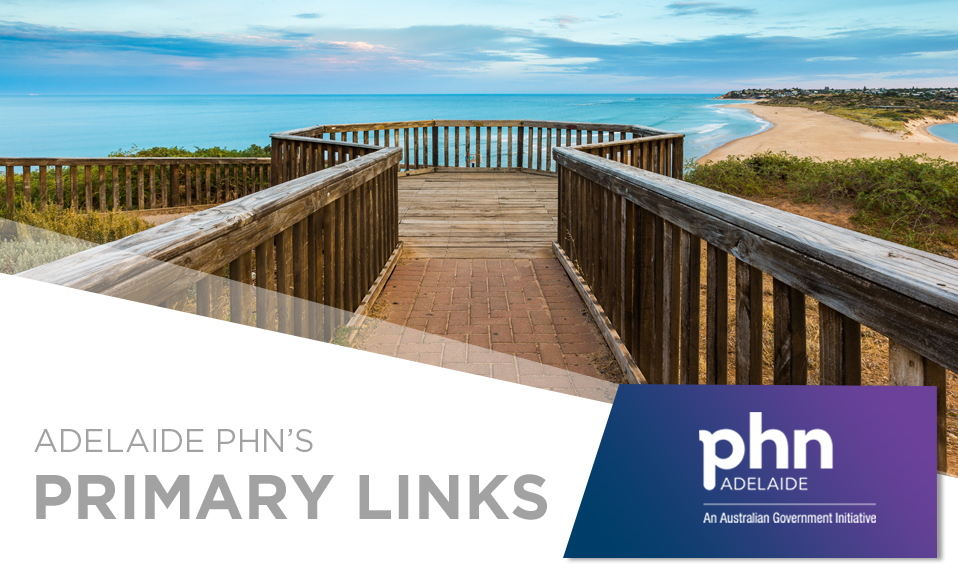 EDITION | 9 JULY 2020
Photo of Port Noarlunga, Adelaide South
A highlight of upcoming local professional development opportunities for primary health care providers. Find more events via our website here.
A highlight of resources to support primary health care providers. Find more Adelaide PHN resources via our website resource library here.
Adelaide PHN has developed the Quality Improvement (QI) Guide & Toolkit to assist general practices with producing & implementing whole-of-practice QI activities that will enhance patient outcomes & the experience of all those involved in health care (providers, patients & all general practice staff).  
The resource breaks down the QI process; from brainstorming, assessing readiness to change, determining desired outcomes, implementing & assessing the outcome of QI activities compared to hypothesised results. It is hoped that the resource will assist general practices with their Practice Incentive Payment (PIP) QI activities & documentation. 
Download the resource here or contact your practice facilitator at practicesupport@adelaidephn.com.au.
In collaboration with AGPAL, Adelaide PHN have launched Wellbeing Starts With You -  a new, online learning & wellbeing support platform offering an exciting approach to self-care & team connection during times of challenge & change.
This is the second support option currently on offer to providers, following the launch of Kite Support - a unique app aiming to help build resilience & support wellbeing of the primary health care workforce. More info about Kite Support here.
Free access for all metropolitan primary health care workers is being provided in acknowledgement of the impact of COVID-19 & in recognition that support is rarely 'one size fits all'. 
We warmly encourage you to try one platform or both! 
Find out more about Wellbeing Starts With You here or get started by registering here.
SA Health, Adelaide PHN & participating general practices, continue to support the four metropolitan Priority Care Centres (PCCs). 
These PCCs provide community-based health care & treatment for eligible patients who would otherwise be seeking a service from ED. PCCs are GP-led with additional support from hospital staff trained in acute assessment & care.
Referral information for the Marion, Elizabeth, Para Hills West & Hindmarsh PCCs is available at sahealth.sa.gov.au/prioritycarecentres 
GPs can refer directly to a PCC if the patient is eligible & the centre has capacity. Upon discharge, referring GPs will be provided with a letter summarising care provided & any follow-up care required &/or if they have a My Health Record (MyHR). Patients are encouraged to seek follow-up care from their regular GP. 
Referral resources:
The Early Management Mild Brain Injury & Rehabilitation Service (EMMBIRS) is a state-wide program funded by the Lifetime Support Authority to provide early & individual assessment, advice & intervention to adults with mild traumatic brain injury (TBI) sustained through an incident involving any mode of transportation. Early intervention can reduce the severity & duration of symptoms caused by mild TBI. 
Medical & allied health support is available up to six months post injury. Consultations are available at the Repat Health Precinct or via Telerehabilitation. 
Make a referral via the Inpatient/Concussion & Mild TBI Clinical Referral form. 
For more information, please visit the SA Health website.
COTA SA's Rainbow Hub celebrates & promotes the inclusion & wellbeing of LGBTI people aged 50+. 
COTA offer a range of programs & services, & can:
Assist people in navigating aged care services for themselves or their loved ones 
Provide Silver Rainbow aged care awareness training
Coordinate community visitors for people who would like more social contact. They are always looking for more LGBTI people interested in being visited or volunteers visitors 
For more information, please visit the COTA website. 
A highlight of news relating to the delivery of primary health care in Adelaide. Find more Adelaide PHN announcements via our website here
Adelaide PHN is seeking Expressions of Interest (EOI) from specialist health care practices to participate in the Digital Health Innovation Enhanced Access Grant.
Selected clinics will be supported with a financial incentive to implement a digital health project that aligns with Adelaide PHN's key outcomes, is innovative & supports timely access to information & coordinated patient care.
Practices will deliver enhanced patient care through ongoing utilisation of patients My Health Record & active support of inbound electronic referring.
Applications close 5.00pm Monday 20 July. 
To register your clinics interest, please complete the EOI & return to digitalhealthinfo@adelaideph.com.au
The PIP QI Incentive exemption expires 31 July 2020. For practices who currently hold this exemption, the PIP eligible dataset is due to be sent to Adelaide PHN using your PenCS software prior to 15 October 2020 for continuation of this payment.
Any practice that anticipates not being able to submit their PIP QI eligible dataset must email the Department on PIPQIexemption@health.gov.au prior to 30 September 2020.
Adelaide PHN will continue to offer the PenCS software for the 2020/21 financial year. If you have any questions, please contact your practice facilitator or our digital health team at digitalhealthinfo@adelaidephn.com.au. 
Influenza causes preventable morbidity & mortality every year. Vaccination helps to reduce associated hospitalisation & deaths & providers are strongly encouraged to report immunisations to the Australian Immunisation Register (AIR). 
Groups eligible to receive a free annual influenza vaccination include:
Aboriginal & Torres Strait Islander people aged 6 months & over
Children aged 6 months to <5 years 
Pregnant women (any stage of pregnancy)
People with certain chronic medical conditions including heart disease, diabetes & severe respiratory conditions
People aged 65 & over
People experiencing homelessness
Please continue to place orders for influenza vaccine as needed. 
For more information, please visit sahealth.sa.gov.au/flu
The Practice Review Project is a 12-week virtual coaching program that takes practice owners & managers through a comprehensive business review process that supports the planning of practice improvement & change. 
Developed by experienced Healthcare Business Consultant Ms Jody Bund with Ms Corrine Allison as the Lead Coach, the Practice Review Project has been successfully delivered to 20+ practices across South Australia & offers a unique business coaching experience for practice owners & managers who are ready to set their business up for long-term success.  
For detailed information please visit https://bit.ly/practicereviewproject or contact Ms Jody Bund direct at jody@jodybund.com
The new State-wide Surgery & Perioperative Care Clinical Network will work on improving multidisciplinary, integrated care of patients from the moment surgery is contemplated through to recovery.
Expressions of interest are now open for a clinician from any surgical or peri-operative domain, position or location to lead this important new network.
Applications close 14 July 2020.
Information about the clinical lead position & an application pack are available on the Statewide Clinical Network webpage. 
Applications are now open for the Practice Experience Program (PEP), the RACGP's flexible education & support program for non-vocationally registered doctors in regional, rural & remote Australia.
With a tailored online learning package & GP mentors from a training organisation, you can draw from & expand on your ongoing experience, building valuable knowledge & skills for the journey towards fellowship, all while accessing full A1 Medicare rebates. 
Applications close Thursday 16 July 2020.
For more information about how the PEP can benefit you & your community, please visit the RACGP website.
Aboriginal & Torres Strait Islander populations, & migrant groups from developing countries have a higher prevalence of Acute Rheumatic Fever (ARF) & Rheumatic Heart Disease (RHD) compared to the general Australian population. 
A state-wide RHD control program operates in SA to reduce morbidity & morality associated with RHD. Efforts are currently focused on increasing case ascertainment to safeguard people from being lost to follow-up, & to support primary health care with patient management.
There are a number of important clinical changes in the 2020 guideline. Rapid treatment of sore throat, skin sores, & fever/joint pain in high risk populations with benzathine penicillin (IM) is recommended.
On behalf of the SA RHD Committee, the Heart Foundation is asking medical staff to:
Notify all cases of ARF & RHD to the SA Department of Health 

Specify the priority classification & penicillin prophylaxis status of the patient (where relevant)
Copy the RHD program into your correspondence: rhd@sa.gov.au.
For more information, please visit the RHD Australia website.
Adelaide PHN continues to keep general practices up to date with the latest COVID-19 information & resources available to support delivery of primary health care via our:
We continue to distribute PPE to general practices across metro region, though we note that as commercial supplies become more readily available, the range & availability of various PPE supply through Adelaide PHN will change. Practices can request (& re-request) allocation via the Expressions of Interest (EOI) on our website - find out more here. 
Adelaide PHN has established & supported the opening of four metropolitan GP-led & Commonwealth funded Respiratory Clinics across Adelaide to support the SA COVID-19 response. To meet testing demand, these Respiratory Clinics have recently expanded their opening hours to include Saturdays. Anyone with respiratory symptoms (even if very mild) can book an appointment online or over the phone (no GP forms or referral required). For details: adelaidephn.com.au/respiratoryclinics.
A highlight of research and consultation opportunities for primary health care providers.

Engage with Adelaide PHN
8219 5900  |  enquiry@adelaidephn.com.au  |  adelaidephn.com.au 
Do you want to receive Adelaide PHN Communications? You can subscribe here.
Want to submit content to Primary Links? Please email comms@adelaidephn.com.au.
If you would like to adjust, or stop the communications you receive from Adelaide PHN, you can unsubscribe or change your preferences here.
Adelaide PHN distributes Primary Links to provide beneficial and relevant information. The content is sourced from credible organisations, but please note we do not undertake extensive quality reviews. While the Australian Government helped fund this document, it has not reviewed the content and is not responsible for any injury, loss or damage however arising from the use of or reliance on the information provided herein.
Adelaide PHN acknowledges the Kaurna peoples who are the Traditional Custodians of the Adelaide Region. We pay tribute to their physical and spiritual connection to land, waters and community, enduring now as it has been throughout time. We pay respect to them, their culture and to Elders past and present.