Click here if you are having trouble viewing this message. If images are not appearing, try pausing Adblock.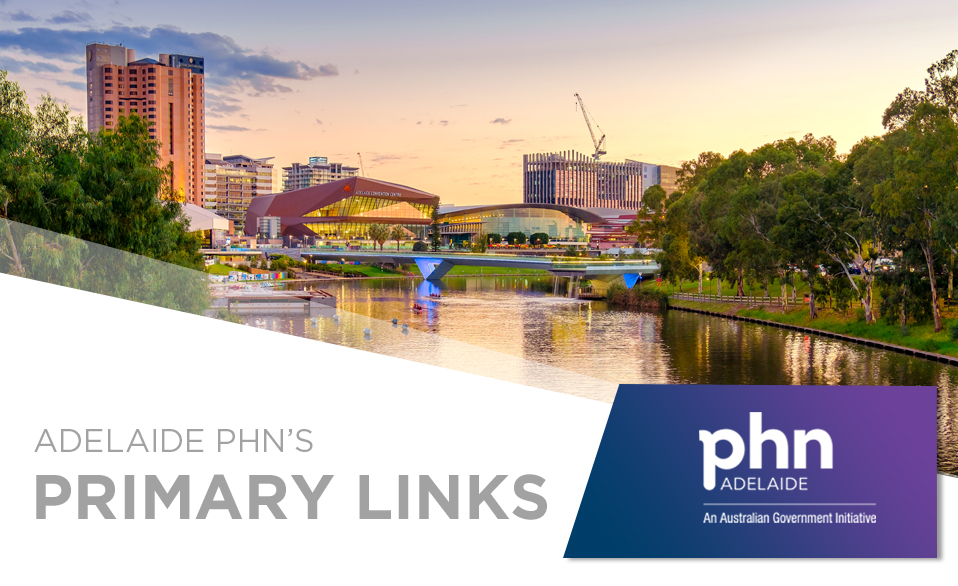 EDITION | 23 JULY 2020
Photo of River Torrens, Adelaide CBD
A highlight of upcoming local professional development opportunities for primary health care providers. Find more events via our website here.
A highlight of resources to support primary health care providers. Find more Adelaide PHN resources via our website resource library here.
The RACGP has released the latest edition of the diabetes handbook, Management of Type 2 Diabetes: A Handbook for General Practice, in a new online format. Updates to the diabetes handbook include new sections on:
Early-onset type 2 diabetes
Mental health & type 2 diabetes
Management of type 2 diabetes in the elderly & residential aged care facilities
The use of technology in managing type 2 diabetes 
Diabetes management for people fasting during Ramadan
To access the handbook and find out more, including how to use it, please visit racgp.org.au/diabetes-handbook.
Help older Australians with life-limiting conditions receive quality health care by integrating their palliative care needs into their care & the care their families receive.
ELDAC can help you to assess a client's palliative care needs with a free downloadable care plan that can help you to identify and managing issues quickly.  
To find out more & download assessment tools, please visit the ELDAC website.
A highlight of news relating to the delivery of primary health care in Adelaide. Find more Adelaide PHN announcements via our website here
HealthPathways SA are excited to announce the following new pathways are available:
Consultation is a key part of pathway development. The following pathways will soon be open for consultation:
Psychosis
Borderline personality disorder
Codeine - chronic use & deprescribing
Benzodiazepine withdrawal
Heart murmurs in children
Screening & diagnosis of diabetes
Prediabetes 
Diabetes dietary information
Newly diagnosed type 2 diabetes & resource page diabetes dietary information
Chronic cough
If you would like to participate in the consultation process on any of the above, please contact the HealthPathways SA team at enquiries@sahealthpathways.com.au, or start exploring the project site for more information. 
Adelaide PHN will be building a list of pharmacies who will be able to receive scripts via electronic prescribing, specifically the Token System. The list will aim to inform prescribers & their patients as to where they can have their electronic scripts filled.
Adelaide PHN is asking community pharmacies to partake in a short eight question survey regarding their implementation of ePrescribing. The survey can be accessed here.
For more information on Electronic Prescribing & related resources, please visit the Australian Digital Health Agency's website.
SHINE SA is offering scholarships for participation in their courses & professional development specific to Aboriginal & Torres Strait Islander focused workers.
Priority for these scholarships willl be given to professionals who:
Identify as Aboriginal & Torres Strait Islander 
Work with Aboriginal & Torres Strait Islander people
Work in an Aboriginal organisation
Have a strong interest in sexual health & reproductive health 
SHINE SA will cover the full cost of the applicant's course of choice from the eligible course list. 
For more information, please visit the SHINE SA website. 
Services Australia would like to advise that the following digital health & aged care channels are being upgraded: 
Medicare Online 
Department of Veterans' Affairs - via Medicare Online
Australian Immunisation Register - via Medicare Online
ECLIPSE 
PBS Online 
Aged Care web services 
By March 2022, organisations using any of these channels will need to:
Update their existing software to web services compatible software 
Upgrade their hardware to work with the updated software 
Access these channels using PRODA
To find out more about these changes, please see the information sheet, visit the Services Australia website or email servicesaustralia.A2WS@servicesaustralia.gov.au.
If you require any support relating to PRODA or your digital health needs, please contact Adelaide PHN's digital health officers at digitalhealthinfo@adelaidephn.com.au.
Forward thinking leaders with a drive to move general practice ahead are encouraged to nominate for the RACGP elections.
Nominations for the President & Censor in Chief on the RACGP Board, as well as positions on Faculty Councils are now open & close 12 noon Thursday 30 July 2020.
For more information or to nominate, please visit the RACGP website.
Adelaide PHN continues to keep general practices up to date with the latest COVID-19 information & resources available to support delivery of primary health care via our:
We continue to distribute PPE to general practices across metro region, though we note that as commercial supplies become more readily available, the range & availability of various PPE supply through Adelaide PHN will change. Practices can request (& re-request) allocation via the Expressions of Interest (EOI) on our website - find out more here. 
Adelaide PHN has established & supported the opening of four metropolitan GP-led & Commonwealth funded Respiratory Clinics across Adelaide to support the SA COVID-19 response. To meet testing demand, these Respiratory Clinics have recently expanded their opening hours to include Saturdays. Anyone with respiratory symptoms (even if very mild) can book an appointment online or over the phone (no GP forms or referral required). For details: adelaidephn.com.au/respiratoryclinics.
A highlight of research and consultation opportunities for primary health care providers.

Engage with Adelaide PHN
8219 5900  |  enquiry@adelaidephn.com.au  |  adelaidephn.com.au 
Do you want to receive Adelaide PHN Communications? You can subscribe here.
Want to submit content to Primary Links? Please email comms@adelaidephn.com.au.
If you would like to adjust, or stop the communications you receive from Adelaide PHN, you can unsubscribe or change your preferences here.
Adelaide PHN distributes Primary Links to provide beneficial and relevant information. The content is sourced from credible organisations, but please note we do not undertake extensive quality reviews. While the Australian Government helped fund this document, it has not reviewed the content and is not responsible for any injury, loss or damage however arising from the use of or reliance on the information provided herein.
Adelaide PHN acknowledges the Kaurna peoples who are the Traditional Custodians of the Adelaide Region. We pay tribute to their physical and spiritual connection to land, waters and community, enduring now as it has been throughout time. We pay respect to them, their culture and to Elders past and present.