Click here if you are having trouble viewing this message. If images are not appearing, try pausing Adblock.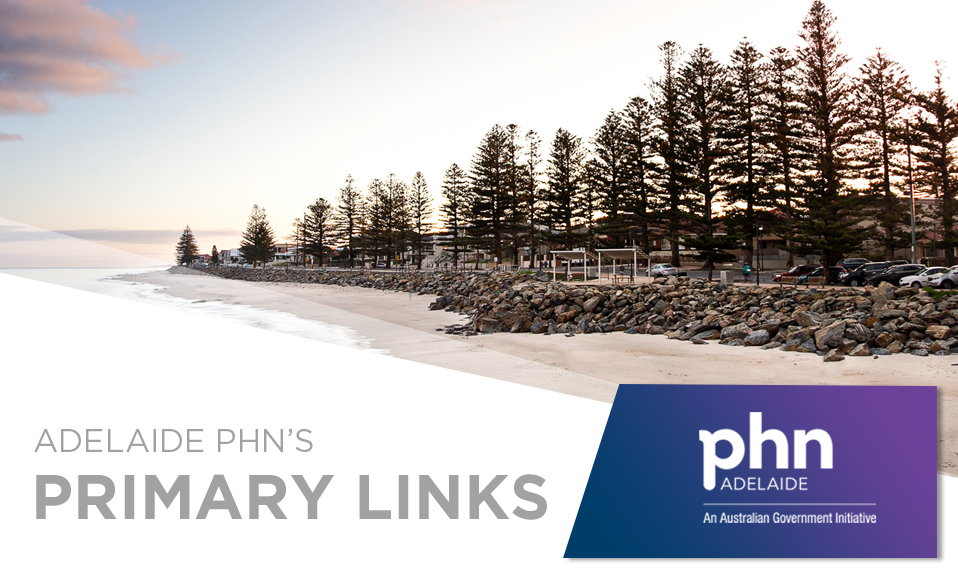 EDITION | 7 AUGUST 2020
Photo of Glenelg, Adelaide South
A highlight of upcoming local professional development opportunities for primary health care providers. Find more events via our website here.
SEPTEMBER
Tues 25 Aug | 6.00PM - 8.00PM
Online
Adelaide PHN Supported 
SEPTEMBER
Thurs 3 Sept | 6.00PM - 8.00PM
Online
Adelaide PHN Supported 
Musculoskeletal Lower Limb Injuries 
Sat 5 Sept | 8.30PM - 4.00PM
Adelaide
Visit the events page on our website to see upcoming events for 2020.
A highlight of resources to support primary health care providers. Find more Adelaide PHN resources via our website resource library here.
In response to member feedback, the RACGP has launched an intuitive new continuing professional development (CPD) platform with a stronger focus on education. RACGP members will now be able to more easily access & report CPD activities through the new, easy to use myCPD platform.
The CPD program criteria has also been broadened to recognise the activities in which GPs engage as part of their daily work.
GPs will be able to access myCPD either from their desktop, phone or tablet, making it easier to log & track CPD throughout the day. 
To find out more about the new features & benefits of the RACGP CPD platform, visit the RACGP website.
Older people with advanced & life limiting conditions face many challenges & may experience an array of psychosocial issues, impacting a person's mental health & wellbeing. These issues can also affect the services that aged care & at home palliative care organisations need to provide.
To help address this, palliAGED have developed new evidence based & practical resources to support Australia's aged care workforce in providing psychosocial care. Including:
Evidence Synthesis page - an in-depth discussion on the latest evidence & research on screening & assessment, interventions, management, & psychosocial support of aged care staff. 
For more information, please visit the palliAGED website.
The National Asthma Council has released an updated set of spirometry resources for health professionals working in primary care. 
The Spirometry Handbook for Primary Care is intended as a guide for health professionals performing & interpreting spirometry in clinical practice, to ensure that high quality testing is available & accessible for those with respiratory conditions.
The update is in line with international standards & incorporates relevant information from the ATS/ERS 2019 Standardisation of Spirometry. Fresh diagrams & algorithms present the information in a clear & user-friendly format.  
For more information & to download a free copy, please visit the National Asthma Council website.
Note - performing spirometry during COVID-19 is outside of the scope of these resources. Resources specific to asthma management and spirometry during the COVID-19 pandemic can be accessed here.
A highlight of news relating to the delivery of primary health care in Adelaide. Find more Adelaide PHN announcements via our website here
Adelaide PHN's Central Referral Unit (CRU) is currently experiencing a temporary increase in the processing time for referrals due to the high demand for mental health services across the state throughout the pandemic.
In line with best practice in such situations, we are prioritising urgent (increased or at risk of suicide) referrals first. Moderate & low priority referrals will be processed as soon as possible.
For information on how we're working towards our usual expeditious service delivery, please visit the announcement on our website. 
Contact the CRU team: 
Mental Health Enquiry Phone Line: 1300 898 213
To make a referral: 
Secure Messaging: ReferralNet or Argus
Name: Central Referral Unit 
URN: refnet:CRU
A reminder that fax referrals are currently being phased out. Please contact the CRU team via the phone for more information or contact our digital health team for support with setting up practice software in relation to secure messaging: digitalhealthinfo@adelaidephn.com.au.
Adelaide PHN is in the process of conducting its annual General Practice Support Survey that will help inform our Needs Assessment & enable us to better support general practices across the metropolitan region. 
Your practice should have received an email late last week with the survey link (note that this link is specific to your practice).
If you have not received your link, need this to be resent to your practice, or you have questions relating to the survey -  please contact your Adelaide PHN practice facilitator or email practicesupport@adelaidephn.com.au.
Registrations are now open for the Business & Clinical Leadership Program.
The program will assist practice teams to improve their capacity to meet the rising health care service demands of local communities, whilst aspiring to remain financially & mentally sustainable for the future. 
What are you signing up for?
A leadership program delivered by Rod Buchecker & Dr Chris Bollen 

16 hours of content (8 x 2-hour sessions)
A monthly commitment for you & your practice teams
All done via Zoom into your practice meeting room or at home
Recordings available if sessions are missed
To find out more & register, please contact your Adelaide PHN practice facilitator or email practicesupport@adelaidephn.com.au.
On 1 August 2020, changes were made to MBS items for cardiac imaging services to better clarify the clinical requirements & circumstances where this testing (& repeat testing) is appropriate. 
These changes will promote high value use of electrocardiogram (ECG), echocardiogram, ambulatory ECG, ECG stress testing, myocardial perfusion studies & stress echocardiogram.  
Please refer to the Department of Health's Quick Reference Guide for more information.
Applications for APNA's Building Nurse Capacity Project are now open. 
The project will support a maximum of 35 nurses & their primary health care organisation to implement nurse-delivered (team-based) models of care. Grant funding will be available for successful applicants. 
Applications close Friday 11 September 2020.
For more information & to apply, please visit the APNA website.
Adelaide PHN continues to keep general practices up to date with the latest COVID-19 information & resources available to support delivery of primary health care via our:
We continue to distribute PPE to general practices, pharmacies & other eligible allied health providers across the metro region. As commercial supplies become more readily available however, the range & availability of various PPE supply through Adelaide PHN will change. Practices/pharmacies can request (& re-request) allocation via the Expressions of Interest (EOI) form on our website - find out more here. 
Adelaide PHN has established & supported the opening of four metropolitan GP-led & Commonwealth funded Respiratory Clinics across Adelaide to support the SA COVID-19 response. To meet testing demand, these Respiratory Clinics have recently expanded their opening hours. Anyone with respiratory symptoms (even if very mild) can book an appointment online or over the phone (no GP forms or referral required). For details: adelaidephn.com.au/respiratoryclinics.
A highlight of research and consultation opportunities for primary health care providers.

Engage with Adelaide PHN
8219 5900  |  enquiry@adelaidephn.com.au  |  adelaidephn.com.au 
Do you want to receive Adelaide PHN Communications? You can subscribe here.
Want to submit content to Primary Links? Please email comms@adelaidephn.com.au.
If you would like to adjust, or stop the communications you receive from Adelaide PHN, you can unsubscribe or change your preferences here.
Adelaide PHN distributes Primary Links to provide beneficial and relevant information. The content is sourced from credible organisations, but please note we do not undertake extensive quality reviews. While the Australian Government helped fund this document, it has not reviewed the content and is not responsible for any injury, loss or damage however arising from the use of or reliance on the information provided herein.
Adelaide PHN acknowledges the Kaurna peoples who are the Traditional Custodians of the Adelaide Region. We pay tribute to their physical and spiritual connection to land, waters and community, enduring now as it has been throughout time. We pay respect to them, their culture and to Elders past and present.