Click here if you are having trouble viewing this message. If images are not appearing, try pausing Adblock.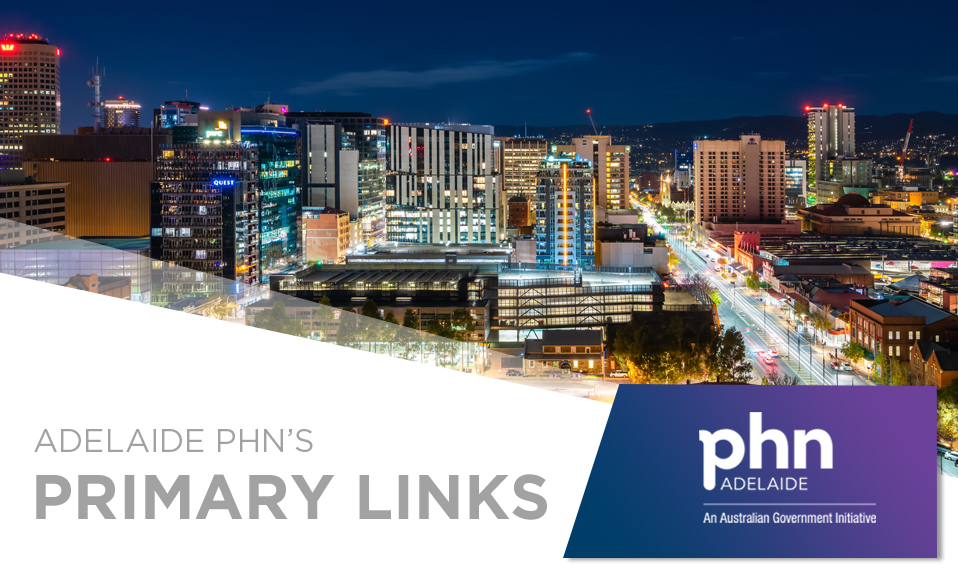 EDITION | 20 AUGUST 2020
Photo of Adelaide CBD
A highlight of upcoming local professional development opportunities for primary health care providers. Find more events via our website here.
A highlight of resources to support primary health care providers. Find more Adelaide PHN resources via our website resource library here.
HealthPathways SA have collaborated with Drug & Alcohol Services SA (DASSA) to localise the latest Benzodiazepine Withdrawal pathway. 
The pathway adds to the growing suite of addiction & drug misuse pathways aimed to assist in the primary care setting providing:  
Appropriate assessment & tools to determine readiness for change
Up to date considerations for general practice benzodiazepine withdrawal  
Recommended deprescribing, management regimes & coping strategies 
Ongoing monitoring advice
Referral options for specialised assessment &/or withdrawal services
Useful patient & health professional resources  
Visit the HealthPathways SA project site for more information.
Reminder: for a limited time across COVID-19, HealthPathways SA can be accessed with no registration using the following login details:
username: covid19 
password: sapassword 
SA Health in partnership with Adelaide PHN & Hepatitis SA are now providing free in-practice lunch & education sessions, delivered at your practice by a GP experienced in the management of chronic hepatitis C. 
These sessions are designed to assist clinicians in your practice with the identification & management of people living with hepatitis C in your catchment area, & to support integration between primary & tertiary clinicians in the northern Adelaide region. 
Please see this invitation for further information & forward onto clinicians in your practice.
If you're interested in hosting a hepatitis C lunch & education session at your practice, please contact Hepatitis SA on
8362 8443, email ecgp@hepsa.asn.au, or visit the Hepatitis SA website.
A highlight of news relating to the delivery of primary health care in Adelaide. Find more Adelaide PHN announcements via our website here
A new Walk In After Hours Mental Health Service was just launched in southern Adelaide. Staffed by clinicians & peer workers, the service provides in-person care & support for people struggling 'out of hours' so they can plan their next steps.
Commissioned by Adelaide PHN & delivered by Links to Wellbeing, the southern service complements an existing northern service (delivered by Sonder since August 2019). Together, they bridge an identified gap in services - providing an alternative to hospital attendance & a step up from the level of care available through after hours online or phone based services.
The southern service is based at Noarlunga GP Plus Super Clinic & operates 5:00pm-11:00pm Mon, Thurs, Fri & Sat
The northern service is based at Sonder's Edinburgh North Premises & operates 5:00pm-10:00pm Mon, Thurs, Fri & Sat.
No referral or booking required. Find more information via Adelaide PHN's website announcement.
Integrated care enables quality communication, collaboration & pathways between services, to holistically & preventatively address health care needs. Integrated care systems can support & enable primary health services to individualise patient care, improve health outcomes, prevent unnecessary hospital admissions & reduce the overall cost of health care. 
Your views as a general practitioner & approach to the patient's journey through the health system are important in informing the ongoing development & improvement of health services & service integration.  
Thank you for your participation in this short survey.
The RACGP is opening applications for the final intake into the Australian General Practice Training (AGPT) Program at the end of August. Placements are available on both the general & rural pathways, with unique opportunities for doctors to start their general practice careers next year across regional, rural & remote Australia. There will be two commencement periods next year to account for any delays applicants might face in obtaining their general medical registration due to COVID-19.
To get a head start, you can fill out an expression of interest form so that you can be supported throughout the application process with: 
reminders of important dates 
informative live webinars discussing different aspects of the application & selection process
downloadable guides
entry exam preparation
Applications open 10.00am AEST Monday 31 August 2020 & close 10.00am AEST Monday 21 September 2020. 
To find out more visit racgp.org.au/agpt.
Adelaide PHN continues to keep general practices up to date with the latest COVID-19 information & resources available to support delivery of primary health care via our:
We continue to distribute PPE to general practices, pharmacies & other eligible allied health providers across the metro region. As commercial supplies become more readily available however, the range & availability of various PPE supply through Adelaide PHN will change. Practices/pharmacies can request (& re-request) allocation via the Expressions of Interest (EOI) form on our website - find out more here. 
For a limited time, Adelaide PHN has sourced bulk hand sanitiser from a private supplier which is available for general practices to purchase through Adelaide PHN at cost price - $60 for 5L. If your practice is interested in purchasing these 5L containers - please email covid19@adelaidephn.com.au
Adelaide PHN has established & supported the opening of four metropolitan GP-led & Commonwealth funded Respiratory Clinics across Adelaide to support the SA COVID-19 response. To meet testing demand, these Respiratory Clinics have recently expanded their opening hours. Anyone with respiratory symptoms (even if very mild) can book an appointment online or over the phone (no GP forms or referral required). For details: adelaidephn.com.au/respiratoryclinics.
A highlight of research and consultation opportunities for primary health care providers.

Engage with Adelaide PHN
8219 5900  |  enquiry@adelaidephn.com.au  |  adelaidephn.com.au 
Do you want to receive Adelaide PHN Communications? You can subscribe here.
Want to submit content to Primary Links? Please email comms@adelaidephn.com.au.
If you would like to adjust, or stop the communications you receive from Adelaide PHN, you can unsubscribe or change your preferences here.
Adelaide PHN distributes Primary Links to provide beneficial and relevant information. The content is sourced from credible organisations, but please note we do not undertake extensive quality reviews. While the Australian Government helped fund this document, it has not reviewed the content and is not responsible for any injury, loss or damage however arising from the use of or reliance on the information provided herein.
Adelaide PHN acknowledges the Kaurna peoples who are the Traditional Custodians of the Adelaide Region. We pay tribute to their physical and spiritual connection to land, waters and community, enduring now as it has been throughout time. We pay respect to them, their culture and to Elders past and present.