Click here if you are having trouble viewing this message. If images are not appearing, try pausing Adblock.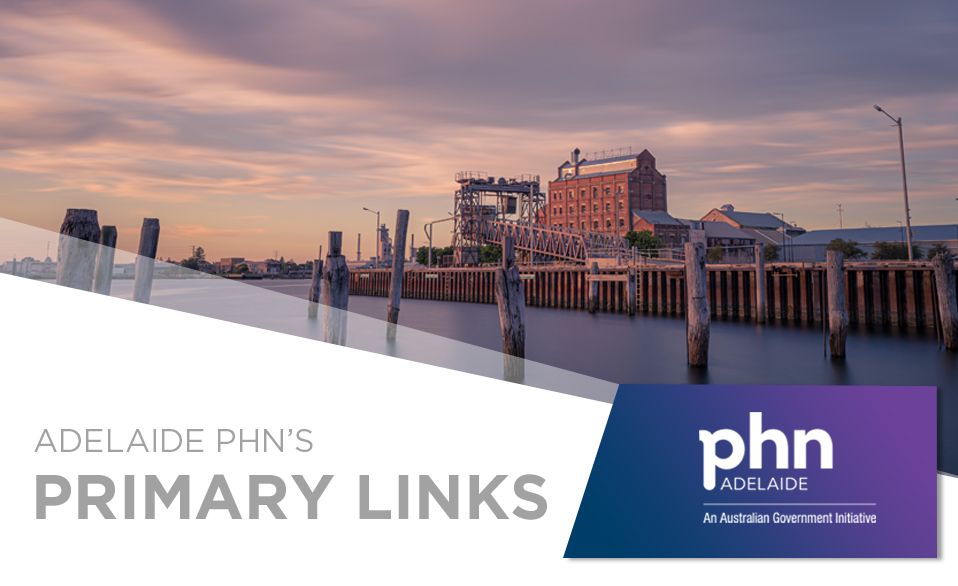 EDITION | 3 SEPTEMBER 2020
Photo of Hart's Mill, Port Adelaide 
A highlight of upcoming local professional development opportunities for primary health care providers. Find more events via our website here.
A highlight of resources to support primary health care providers. Find more Adelaide PHN resources via our website resource library here.
Based on published risk prediction models, researchers at Melanoma Institute Australia have developed a series of melanoma risk calculators for clinicians & patients to access to assist in the prevention, early detection & optimum treatment of melanoma, ultimately saving lives.
The calculators predict a person's risk of developing their first melanoma; their risk of developing a second or subsequent primary melanoma; & their risk of a primary melanoma having spread to nearby lymph nodes. The calculators are designed to inform discussions between clinicians & their patients, & to help facilitates specialised treatment plans according to their patient's specific risk. 
For more information & to access the calculators, please visit the Melanoma Institute Australia's website. 
With one in two Australians suffering from chronic disease, there's no better time to upskill in chronic disease management & healthy ageing. APNA's new 12 month program offers over 50 hours of online & face to face learning, designed for nurses by nurses in primary health care.
You can register to start the 12 month program from any of the following dates:
10 September
1 October
2 November
3 December 
To find out more & register, please visit the APNA website, email admin@apna.asn.au or call 1300 303 184. 
A highlight of news relating to the delivery of primary health care in Adelaide. Find more Adelaide PHN announcements via our website here
If your practice has a current PIP QI exemption, this exemption expired on the 31 July 2020.
Practices who wish to only share the PIP QI Eligible Data Set can do so by using the portal system developed by PenCS.  
PenCS is launching a new feature mid-September which will enable you to submit the PIP Eligible Data Set, matched to the Department of Health Technical Specifications.  
The CAT4 PIP Eligible Data Set JSON file only contains consented, deidentified, aggregated data. It does not include patients who have opted out of your patient management system.  
Data Sharing Agreements are still required with Adelaide PHN, so please contact your digital health officer via digitalhealthinfo@adelaidephn.com.au for more information.  
Applications for the RACGP AOD GP Education Program – Advanced Skills Training are open until 6 September 2020. Advanced Skills Training is for more experienced GPs who want to develop their own personalised AOD learning plan that addresses AOD issues within their local community.
Only 300 places are available on the Advanced Skills pathway. GPs who complete this training receive a $2,500 reimbursement payment.  
For more information on eligibility, incentive payments & to apply, please visit the RACGP AOD GP Education Program website.  
The Real Time Prescription Monitoring project team are inviting expressions of interest from AHPRA registered prescribers & pharmacists to participate in a small scale testing of the SA RTPM system (ScriptCheckSA).
The small scale testing programme will start in November 2020 & consist of a series of workshops over a period of four months (until February 2021). More information on the number, duration & frequency of the workshops will be provided to the interested applicants closer to the time. 
More information is available via the flyer here. To register your interest, please email the RTPM project team via Health.RTPM@sa.gov.au with your name, AHPRA number & contact details by 12pm on Friday 11 September 2020.
Adelaide PHN continues to keep general practices up to date with the latest COVID-19 information & resources available to support delivery of primary health care via our:
We continue to distribute PPE to general practices, pharmacies & other eligible allied health providers across the metro region. As commercial supplies become more readily available however, the range & availability of various PPE supply through Adelaide PHN will change. Practices/pharmacies can request (& re-request) allocation via the Expressions of Interest (EOI) form on our website - find out more here. 
For a limited time, Adelaide PHN has sourced bulk hand sanitiser from a private supplier which is available for general practices to purchase through Adelaide PHN at cost price - $60 for 5L. If your practice is interested in purchasing these 5L containers - please email covid19@adelaidephn.com.au
Adelaide PHN continues to support four metropolitan GP-led & Commonwealth funded Respiratory Clinics across Adelaide to support the SA COVID-19 response. To meet testing demand, these Respiratory Clinics have recently expanded their opening hours. Anyone with respiratory symptoms (even if very mild) can book an appointment online or over the phone (no GP forms or referral required). For details: adelaidephn.com.au/respiratoryclinics.
A highlight of research and consultation opportunities for primary health care providers.

Engage with Adelaide PHN
8219 5900  |  enquiry@adelaidephn.com.au  |  adelaidephn.com.au 
Do you want to receive Adelaide PHN Communications? You can subscribe here.
Want to submit content to Primary Links? Please email comms@adelaidephn.com.au.
If you would like to adjust, or stop the communications you receive from Adelaide PHN, you can unsubscribe or change your preferences here.
Adelaide PHN distributes Primary Links to provide beneficial and relevant information. The content is sourced from credible organisations, but please note we do not undertake extensive quality reviews. While the Australian Government helped fund this document, it has not reviewed the content and is not responsible for any injury, loss or damage however arising from the use of or reliance on the information provided herein.
Adelaide PHN acknowledges the Kaurna peoples who are the Traditional Custodians of the Adelaide Region. We pay tribute to their physical and spiritual connection to land, waters and community, enduring now as it has been throughout time. We pay respect to them, their culture and to Elders past and present.