Click here if you are having trouble viewing this message. If images are not appearing, try pausing Adblock.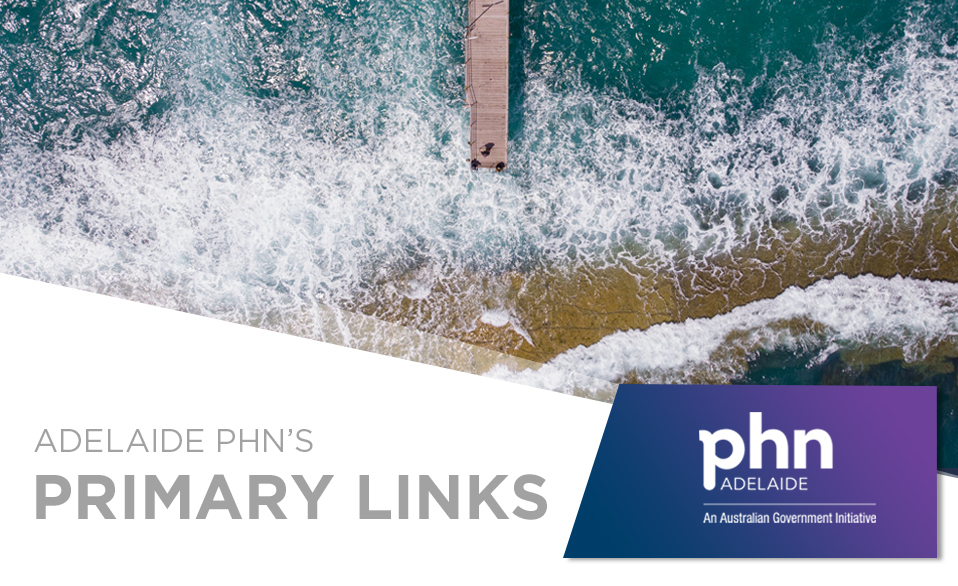 EDITION | 17 SEPTEMBER 2020
Photo of Port Noarlunga, Adelaide South
Taken by local photographer, Liam Pixels 
A highlight of upcoming local professional development opportunities for primary health care providers. Find more events via our website here.
A highlight of resources to support primary health care providers. Find more Adelaide PHN resources via our website resource library here.
The National Asthma Council Australia has launched the Australian Asthma Handbook Version 2.1 which outlines important new recommendations that could affect many of the 2.7 million Australians with asthma.   
The key focus is based around avoiding the underuse of preventer medicines by people with asthma & the corresponding over-reliance on reliever medications. It outlines a new treatment option for adults & adolescents (aged over 12 years) with mild asthma, with level 2 treatment now including as-needed low dose budesonide-formoterol, taken for relief of symptoms as an alternative to a daily maintenance low-dose inhaled corticosteroid preventer.   
To find out more, please see the media release on the National Asthma Council Australia's website. 
The Australian Diabetes Educators Association (ADEA) have published a joint position statement on the screening & management of prediabetes in primary care in Australia. 
The work of the Expert Reference Group, with representation from the Australian Diabetes Society, the Australian Diabetes Educators Association, Dietitians Australia, Exercise & Sports Science Australia & the Pharmaceutical Society of Australia, raises the profile of pre-diabetes as a contemporary health care issue.
A summary supporting the position statement can be accessed here.
Wellbeing SA have created a fact sheet to support practices in maximising participation in the three national cancer screening programs (breast, bowel & cervical). 
The fact sheet contains information regarding key updates, self collection recommendations & useful links.
Please email WellbeingSACERVIXSCREENING@sa.gov.au for more information.
The Embrace Project aims towards an equitable mental health system & improved mental health & wellbeing for Australia's multicultural population. The project provides a coordinated approach to meeting the unique needs & challenges faced by people from CALD backgrounds.
Through the Framework for Mental Health in Multicultural Australia, the project works to improve the cultural responsiveness of mainstream mental health services to meet the needs of the diverse Australian population.  
The online framework consists of a tailored set of modules & self-reflection tools to allow organisations & practitioners to evaluate & enhance their cultural responsiveness.
Registered users build on their strengths & address areas for improvement in a self-paced way, with free access to a range of support & resources to inform both professional & service development.  
To find out more, please visit embracementalhealth.org.au.
A highlight of news relating to the delivery of primary health care in Adelaide. Find more Adelaide PHN announcements via our website here
Following an expression of interest process, six general practices from across Adelaide have been selected to participate in the Care Connections Good Health - Good Life Project. The practices will work with Simple Healthcare Solutions (commissioned by Adelaide PHN) & Adelaide PHN's practice facilitators on quality improvement & integration activities aiming to assist community dwelling people (aged 60 years & over) to staying well & out of hospital.
The participating practices will focus on risk stratification, digital health innovations, health assessment & care planning processes, & medication management. In addition, the selected practices will participate in facilitated Communities of Practice, working alongside their local medical neighbourhood.
For more information about the project visit our website or contact Adelaide PHN's capacity building coordinator, Nicole Clothier via nclothier@adelaidephn.com.au or 8219 5900.
In the coming months, the HealthPathways SA website will be refreshed & mobile optimised to create a better user experience on the go.
While the website may look different, the clinical content will not change & will remain the same as the current website.
Keep an eye our for the banner at the top of the website for your first look.
To find out more about HealthPathways SA, please visit southaustralia.healthpathwayscommunity.org.
Applications for the RACGP AOD GP Education Program – Treatment Skills Training are open. Treatment Skills training is targeted at less experienced GPs who want to develop their skills in tackling patient AOD use. It boosts the skills of GPs to support patients to contemplate change, minimise harm & enter into appropriate treatment plans.
RACGP members can opt to complete Treatment Skills Training via online interactive workshops (AOD Live) or via self-directed e-learning modules. Only 1,800 places are available on the Treatment Skills pathway. GPs who complete this training receive a $1,200 reimbursement payment.  
For more information on eligibility, incentive payments & to apply for Treatment Skills Training, please visit the RACGP AOD GP Education Program website. 
The Benchmarque Group (RTO 21824) have created a new self-directed immunisation education pathway model, allowing all immunisation providers to obtain education based on workplace & individual needs.  
The pathway starts with the Foundations of Immunisation introductory course, specialised modules are then selected based on individual need & then the Practice of Immunisation which consists of further learning, a face-to-face workshop (in partnership with Adelaide PHN), & workplace activities. Individuals can choose their own education journey which can include some or all of the above mentioned education options. 
Upon completion of all modules, you will have achieved the nationally accredited Course in Immunisation Practice (10754NAT) in primary health care. 
For more information & to apply, please visit The Benchmarque Group's website. 
Adelaide PHN continues to keep general practices up to date with the latest COVID-19 information & resources available to support delivery of primary health care via our:
We continue to distribute PPE to general practices, pharmacies & other eligible allied health providers across the metro region. As commercial supplies become more readily available however, the range & availability of various PPE supply through Adelaide PHN will change. Practices/pharmacies can request (& re-request) allocation via the Expressions of Interest (EOI) form on our website - find out more here. 
For a limited time, Adelaide PHN has sourced bulk hand sanitiser from a private supplier which is available for general practices to purchase through Adelaide PHN at cost price - $60 for 5L. If your practice is interested in purchasing these 5L containers - please email covid19@adelaidephn.com.au
Adelaide PHN continues to support four metropolitan GP-led & Commonwealth funded Respiratory Clinics across Adelaide to support the SA COVID-19 response. To meet testing demand, these Respiratory Clinics have recently expanded their opening hours. Anyone with respiratory symptoms (even if very mild) can book an appointment online or over the phone (no GP forms or referral required). For details: adelaidephn.com.au/respiratoryclinics.
A highlight of research and consultation opportunities for primary health care providers.

Engage with Adelaide PHN
8219 5900  |  enquiry@adelaidephn.com.au  |  adelaidephn.com.au 
Do you want to receive Adelaide PHN Communications? You can subscribe here.
Want to submit content to Primary Links? Please email comms@adelaidephn.com.au.
If you would like to adjust, or stop the communications you receive from Adelaide PHN, you can unsubscribe or change your preferences here.
Adelaide PHN distributes Primary Links to provide beneficial and relevant information. The content is sourced from credible organisations, but please note we do not undertake extensive quality reviews. While the Australian Government helped fund this document, it has not reviewed the content and is not responsible for any injury, loss or damage however arising from the use of or reliance on the information provided herein.
Adelaide PHN acknowledges the Kaurna peoples who are the Traditional Custodians of the Adelaide Region. We pay tribute to their physical and spiritual connection to land, waters and community, enduring now as it has been throughout time. We pay respect to them, their culture and to Elders past and present.