Click here if you are having trouble viewing this message. If images are not appearing, try pausing Adblock.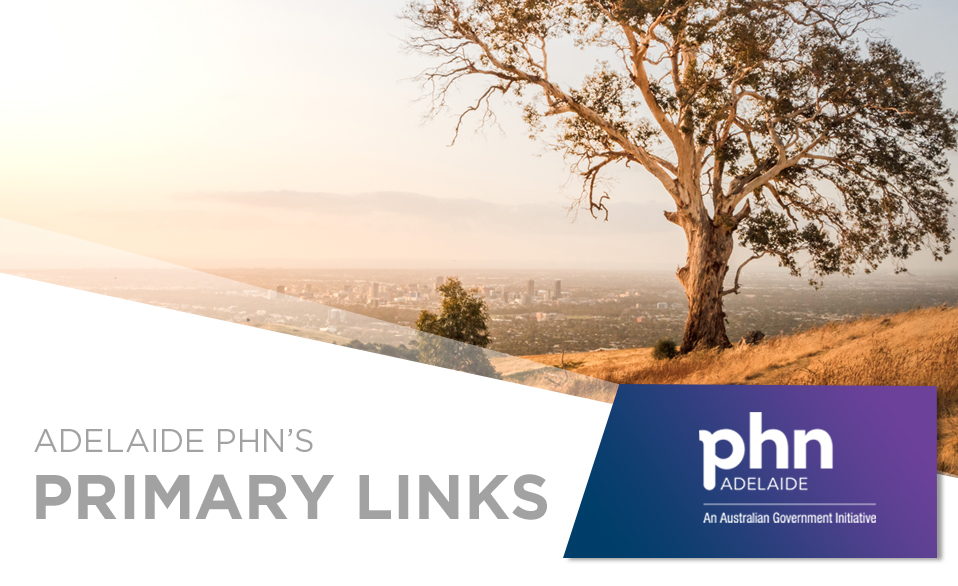 EDITION | 29 OCTOBER 2020
Photo of Mount Osmond, South Eastern Adelaide
@BrandPhotography
A highlight of upcoming local professional development opportunities for primary health care providers. Find more events via our website here.
A highlight of resources to support primary health care providers. Find more Adelaide PHN resources via our website resource library here.
Adelaide PHN recently hosted a digital health webinar for allied health professionals, which covered secure messaging, My Health Record and e-prescribing. 
For those that were unable to attend, a recording of the webinar can be accessed here using the passcode 0U+b0ad&. 
If you have any questions or would like digital health support, please contact our team via digitalhealthinfo@adelaidephn.com.au.
The PneumoSmart Tool has been developed to assist GPs and other immunisation providers to navigate the complexity of pneumococcal vaccine recommendations. Created by the Immunisation Coalition, this tool has been developed using the pneumococcal disease vaccination recommendations in the online Australian Immunisation Handbook. 
As pneumococcal disease vaccination recommendations change, the tool will be updated by clinical experts. A 'provide feedback' button can be used to alert the team of any issues and/or provide the team with constructive or complimentary feedback! 
Give the tool a go today, providers can run 'test' patients before using with real data.
Access the tool at: immunisationcoalition.org.au/pvt/ 
A highlight of news relating to the delivery of primary health care in Adelaide. Find more Adelaide PHN announcements via our website here
Adelaide PHN will soon be inviting applications from suitable, qualified and experienced organisations located within SA to deliver alcohol and other drug (AOD) treatment services within our region during 2021-2023.
The services will be commissioned via an open tender process to be released in November 2020. A pre-tender briefing will be held for those interested in applying:
Date: Thursday 5 November 2020 
Time: 11.00am - 12.00pm 
Location: Via Zoom, register here 
We will be commissioning services within the following areas:
Aboriginal and Torres Strait Islander people
Young people with complex needs (aged 10-25 years)
Young people (aged 10-25 years)
Other population based priority groups 
Interested applicants should also ensure that they are registered to receive alerts via Adelaide PHN's Tenderlink portal: tenderlink.com/adelaidephn. 
Adelaide PHN is celebrating our achievements and demonstrating our impact with the launch of our 2019/20 online annual report. 
This year, our annual report highlights our achievements across our national priority areas, and explores some aspect of our work in more detail via three key stories. 
Achievements from within our annual report include:
our commissioning portfolio growing to a total of 168 contracts worth over $45 million 
our suite of mental health commissioned services supporting over 13,900 people across the metropolitan Adelaide region 
our digital health team supporting a 166% increase in My Health Record discharge summaries 
over 39,500 total Closing the Gap (CTG) services provided to support the health and wellbeing of local Aboriginal and Torres Strait Islander people
the establishment of 4 GP-led Respiratory Clinics which contributed to the 151,285 COVID-19 tests undertaken across South Australia
To explore these achievements and access the full report, please visit our website.
A reminder that Adelaide PHN's Primary Health Care Awards are still open for a limited time. 
Awards are open to any current Adelaide PHN commissioned service providers, partners, members, or those involved in any of our related activities (eg. Health Care Homes and Care Connections sites).
Award categories:
Outstanding innovation in continued service delivery during the COVID-19 pandemic
Outstanding achievement in ensuring high levels of access and equity during the COVID-19 pandemic
Outstanding achievement in health promotion and early intervention services during the COVID-19 pandemic   
Award prizes:
First prize: professional development sponsorship to the value of $4000, a plaque and a framed certificate acknowledging the outstanding achievement 
Second prize: professional development sponsorship to the value of $2000, a plaque and a framed certificate acknowledging the outstanding achievement 
For more information, including how to enter, submission requirements and conditions of entry, please see the announcement on our website.
Applications close midday Friday 30 October 2020.
On 5 November 2020, the HealthPathways SA website will become mobile friendly to provide a better experience for users on desktop, tablet and mobile devices. 
While the website may look different, no clinical content has changed, but you may need to log in again using your details. If you require details of your login, click here and fill out the registration form. 
If you would like to provide feedback or are experiencing any difficulties with the new website, please don't hesitate to contact the HealthPathways SA team via enquiries@sahealthpathways.com.au.  
The Therapeutic Goods Administration (TGA) is actively responding to issues of supply of two medications associated with treating depression. 
The TGA is anticipating a shortage of Parnate (Tranylcypromine) 10mg tablets from 1 November to 7 December 2020. To ensure continuity for patients, the TGA has authorised the supply of an overseas-registered brand of tranylcypromine. Whilst this response is expected to ensure availability, emergency supplies for eligible patients will be reserved and dispensing limits will support equitable access. Details here: tga.gov.au/alert/tranylcypromine-parnate
Following a joint statement about the discontinuation of Nardil (phenelzine) on 29 June, the TGA has authorised the supply of overseas-registered brand of phenelzine to ease the effects of discontinuation. Due to the uncertainty of ongoing supply, prescribers are reminded to NOT initiate any new patients on phenelzine treatment.
Details here: tga.gov.au/alert/phenelzine-nardil
Adelaide PHN continues to keep general practices up to date with the latest COVID-19 information and resources available to support delivery of primary health care via our:
We continue to distribute PPE to general practices, pharmacies and other eligible allied health providers across the metro region. As commercial supplies become more readily available however, the range and availability of various PPE supply through Adelaide PHN will change. Practices/pharmacies can request (and re-request) allocation via the Expressions of Interest (EOI) form on our website - find out more here. 
For a limited time, Adelaide PHN has sourced bulk hand sanitiser from a private supplier which is available for general practices to purchase through Adelaide PHN at cost price - $60 for 5L. If your practice is interested in purchasing these 5L containers - please email covid19@adelaidephn.com.au
Adelaide PHN continues to support four metropolitan GP-led and Commonwealth funded Respiratory Clinics across Adelaide to support the SA COVID-19 response. Anyone with respiratory symptoms (even if very mild) can book an appointment online or over the phone (no GP forms or referral required). For details: adelaidephn.com.au/respiratoryclinics.
A highlight of research and consultation opportunities for primary health care providers.
Adelaide PHN distributes Primary Links to provide beneficial and relevant information. The content is sourced from credible organisations, but please note we do not undertake extensive quality reviews. While the Australian Government helped fund this document, it has not reviewed the content and is not responsible for any injury, loss or damage however arising from the use of or reliance on the information provided herein.
Adelaide PHN acknowledges the Kaurna peoples who are the Traditional Custodians of the Adelaide Region. We pay tribute to their physical and spiritual connection to land, waters and community, enduring now as it has been throughout time. We pay respect to them, their culture and to Elders past and present.