Click here if you are having trouble viewing this message. If images are not appearing, try pausing Adblock.
EDITION | 26 NOVEMBER 2020
River Torrens, Adelaide CBD
Photo @ Joey Joenes
A highlight of upcoming local professional development opportunities for primary health care providers. Find more events via our website here.
A highlight of resources to support primary health care providers. Find more Adelaide PHN resources via our website resource library here.
HealthPathways SA is here to assist you with localised service and referral information to support appropriate patient referrals. Referral pages provide accurate information on local referral options for community and hospital based services and programs, including details on how to refer.   
HealthPathways SA has a list of referral pages to assist you with where, and how, you can refer your patient depending on the clinical requirements.   
Check out the referral pages available via the HealthPathways SA website.
The 'How's your head today'? campaign has recently been launched as part of the Australian Government's mental health response to the COVID-19 pandemic.
The national COVID-19 mental health campaign aims to help Australians experiencing mental health impacts caused by the COVID-19 pandemic, helping them to: 
make their mental wellbeing a priority 
recognise the signs of poor mental health 
know where they can get help if they aren't feeling like themselves
seek support when they need it 
In addition to the campaign resources (video, audio files, posters and images), there are also a number of factsheets available. 
To access these resources for your practice and find out more, please visit The Department of Health website. 
The National Asthma Council have recently developed Spirometry Infection Control Recommendations for Primary Care.
Taking into consideration The Thoracic Society of Australia and New Zealand (TSANZ) and Australia and New Zealand Society of Respiratory Science (ANZSRS), updated recommendations regarding the performance of lung function tests across Australia and New Zealand in October 2020, National Asthma Council Australia (NAC) advises new recommendations for performing point-of care spirometry in primary care settings under the current circumstances of no, or small numbers, of COVID-19 cases and no known community transmission. 
To access these recommendations, please refer to the Spirometry Infection Control Recommendations for Primary Care documentation. For more information about infection control in SA, please visit SA Health's website. 
A highlight of news relating to the delivery of primary health care in Adelaide. Find more Adelaide PHN announcements via our website here
Part of Adelaide PHN's revised Central Referral Unit (CRU) process includes rejecting incomplete or ineligible mental health treatment plans (MHTP). 
Important: if you are a registered user of Argus or ReferralNet, the CRU is rejecting MHTPs via your secure messaging platform, not via fax. Please ensure you are checking your secure messaging inbox/portal for communication from the CRU.
If you require support with your secure messaging platform, please contact your practice facilitator via practicesupport@adelaidephn.com.au or our digital health team via digitalhealthinfo@adelaidephn.com.au.
Please note - the CRU will be moving away from faxed referrals as of 30 June 2021. We implore you to start actively using or setting up your digital software platforms for sending and receiving documents.
Electronic prescribing is being implemented in general practices and community pharmacies across the country. Successful implementation has already occurred across all of Victoria and metropolitan Sydney.
Medical and pharmacy clinical peak bodies, Adelaide PHN and Country SA PHN, and clinical software providers are working together with the Australian Department of Health and the Australian Digital Health Agency to support doctors and pharmacists in SA to enable electronic prescribing across the state. This new technology will provide a safer and more convenient supply of medicines for patients.
Please see the joint communique for more information.
Adelaide PHN is here to support your practice/pharmacy. If you have any questions or require support, please contact our digital health team via digitalhealthinfo@adelaidephn.com.au or your practice facilitator via practicesupport@adelaidephn.com.au. 
Adelaide PHN has been providing support to pharmacy and general practice for the introduction of electronic prescriptions. The Australian Digital Health Agency provide a CPD accredited eLearning course, free of charge, that provides an introduction to electronic prescribing for both prescribers and dispensers.
In order to begin electronic prescriptions, you need to:
be registered as a Healthcare Provider Identifier - Organisation (HPI-O)
have a current PKI certificate (medicare PKI and/or NASH Certificate)
have a Prescription Delivery Service, such as eRx or MediSecure 
ensure your clinical software is updated to a version that allows electronic prescriptions and has your Healthcare Provider Identifier - Individual (HPI-I)
The Department of Health has provided policies for security and access, privacy and data usage.
Adelaide PHN's Digital Health Team continue to provide support around PRODA, HPOS, NASH Certificates and electronic prescribing. If you require any related digital health support, please contact our team via digitalhealthinfo@adelaidephn.com.au. 
Between March and May 2021, Flinders Medical Centre (FMC) and its associated health care sites are implementing SA Health's electronic medical record, Sunrise EMR and PAS, in a staged approach.
As a result, GPs who provide medical services to FMC will be required to undertake training, and demonstrate competency with using the system, prior to commencing work. GPs who currently provide medical services will be captured in the activation training plan that is underway.
For information about the new GP training requirements and the benefits of the EMR, please visit sahealth.sa.gov.au/sunrise.
A family history of type 1 diabetes increases the risk of developing type 1 diabetes by up to 15 times that of the general population. Type1Screen offers free type 1 diabetes risk screening to anyone aged 2-45 years with an immediate or extended family member diagnosed with type 1 diabetes. Primary Care staff please note that patient self-referrals are welcomed. 
Involvement includes having a blood test at a local pathology collection centre. Bloods are analysed in Melbourne and results are send back to families within 8 weeks. Anyone found to be positive for islet autoantibodies (the earliest makers of type 1 diabetes development) will be offered a confirmation blood test, subsequent monitoring and available preventative clinical trials (e.g. the Baricitinib Trial - available in Melbourne and Adelaide only). 
For more information, including access to consent forms, please visit type1screen.org.
Adelaide PHN continues to keep general practices up to date with the latest COVID-19 information and resources available to support delivery of primary health care via our:
We continue to distribute PPE to general practices, pharmacies and other eligible allied health providers across the metro region. As commercial supplies become more readily available however, the range and availability of various PPE supply through Adelaide PHN will change. Practices/pharmacies can request (and re-request) allocation via the Expressions of Interest (EOI) form on our website - find out more here. 
For a limited time, Adelaide PHN has sourced bulk hand sanitiser from a private supplier which is available for general practices to purchase through Adelaide PHN at cost price - $60 for 5L. If your practice is interested in purchasing these 5L containers - please email covid19@adelaidephn.com.au
Adelaide PHN continues to support four metropolitan GP-led and Commonwealth funded Respiratory Clinics across Adelaide to support the SA COVID-19 response. Anyone with respiratory symptoms (even if very mild) can book an appointment online or over the phone (no GP forms or referral required). For details: adelaidephn.com.au/respiratoryclinics.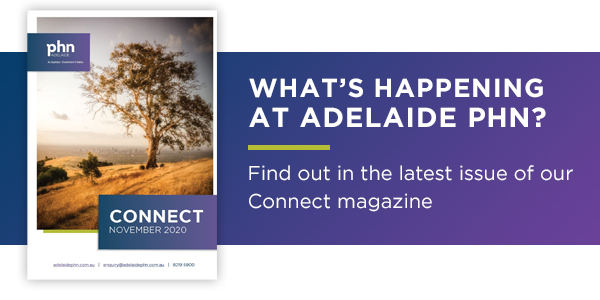 Engage with Adelaide PHN
8219 5900  |  enquiry@adelaidephn.com.au  |  adelaidephn.com.au 
Do you want to receive Adelaide PHN Communications? You can subscribe here.
Want to submit content to Primary Links? Please email comms@adelaidephn.com.au.
If you would like to adjust, or stop the communications you receive from Adelaide PHN, you can unsubscribe or change your preferences here.
Adelaide PHN distributes Primary Links to provide beneficial and relevant information. The content is sourced from credible organisations, but please note we do not undertake extensive quality reviews. While the Australian Government helped fund this document, it has not reviewed the content and is not responsible for any injury, loss or damage however arising from the use of or reliance on the information provided herein.
Adelaide PHN acknowledges the Kaurna peoples who are the Traditional Custodians of the Adelaide Region. We pay tribute to their physical and spiritual connection to land, waters and community, enduring now as it has been throughout time. We pay respect to them, their culture and to Elders past and present.