Click here if you are having trouble viewing this message. If images are not appearing, try pausing Adblock.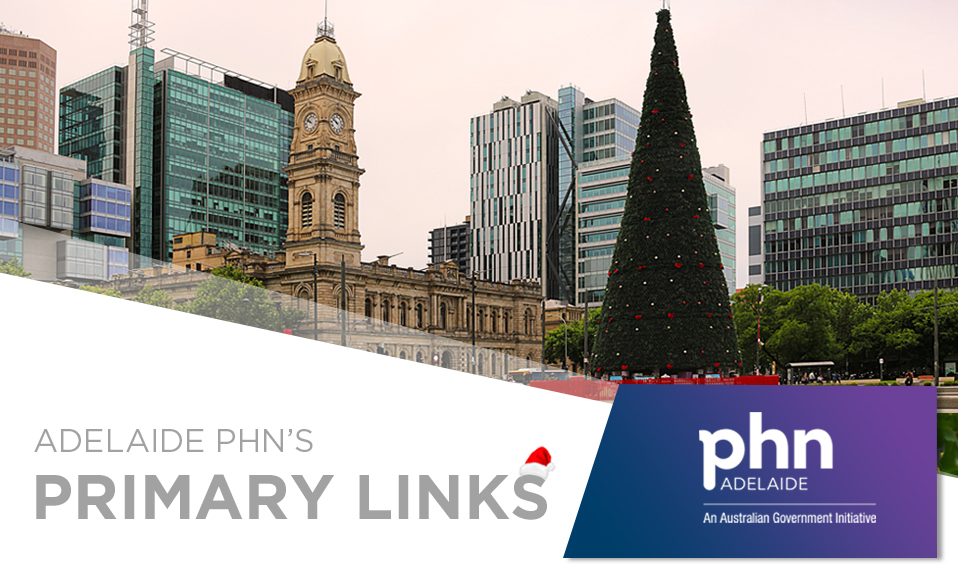 FINAL EDITION FOR 2020 | 11 DECEMBER
Victoria Square, Adelaide CBD
A highlight of upcoming local professional development opportunities for primary health care providers. Find more events via our website here.
Please visit the events page on our website to see upcoming events for 2021.
A highlight of resources to support primary health care providers. Find more Adelaide PHN resources via our website resource library here.
A new suite of infographics, focused on understanding the health and service needs of the Adelaide region, is now available on Adelaide PHN's website. 
Developed in collaboration with the Local Health Networks (LHNs), these infographics provide a visual snapshot of key population health data and the health service landscapes of southern, northern and central Adelaide regions. 
Adelaide PHN is pleased to share these infographics, alongside an array of other population health resources regarding our region, via adelaidephn.com.au/healthdata
Alternatively, download the resources directly via the following links:
Understanding the health of…   
The Pharmaceutical Society of Australia (PSA) is proud to release their online Palliative Care to Medicines Masterclass for local health care professionals. The masterclass comprises an online learning module, webinars and podcasts, and may be completed entirely or as individual components. 
The masterclass is funded by the South Australian Government through the Palliative Care 2020 Grants Program. PSA will provide de-identified data to the South Australian Department of Health and Wellbeing regarding access to the Palliative Care Medication Masterclass. 
All health practitioners in SA can access the masterclass by logging into the PSA website or creating a login to access. 
On the landing page, click on the activity of interest and create a free account to access their resources. On the course page, you will need to click on "request for access" button to download the webinars and audio podcasts. 
For more information, please contact SABranch@psa.org.au.
Medicinal cannabis is now available to selected patients with approved conditions. Mana Medical have developed a simple step by step guide to support doctors on how to obtain medicinal cannabis for their patients. The guide can be accessed here.
If you require medicinal cannabis resources and/or prescribing support, please contact Mana Medical on 1300 452 249, email mc@manamedicalservices.com or visit manamedical.com.au/mc. 
A highlight of news relating to the delivery of primary health care in Adelaide. Find more Adelaide PHN announcements via our website here
In this last edition of Primary Links for 2020, the team at Adelaide PHN would like to thank you for your continuous support throughout the year and wish you all a happy holiday and joyous New Year. 
The Adelaide PHN office will be closed on Tuesday 22 December 2020 and reopen on Wednesday 6 January 2021. 
During our office closure, our Central Referral Unit (CRU) will be operating between 9.00am - 12.00pm Monday to Friday (excluding public holidays) to process priority and suicide prevention referrals only. Providers can send referrals via secure messaging: 
Name: Central Referral Unit
URN: refnet:CRU 
For more information and support about referrals, please contact the Mental Health Enquiry Phone Line on
1300 898 213. 
We look forward to continue working with you in 2021. 
Would you like to start the new year with a boost to your clinic and chronic disease management processes, have streamlined communication, PIP QI activities planned and CPD opportunities for your GPs? Adelaide PHN is seeking expressions of interest from general practices to participate in the three month quality improvement program, Proactive Health Care - Keeping our Patients Well.
If selected, your practice will participate in four, one hour workshops, underpinned by the electronic share care planning platform 'Inca', and will receive full training to: 
Establish a streamlined, comprehensive chronic disease management program with efficient reminder systems
Optimised MBS billings
The program will engage your local allied health neighbourhood, bringing them on the journey with you and maximising patient care and outcomes.
For more information and to register your interest, please send an email to practicesupport@adelaidephn.com.au by Wednesday 23 December 2020. 
Globally in 2019, there were an estimated 10 million cases of tuberculosis (TB). In SA, 73 cases of TB have been notified year to date in 2020, compared to a total of 76 cases in 2019.
TB must be considered as a differential diagnosis in patients who are in at risk groups and present with compatible symptoms. A delayed diagnosis may result in increased morbidity in TB cases, and increase the risk of TB transmission within the SA community.
Medical practitioners are advised to be aware of the following groups at increased risk of TB:
Migrants, refugees or students from high burden countries
Close contacts of an infectious TB case
Aboriginal and Torres Strait Islander people 
People born in Australia prior to the 1960s
Health care workers who have worked in high burden countries 
For more information and to access medical advice, please visit the Health Alert via the SA Health website.  
The Commission on Excellence and Innovation in Health (CEIH) have opened an expressions of interest for members of the Statewide Adolescent Transition Care Clinical Network Steering Committee.
The Clinical Network will focus on improving the multidisciplinary, integrated care of young people transitioning from paediatric to adult health services.
Information about the Steering Committee and an application pack are available on the Statewide Adolescent Transition Care Clinical Network website.
Clinicians, carers and consumers are invited to apply. Applications close Friday 18 December 2020.
For more information, please email
CEIHExcellence-Innovation@sa.gov.au or call 8226 6209. 
The Australian Government is continuing to improve Australia's world leading vaccination program through the Australian Immunisation Register Amendment (Reporting) Bill 2020 (which has recently entered parliament). 
The Bill supports and builds upon the longstanding action of the successive Governments to ensure that Australians have access to safe and effective vaccines and that we maintain such high immunisation rates. 
Currently, not all vaccine providers make a record in the Australian Immunisation Register (AIR) when a vaccine is administered, which means that individuals or health professionals may not have access to vaccination history. This information could be vital in an emergency, when undertaking medical treatment and in managing an individual's health and wellbeing.
The effect of the amendments in the Bill is to ensure all vaccination providers report vaccines given, including any COVID-19 vaccinations, to the AIR.
To find out more about these changes, please visit Minister Hunt's Media via the Department of Health website. 
Adelaide PHN continues to keep general practices up to date with the latest COVID-19 information and resources available to support delivery of primary health care via our:
We continue to distribute PPE to general practices, pharmacies and other eligible allied health providers across the metro region. As commercial supplies become more readily available however, the range and availability of various PPE supply through Adelaide PHN will change. Practices/pharmacies can request (and re-request) allocation via the Expressions of Interest (EOI) form on our website - find out more here. 
For a limited time, Adelaide PHN has sourced bulk hand sanitiser from a private supplier which is available for general practices to purchase through Adelaide PHN at cost price - $60 for 5L. If your practice is interested in purchasing these 5L containers - please email covid19@adelaidephn.com.au
Adelaide PHN continues to support four metropolitan GP-led and Commonwealth funded Respiratory Clinics across Adelaide to support the SA COVID-19 response. Anyone with respiratory symptoms (even if very mild) can book an appointment online or over the phone (no GP forms or referral required). For details: adelaidephn.com.au/respiratoryclinics.
A highlight of research and consultation opportunities for primary health care providers. 
Adelaide PHN distributes Primary Links to provide beneficial and relevant information. The content is sourced from credible organisations, but please note we do not undertake extensive quality reviews. While the Australian Government helped fund this document, it has not reviewed the content and is not responsible for any injury, loss or damage however arising from the use of or reliance on the information provided herein.
Adelaide PHN acknowledges the Kaurna peoples who are the Traditional Custodians of the Adelaide Region. We pay tribute to their physical and spiritual connection to land, waters and community, enduring now as it has been throughout time. We pay respect to them, their culture and to Elders past and present.