Click here if you are having trouble viewing this message. If images are not appearing, try pausing Adblock.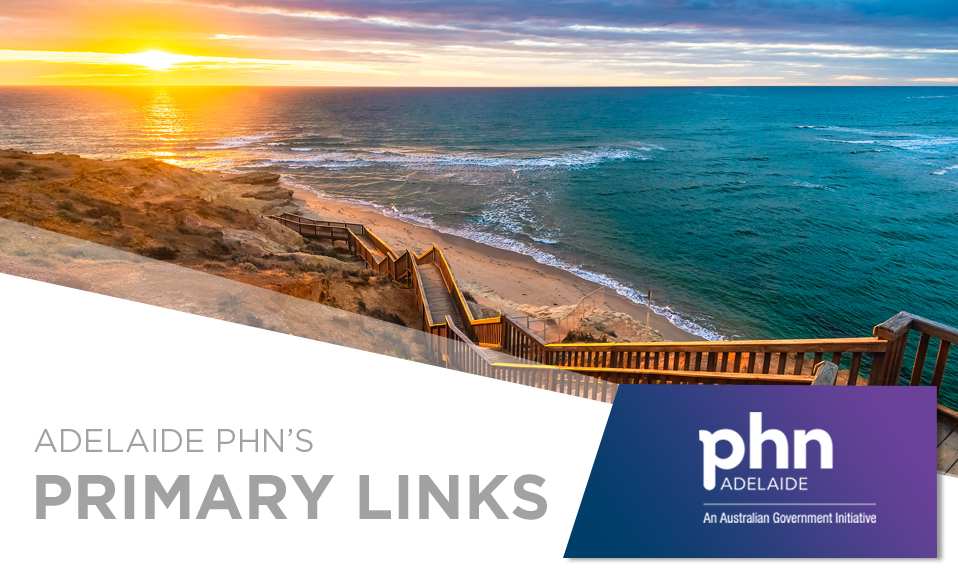 EDITION | 4 FEBRUARY 2021
Port Noarlunga, Adelaide South
A highlight of upcoming local professional development opportunities for primary health care providers. Find more events via our website here.
A highlight of resources to support primary health care providers. Find more Adelaide PHN resources via our website resource library here.
Emerging Minds offer free resources for practitioners working with families and children to improve child mental health outcomes in Australia and have recently launched an online course for GPs - A GP Framework for Child Mental Health Assessment (5-12 years) through Emerging Minds Learning.
This course was co-designed with GPs and parents to ensure content is relevant and realistic to the practitioner experience. The course attracts 40 CPD points through the RACGP CPD Accreditation Program.
The following resources have been developed to support the course - 
For more information, please visit the Emerging Minds website. 
The National Asthma Council Australia have released the following resources for health care professionals.
Asthma and COPD Medications Chart - a useful educational resource for health professionals to help identify and explain different treatments to asthma patients.
Monoclonal antibody therapy for severe asthma - a health professional information paper on four monoclonal antibody therapies available in Australia for the treatment of severe asthma in patients whose asthma in uncontrolled despite optimised standard treatment. This paper provides updates to existing monoclonal antibody therapies, as well as the addition of dupilumab.
For more information, please visit the National Asthma Council Australia website. 
A highlight of news relating to the delivery of primary health care in Adelaide. Find more Adelaide PHN announcements via our website here
Part of Adelaide PHN's revised Central Referral Unit (CRU) process includes rejecting incomplete or ineligible mental health treatment plans (MHTP). 
Important: if you are a registered user of Argus or ReferralNet, the CRU is rejecting MHTPs via your secure messaging platform, not via fax. Please ensure you are checking your secure messaging inbox/portal for communication from the CRU.
If you require support with your secure messaging platform, please contact your practice facilitator via practicesupport@adelaidephn.com.au or our digital health team via digitalhealthinfo@adelaidephn.com.au.
Please note - the CRU will be moving away from faxed referrals as of 30 June 2021. We implore you to start actively using or setting up your digital software platforms for sending and receiving documents.
Asthma Australia is now recruiting practices to participate in the Adelaide Integrated Respiratory Response (AIRR) Project.
The aim of this project is to develop an integrated model of care that is patient centred, patient driven, sustainable, improves patient health outcomes and reduces hospitalisations and readmissions. 
For more information about the project, please refer to the General Practice Information Sheet. 
If your practice is interested in participating or you have any queries, please contact your practice facilitator via practicesupport@adelaidephn.com.au.
NALHN are working to reduce wait times and improve access to its specialist outpatient services. One of the strategies includes improving the referral template and submission process for GPs and hospital clinicians.
NALHN are seeking your advice on the draft template and criteria guideline to establish if this better helps you direct patients to appropriate outpatient services at the Lyell McEwin and Modbury Hospital, or to alternate pathways when a tertiary service may not be the most suitable option (as such information available from HealthPathways). 
You can provide feedback via this short online survey. The survey closes Friday 19 February, 2021.
As the template progresses, more information will be added to specific service forms and uploaded to the NALHN Outpatient Services webpage. Updates will be provided as they become available.
For more information, please contact Health.NALHNOPD@sa.gov.au or call 8182 9568. 
Three deaths have occured since 2017 due to the disseminated vaccine related varicella-zoster virus infection, following Zostavax administration. It is important that health professionals are aware of the potential for this very rate adverse event when considering the appropriateness of Zostavax for their patients, including in patients on low dose immunosuppressive medication. 
For more information, including guidance on administering this vaccine, please refer to the Department of Health's safety alert.
From Thursday 28 January, SA Pathology will transition to a new naming convention for gynaecological pathology tests in Millennium, Sunrise EMR and Oacis eOrdering as outlined below -
Pathology Gynae Request will change to Cytology Gynae Request
Pathology Non-Gynae Request will change to Cytology Non-Gynae Request
Pathology Gynae Request and Pathology Non-Gynae Request will continue to exist as synonyms during the transition period. For the full list of synonyms added, please refer to this attachment.
For any questions relating to these changes, please contact Walter Nespolon, Head of Unit, Cytopathology on 7074 1176. 
Are you interested in shaping the future of clinical genomics in SA? 
The Commission on Excellence and Innovation in Health (CEIH) is looking for consumers and clinicians, researchers and other professionals from both the public and private sectors to be part of a Steering Committee to lead the work of the network. 
Information about the steering committee and an application pack are available on the Statewide Clinical Genomics Clinical Network website. 
Applications close Friday 19 February 2021.
Adelaide PHN continues to keep general practices up to date with the latest COVID-19 information and resources available to support delivery of primary health care via our:
We continue to distribute PPE to general practices, pharmacies and other eligible allied health providers across the metro region. As commercial supplies become more readily available however, the range and availability of various PPE supply through Adelaide PHN will change. Practices/pharmacies can request (and re-request) allocation via the Expressions of Interest (EOI) form on our website - find out more here. 
For a limited time, Adelaide PHN has sourced bulk hand sanitiser from a private supplier which is available for general practices to purchase through Adelaide PHN at cost price - $60 for 5L. If your practice is interested in purchasing these 5L containers - please email covid19@adelaidephn.com.au
Adelaide PHN continues to support four metropolitan GP-led and Commonwealth funded Respiratory Clinics across Adelaide to support the SA COVID-19 response. Anyone with respiratory symptoms (even if very mild) can book an appointment online or over the phone (no GP forms or referral required). For details: adelaidephn.com.au/respiratoryclinics.
A highlight of research and consultation opportunities for primary health care providers.
Adelaide PHN distributes Primary Links to provide beneficial and relevant information. The content is sourced from credible organisations, but please note we do not undertake extensive quality reviews. While the Australian Government helped fund this document, it has not reviewed the content and is not responsible for any injury, loss or damage however arising from the use of or reliance on the information provided herein.
Adelaide PHN acknowledges the Kaurna peoples who are the Traditional Custodians of the Adelaide Region. We pay tribute to their physical and spiritual connection to land, waters and community, enduring now as it has been throughout time. We pay respect to them, their culture and to Elders past and present.