Click here if you are having trouble viewing this message. If images are not appearing, try pausing Adblock.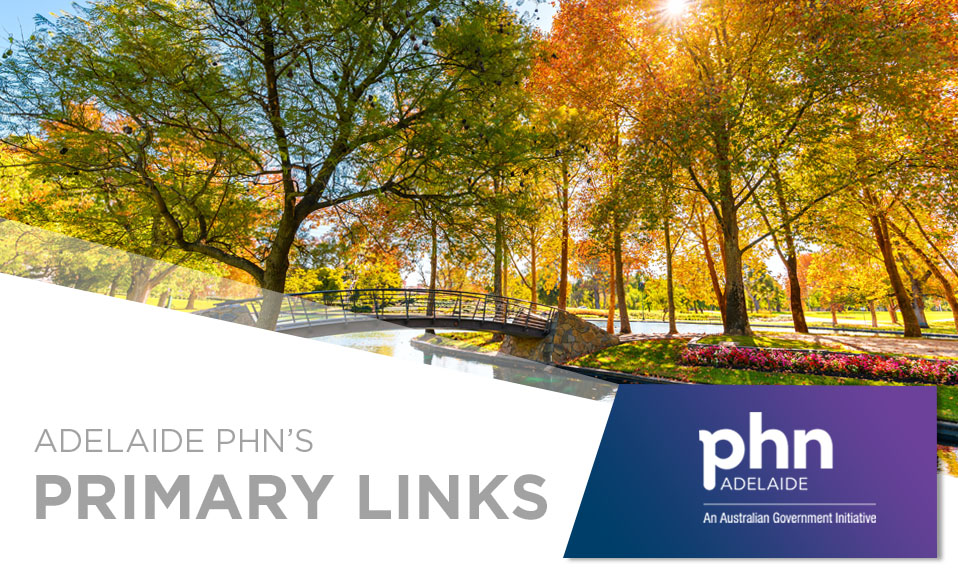 EDITION | 18 FEBRUARY 2021
Rymill Park, Adelaide CBD
A highlight of upcoming local professional development opportunities for primary health care providers. Find more events via our website here.
A highlight of resources to support primary health care providers. Find more Adelaide PHN resources via our website resource library here.
The Wardliparringga Aboriginal Research Unit - in partnership with the Aboriginal Community Controlled Sector and SA Health Aboriginal health service - have developed a Risk Factor Assessment and Screening Tool to better understand the specific assessment questions and methods used when performing 715 Aboriginal Health Assessments.
This has led to Adelaide PHN developing appropriate templates for completing 715 Aboriginal Health Assessments in Best Practice, Zedmed and Medical Director. These templates are available to access via the resource library on our website.
If you have any feedback on these templates, questions or would like digital health support, please contact us via digitalhealthinfo@adelaidephn.com.au.
The Australian Digital Health Agency (ADHA) has co-developed the Digital Health Specialist Toolkit with input and testing from specialists and practice staff, and in support of the Digital Health Specialist Toolkit Steering Group with members representing a number of peak organisations.
The toolkit contains interviews, guides, learning modules, demonstration videos and much more on a range of essential digital health systems.
CPD-accredited eLearning modules provide an introduction and overview of digital health technologies, electronic prescribing, My Health Record and telehealth, including applications, proven benefits and ethical considerations.
For more information and to access the toolkit, please visit the ADHA website. 
In 2020, the Pharmaceutical Society of Australia (PSA) received funding through the Department for Health and Wellbeing 2020 Palliative Care Grants Program to deliver an online Palliative Care Medications Masterclass for clinicians.
This Masterclass has been designed to increase awareness of and confidence in palliative care medication management, and provide networking opportunities for clinicians who support patients receiving palliative care.
Clinicians including GPs, pharmacists and allied health professionals are encouraged to access the Masterclass by visiting the PSA website. 
For further information on other Palliative Care Grant Program initiatives please visit the SA Health website. 
A highlight of news relating to the delivery of primary health care in Adelaide. Find more Adelaide PHN announcements via our website here
Adelaide PHN continues to keep general practices and providers up to date with the latest COVID-19 information by providing relevant resources, support and updates as they become available. 
As we see the COVID-19 vaccine come into Australia, we will support the roll-out to residential aged care facilities as part of phase 1a, and GP vaccination clinics as part of phase 1b.  
To find out more about how we're supporting the response and vaccine roll-out, to request PPE and access our 'To the Point' bulletin, please visit our COVID-19 provider update webpage. 
Part of Adelaide PHN's revised Central Referral Unit (CRU) process includes rejecting incomplete or ineligible mental health treatment plans (MHTP). 
Important: if you are a registered user of Argus or ReferralNet, the CRU is rejecting MHTPs via your secure messaging platform, not via fax. Please ensure you are checking your secure messaging inbox/portal for communication from the CRU.
If you require support with your secure messaging platform, please contact your practice facilitator via practicesupport@adelaidephn.com.au or our digital health team via digitalhealthinfo@adelaidephn.com.au.
Please note - the CRU will be moving away from faxed referrals as of 30 June 2021. We implore you to start actively using or setting up your digital software platforms for sending and receiving documents.
Following extensive co-design with hospital and community clinicians, potential patients and carers, Wellbeing SA's My Home Hospital is now accepting referrals. 
My Home Hospital brings hospital-level care to people in the comfort of their home. This care comes in the form of doctors, nurses and allied health, and is available 24/7 at no charge to eligible public patients. Referrals are accepted from doctors and nurse practitioners. 
The service is available for a range of conditions where hospital-level care is needed and is supported by remote monitoring technology, enabling the care team to stay in touch with patients and track observations including temperature and blood pressure in real time. 
For more information, please visit myhomehospital.sa.gov.au.
SA Pathology recently simplified their caller options to reduce the time you spend in the queue, getting you off the phone and back to your patients faster. Based on feedback provided, SA Pathology have made a small change to improve your experience.
Doctors and medical staff calling the 8222 3000 and
1800 188 077 numbers can now book a domiciliary visit by selecting option 1 and then option 2. Other options remain unchanged.
Please visit the SA Pathology website for more information.
Adelaide PHN would like to remind all providers that anyone working or volunteering with children in South Australia must by law have a Working with Children Check (WWCC).
The checks will be valid for five years, are transferable between jobs and will align South Australia with new national standards.
For more information, including who needs a check and to apply, please visit the Department of Human Services website. 
A highlight of research and consultation opportunities for primary health care providers.
Adelaide PHN distributes Primary Links to provide beneficial and relevant information. The content is sourced from credible organisations, but please note we do not undertake extensive quality reviews. While the Australian Government helped fund this document, it has not reviewed the content and is not responsible for any injury, loss or damage however arising from the use of or reliance on the information provided herein.
Adelaide PHN acknowledges the Kaurna peoples who are the Traditional Custodians of the Adelaide Region. We pay tribute to their physical and spiritual connection to land, waters and community, enduring now as it has been throughout time. We pay respect to them, their culture and to Elders past and present.