Click here if you are having trouble viewing this message. If images are not appearing, try pausing Adblock.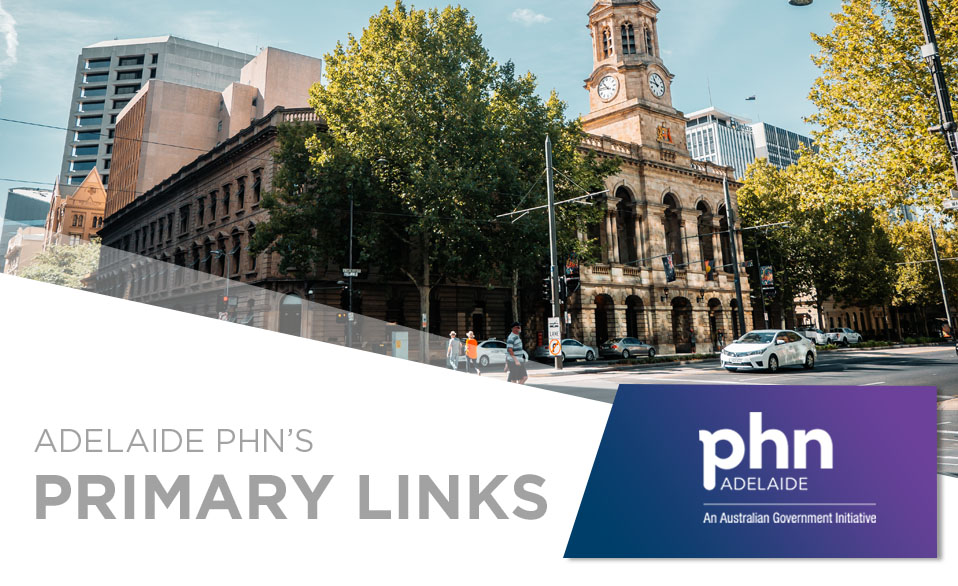 EDITION | 4 MARCH 2021
Adelaide CBD
A highlight of upcoming local professional development opportunities for primary health care providers. Find more events via our website here.
A highlight of resources to support primary health care providers. Find more Adelaide PHN resources via our website resource library here.
The RACGP has recently developed a new General Practice Business Toolkit.
Establish, manage and enhance your practice with six easy-to-navigate modules and a brand-new set of interactive tools. 
Use the billing calculator to learn how to achieve your financial goals
Design your ideal practice layout
Set your vision and values and focus on what's important to you as a practice owner
RACGP members were extensively involved in the design of the toolkit to ensure it supports GPs and practice managers. The toolkit is a free resource and is available to anyone interested in enhancing their general practice.
To find out how you can get the most out of the toolkit, visit RACGP's website. 
The Heart Foundation's Heart Health Check Toolkit is now live and accessible online. The toolkit is a one-stop shop designed to assist general practice staff to easily assess and manage CVD risk in line with the latest guidance.
The toolkit offers a range of tools and resources including assessment and management templates, quality improvement tools, patient engagement resources and much more.
For more information and to access the toolkit, please visit the Heart Foundation's website or email 
RACGP's Alcohol and Other Drugs (AOD) GP Education Program aims to help GPs better support and treat patients experiencing AOD related problems.
All members have access to the program's online Essential Skills Training as well as the opportunity to discuss AOD patient cases with their peers on Thursday evenings at AOD Connect: Project ECHO.
Treatment Skills and Advanced Skills Training are available to eligible members who apply to the program. Treatment Skills and Advanced Skills Training attracts a completion payment, rewarding GPs for upskilling in treatment of AOD.
The program has been re-adapted to a virtual environment in response to COVID-19. Connect from anywhere in Australia to access the training.
For more information and to register, please visit the RACGP website.
A highlight of news relating to the delivery of primary health care in Adelaide. Find more Adelaide PHN announcements via our website here
Adelaide PHN continues to keep general practices and providers up to date with the latest COVID-19 information by providing relevant resources, support and updates as they become available. 
As we see the COVID-19 vaccine come into Australia, we will support the roll-out to residential aged care facilities as part of phase 1a, and GP vaccination clinics as part of phase 1b.  
To find out more about how we're supporting the response and vaccine roll-out, to request PPE and access our 'To the Point' bulletin, please visit our COVID-19 provider update webpage. 
Part of Adelaide PHN's revised Central Referral Unit (CRU) process includes rejecting incomplete or ineligible mental health treatment plans (MHTP). 
Important: if you are a registered user of Argus or ReferralNet and your MHTP is rejected, you will receive a rejection message via your secure messaging platform, not via fax. Please ensure you are checking your secure messaging inbox/portal for communication from the CRU.
If you require support with your secure messaging platform, please contact your practice facilitator via practicesupport@adelaidephn.com.au or our digital health team via digitalhealthinfo@adelaidephn.com.au.
Please note - the CRU will be moving away from faxed referrals as of 30 June 2021. We implore you to start actively using or setting up your digital software platforms for sending and receiving documents.
Consultation is a key part of HealthPathways development process where health professionals and service providers from across our state are invited to provide feedback on draft pathways prior to publication. 
Myalgic Encephalomyelitis/Chronic Fatigue Syndrome (ME/CFS) Pathway Consultation opens March. 
The draft ME/CFS Pathway provides guidance for taking a thorough history, diagnosis, symptom management approaches, long term supports and referral considerations. 
While feedback via the HealthPathways portal is encouraged and can be easily provided at anytime, the consultation process provides an opportunity to review and feedback during the localisation process, prior to the pathway going live. 
If you would like to be involved with this consultation or others, please contact the HealthPathways Team via: enquiries@sahealthpathways.com.au.
More information about this consultation can be found via the HealthPathways website. 
The Changing Attitudes and Gaining Education Program (CHANGE) is a cannabis specific treatment program for young people aged 13 -18, in Playford, Salisbury, and Gawler. The Program utilises several evidence-based therapeutic modalities and follows trauma-informed practice. This enables clinicians to address underlying issues for young people, as well as focusing on reduction and cessation. 
To discuss a referral, please contact the Northern Area Community and Youth Services on 8252 2474, Monday to Friday between 9.00am and 5.00pm. 
For further information, please visit: 
Drug and Alcohol Services South Australia (DASSA) has introduced a new GP Inreach Program and as part of their consultation are seeking feedback from general practitioners to assist in developing a more effective interface with primary health care services. 
The survey is seeking to:
Find ways DASSA can support and work more effectively with GPs
Identify barriers to the transfer of MATOD patients between DASSA and general practice 
Identify GPs to work with DASSA in the development of a supportive model transitioning patients to general practice 
The survey can be accessed here and is anonymous unless you choose to provide contact details. 
A highlight of research and consultation opportunities for primary health care providers.
Health Professionals Learning Adaption in Response to Unanticipated Circumstances 
Type: Interview | By: University of Sydney, Monash University and Harvard Medical School 
Summary: Researchers are conducting interviews to understand the strategies health professionals use to approach formal and informal learning activities. The interviews will also discuss how the COVID-19 Pandemic may have influenced this approach. To participate, please email anna.janssen@sydney.edu.au.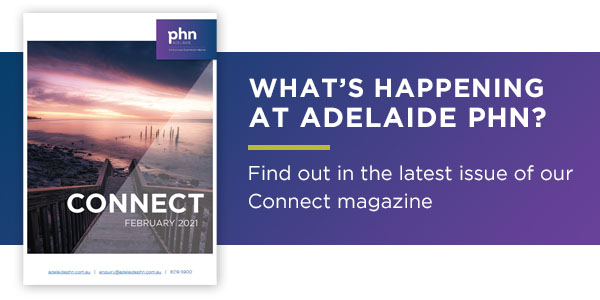 Engage with Adelaide PHN
8219 5900  |  enquiry@adelaidephn.com.au  |  adelaidephn.com.au 
Do you want to receive Adelaide PHN Communications? You can subscribe here.
Want to submit content to Primary Links? Please email comms@adelaidephn.com.au.
If you would like to adjust, or stop the communications you receive from Adelaide PHN, you can unsubscribe or change your preferences here.
Adelaide PHN distributes Primary Links to provide beneficial and relevant information. The content is sourced from credible organisations, but please note we do not undertake extensive quality reviews. While the Australian Government helped fund this document, it has not reviewed the content and is not responsible for any injury, loss or damage however arising from the use of or reliance on the information provided herein.
Adelaide PHN acknowledges the Kaurna peoples who are the Traditional Custodians of the Adelaide Region. We pay tribute to their physical and spiritual connection to land, waters and community, enduring now as it has been throughout time. We pay respect to them, their culture and to Elders past and present.