Click here if you are having trouble viewing this message. If images are not appearing, try pausing Adblock.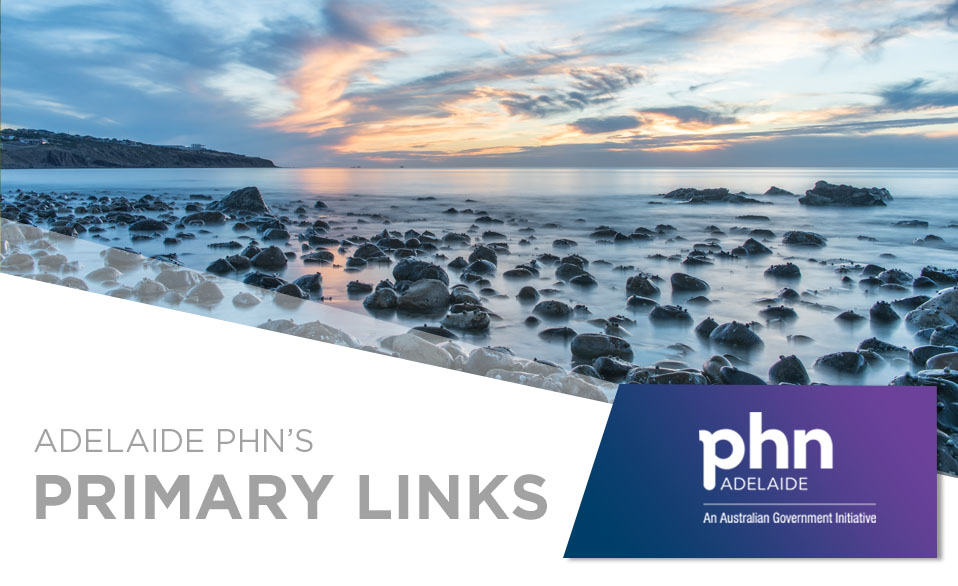 EDITION | 18 MARCH 2021
Hallett Cove Conservation Park, Adelaide South
A highlight of upcoming local professional development opportunities for primary health care providers. Find more events via our website here.
A highlight of resources to support primary health care providers. Find more Adelaide PHN resources via our website resource library here.
The National Asthma Council Australia has been updating the "Managing asthma during the COVID-19 pandemic" page on the Australian Asthma Handbook regularly. Most recently, advice on COVID-19 vaccination for people with asthma has been published and can be found here.
This advice may change as more evidence merges but updates will be made as information becomes available.
For more information about the handbook, please visit the National Athma Council Australia website.
Navigating the health system as a lung cancer patient can be stressful, confusing, and overwhelming. Help your patients connect to care, resources and support by referring them to the Lung Foundation Australia's free Lung Cancer Support Nurse service.
The national telephone-based service empowers patients, families and carers to work with health care professionals to make informed choices about treatment and management.
To find out more and refer a patient, please visit: lungfoundation.com.au/refer. 
Calm Kid Central (CKC) is an online, low intensity program for 4 to 11 year old children with emotional mental health challenges. It provides online therapeutic personalised support, education and and video courses for children on worry, frustration and friendship issues. Parents can ask Child Psychologists questions and receive answers within 48 hours.
Adelaide PHN is providing a year of free CKC Membership to parents with a health care card. Your patients can access this offer by visiting calmkidcentral.com and using the code 'FIRSTYEAR'. Those without a health care card can use code 'FIRSTMONTHFREE' to try it out.
A highlight of news relating to the delivery of primary health care in Adelaide. Find more Adelaide PHN announcements via our website here
Adelaide PHN continues to keep general practices and providers up to date with the latest COVID-19 information by providing relevant resources, support and updates as they become available. 
Most recently, Adelaide PHN has been supporting the COVID-19 vaccine roll-out to residential aged care facilities as part of phase 1a, and GP vaccination clinics as part of phase 1b.  
To find out more about how we're supporting the response and vaccine roll-out, to request PPE and access our 'To the Point' bulletin, please visit our COVID-19 provider update webpage. 
For any COVID related queries or support, please email our team via covid19@adelaidephn.com.au.
To support the safe and secure exchange of clinical information between health care providers and our Central Referral Unit (CRU), Adelaide PHN will be ceasing fax to the CRU on 30 June 2021. 
We strongly encourage practices using either Argus or ReferralNet to start sending Mental Health Treatment Plan Referrals to the CRU via Secure Messaging now. 
Address book details (Argus or ReferralNet):
Name: Central Referral Unit
ID: CRU
*Best Practice and Zedmed software using Argus to send referrals to the CRU will need to contact Argus to turn on the functionality to send to ReferralNet. 
If you do not have secure messaging, Adelaide PHN is offering general practice a free ReferralNet licence to be able to send to the CRU. *This licence will allow you to send unlimited referrals to the CRU ONLY, however you will be still be able to receive messages from any organisation/provider. 
If you require support, please contact our Digital Health Officer, Bonnie Bretzke via bbretzke@adelaidephn.com.au.
On Tuesday 30 March 2021, HealthPathways SA will have a system enhancement update to support a better experience for users on desktop, tablet and mobile devices.
Note - you may need to log in again using your login details. Please visit the HealthPathways Project Site and fill out the registration form.  
If you are experiencing any difficulties, please don't hesitate to contact the HealthPathways SA team via enquiries@sahealthpathways.com.au 
The Australian Government Department of Health has announced that a further $1.1 billion investments in the national COVID-19 health response and suppression strategy will allow telehealth services and care to continue until 30 June 2021. 
For further information, please refer to the Minister's media release.
GPs can now refer patients to Wellbeing SA's My Home Hospital, a public hospital-level service delivering care to patients in the comfort of their home.
Adelaide patients may be eligible if they have a condition requiring acute hospital-level care within the following diagnostic groups:
Cellulitis
Respiratory infections/inflammations
Kidney infections/UTIs
COPD
DVT
Referral is simple - complete a referral form and send to My Home Hospital (contact details on the form). The team will notify you of a patient's eligibility assessment (within 30 minutes) and admission (within 60 minutes). Clinical advice and referral support is available 24/7 via 1800 111 644.
For more information and to access the referral form, please visit myhomehospital.sa.gov.au. 
All SA prescribers and pharmacists with unrestricted registration with AHPRA are invited to register for ScriptCheckSA before its release at the end of March 2021. 
From Monday 15 March 2021, registration emails will be sent to all eligible prescribers and pharmacists inviting them to register for ScriptCheckSA. If you have not received an email by COB Friday 19 March 2021, you can register via the secure Registration Portal. 
More information about how to register is available at ScriptCheckSA.sa.gov.au.  
Free online training and resources will be available from the week beginning Monday 22 March 2021 on the ScriptCheckSA website. 
Access to ScriptCheckSA will be available at the end of March 2021.
Between March and June 2021, Flinders Medical Centre (FMC) and its associated health care sites are implementing SA Health's electronic medical record, Sunrise EMR and PAS, in a staged approach.
As a result, GPs who provide medical services to FMC will be required to undertake training, and demonstrate competency with using the system, prior to commencing work. GPs who currently provide medical services will be captured in the activation training plan that is underway.
For information about the new GP training requirements and the benefits of the EMR, visit the SA Health website at sahealth.sa.gov.au/sunrise. 
ELDAC's team of facilitators assist, support and enable health and aged care workers to provide best quality care for older Australians and their families at the end of life. 
Expressions of interest are now open for aged care service providers who wish to develop palliative care and advance care planning activities within their organisation.
Expressions of interest close tomorrow - 19 March 2021.
To find out more, please visit the ELDAC website.
A highlight of research and consultation opportunities for primary health care providers.
Adelaide PHN distributes Primary Links to provide beneficial and relevant information. The content is sourced from credible organisations, but please note we do not undertake extensive quality reviews. While the Australian Government helped fund this document, it has not reviewed the content and is not responsible for any injury, loss or damage however arising from the use of or reliance on the information provided herein.
Adelaide PHN acknowledges the Kaurna peoples who are the Traditional Custodians of the Adelaide Region. We pay tribute to their physical and spiritual connection to land, waters and community, enduring now as it has been throughout time. We pay respect to them, their culture and to Elders past and present.