Click here if you are having trouble viewing this message. If images are not appearing, try pausing Adblock.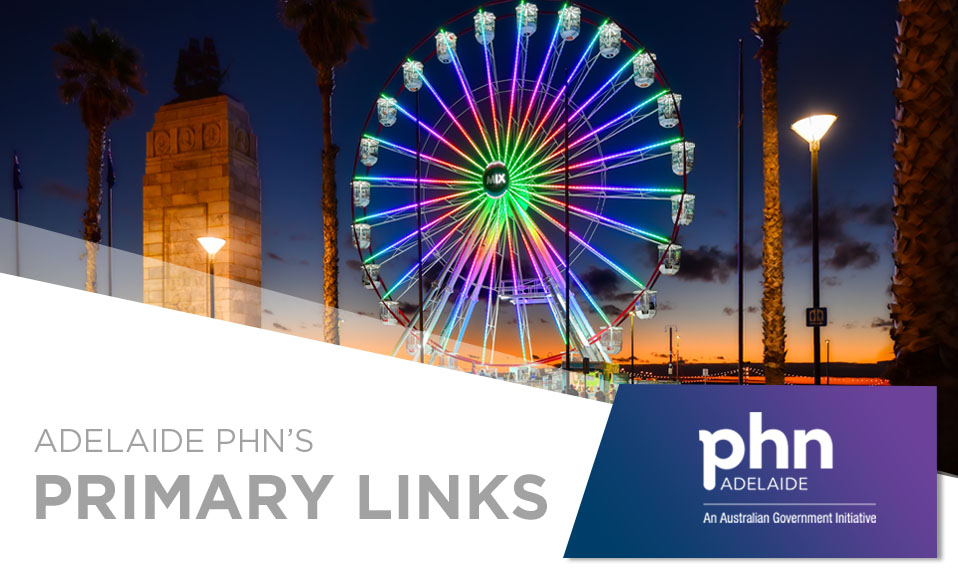 EDITION | 1 APRIL 2021
Glenelg, Adelaide South
A highlight of upcoming local professional development opportunities for primary health care providers. Find more events via our website here.
A highlight of resources to support primary health care providers. Find more Adelaide PHN resources via our website resource library here.
Explore the Heart Foundation's new Heart Health Check Toolkit, where you will find practical tools and resources to support your clinical assessment and management of cardiovascular disease (CVD) risk.
You can:
Keep up with CVD preventative health checks by streamlining your processes with assessment and management templates from the Toolkit
Use guides found in the Toolkit to help your team provide holistic care with greater efficiency
For more information and to access the toolkit, including further resources and tools to help you simplify processes involved in the Heart Health Check, please visit the Heart Foundation's website. 
In 2020, the Pharmaceutical Society of Australia (PSA) received funding through the Department for Health and Wellbeing 2020 Palliative Care Grants Program to deliver an online Palliative Care Medications Masterclass for clinicians.
This Masterclass has been designed to increase awareness of and confidence in palliative care medication management, and provide networking opportunities for clinicians who support patients receiving palliative care.
Clinicians including GPs, pharmacists and allied health professionals are encouraged to access the Masterclass by visiting the PSA website. 
For further information on other Palliative Care Grant Program initiatives please visit the SA Health website. 
Australian Medical Placements is offering one GP VR (or GP Registrar GP3 and above) the opportunity to attend the FPAA National Certificate in Reproductive and Sexual Health held at Venue @313 Adelaide from 26-30 July, 9.00am - 5.00pm.  
The 5-day theory course, plus 7 to 9 session clinical placement, is valued at $2,995.  
The certificate is nationally accredited and has a standardised assessment included in the course. 40 RACGP QI&CPD points (category 1) are applicable on successful completion of this course. More information can be found via the SHINE SA website. 
To enter, simply answer 3 questions by clicking on this link. Deadline is on 1st June 2021.  
The lucky winner will receive full registration and contacted by email and/or phone on 15 June 2021. Winner is expected to attend the full 5-day course followed by 7 to 9 clinical training sessions. 
If you have questions, please contact Cheryl Davey on 
8333 5666 or email cheryld@australianmedicalplacements.com.au.
A highlight of news relating to the delivery of primary health care in Adelaide. Find more Adelaide PHN announcements via our website here.
Adelaide PHN continues to keep general practices and providers up to date with the latest COVID-19 information by providing relevant resources, support and updates as they become available. 
Most recently, Adelaide PHN has been supporting the COVID-19 vaccine roll-out to residential aged care facilities as part of phase 1a, and GP vaccination clinics as part of phase 1b.  
To find out more about how we're supporting the response and vaccine roll-out, to request PPE and access our 'To the Point' bulletin, please visit our COVID-19 provider update webpage. 
For any COVID related queries or support, please email our team via covid19@adelaidephn.com.au.
To support the safe and secure exchange of clinical information between health care providers and our Central Referral Unit (CRU), Adelaide PHN will be ceasing fax to the CRU on 30 June 2021. 
We strongly encourage practices using either Argus or ReferralNet to start sending Mental Health Treatment Plan Referrals to the CRU via Secure Messaging now. 
Address book details (Argus or ReferralNet):
Name: Central Referral Unit
ID: CRU
*Best Practice and Zedmed software using Argus to send referrals to the CRU will need to contact Argus to turn on the functionality to send to ReferralNet. 
If you do not have secure messaging, Adelaide PHN is offering general practice a free ReferralNet licence to be able to send to the CRU. *This licence will allow you to send unlimited referrals to the CRU ONLY, however you will be still be able to receive messages from any organisation/provider. 
If you require support, please contact our Digital Health Officer, Bonnie Bretzke via bbretzke@adelaidephn.com.au.
Real Time Prescription Monitoring (RTPM) is now a reality thanks to the launch of ScriptCheckSA across South Australia. 
ScriptCheck SA delivered on the State Government's $7.5 million election commitment to implement a RTPM System for Schedule 8 medicines in SA.
Registration, access to the online training modules and a direct link to ScriptCheckSA can be accessed from the landing page.
More information about ScriptCheckSA can be found at sahealth.sa.gov.au/scriptchecksa and questions about ScriptCheckSA should be directed to Health.RTPM@sa.gov.au. 
Do you have a research idea you'd like to pursue? Improve primary health care for all Australians with an RACGP Foundation grant.
Applications for RACGP grants are now open and close on 3 May 2021, with grants available across many areas of focus.
GPs and GPs in training are also encouraged to apply for the inaugural RACGP Foundation Harry Nespolon Research Grant. In honour of the late Dr Harry Nespolon, the grant will fund research into the wellbeing of GPs and is valued up to $60,000. Project proposals are encouraged to address factors that support GP self-care and peer support – themes for which the late RACGP President was a strong advocate.
Visit the RACGP website to apply or contact foundation@racgp.org.au with any queries. 
Central Northern Adelaide Renal and Transplantation Service (CNARTS) is seeking the advice, opinions and experiences of GPs to inform communication and partnership strategies and the development of a renal shared care model. The aim is to improve care coordination, health outcomes and the patient journey, particularly though end stage disease and dialysis starts.
If you have current or previous experience with tertiary renal services, we would appreciate 30 minutes of your time to be 'interviewed', either in person, by phone or via zoom, at times suitable to you.
The interviews are an informal 'opinion and feedback' opportunity, but are part of a qualitative (anonymous) study.
Interviews are also being conducted with patients and other primary and tertiary health care professionals. To contribute to this important service improvement project, please email project manager Samantha Welke at Samantha.Welke2@sa.gov.au or call 0437 663 865 to arrange a time to discuss.
The Playford Wellbeing Hub is partnering with University of South Australia health students to offer free Heart Health Checks to residents of the City of Playford. Appointments will take approximately 15 minutes and will be available at the John McVeity Centre, (182 Peachey Rd, Smithfield Plains), on April 7 from 9.00am – 12.00pm. This is a drop-in session, no booking is necessary. 
This is a joint project between the City of Playford and the South Australian Government, under the Wellbeing SA Statewide Wellbeing Strategy.
A highlight of research and consultation opportunities for primary health care providers.
Adelaide PHN distributes Primary Links to provide beneficial and relevant information. The content is sourced from credible organisations, but please note we do not undertake extensive quality reviews. While the Australian Government helped fund this document, it has not reviewed the content and is not responsible for any injury, loss or damage however arising from the use of or reliance on the information provided herein.
Adelaide PHN acknowledges the Kaurna peoples who are the Traditional Custodians of the Adelaide Region. We pay tribute to their physical and spiritual connection to land, waters and community, enduring now as it has been throughout time. We pay respect to them, their culture and to Elders past and present.