Click here if you are having trouble viewing this message. If images are not appearing, try pausing Adblock.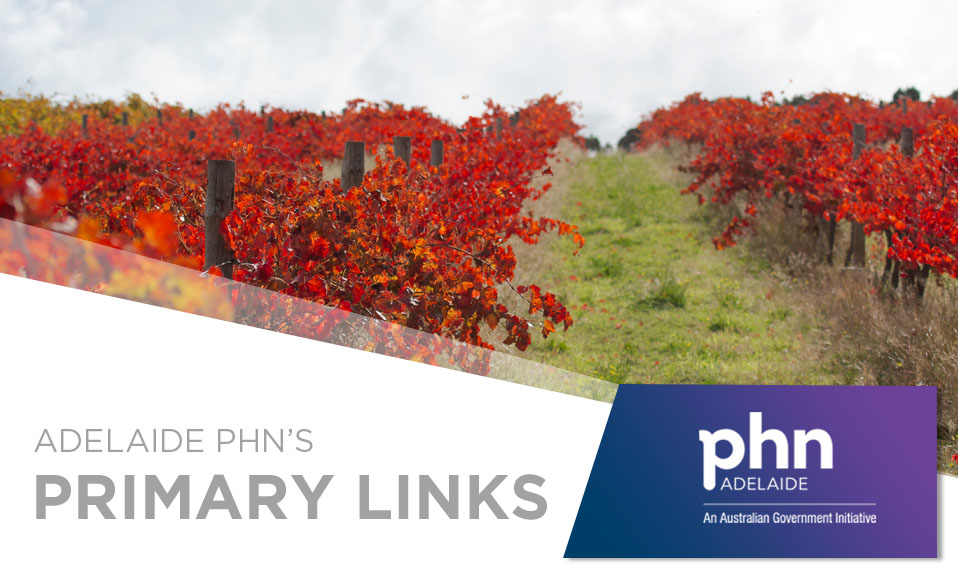 EDITION | 29 APRIL 2021
McLaren Vale, Adelaide South
A highlight of upcoming local professional development opportunities for primary health care providers. Find more events via our website here.
A highlight of resources to support primary health care providers. Find more Adelaide PHN resources via our website resource library here.
Three General Practice Liaison Units (GPLU) have been established as a partnership between the Local Health Networks (northern, central, and southern) and Adelaide PHN.
The GPLUs provide a link between the LHNs and local GPs in their respective areas. The aim of the units is to encourage and improve the exchange of information, efficiency, and quality of communication between hospitals and general practice, in relation to patients and services provided by public hospitals in their regions.
Each GPLU now has a dedicated page to support navigation of localised services, referral pathways, information about collaborative projects and contact details to get connected. 
This information can be accessed via the following links -
The RACGP CPD program has continued to undergo changes and enhancements to ensure a more user friendly and simple experience for you. 
The improved CPD dashboard now has three new features, making the 'QuickLog' functionality easier to manage and allowing you to more efficiently record professional development undertaken in your everyday clinical practice. 
Read more about the new features on the RACGP website or try them out through your CPD dashboard. 
The Benchmarque Group is running an online Foundations of Immunisation Practice Program that aims to provide students with the skills and knowledge required to work within the framework of immunisation and public health, with a focus on an understanding of the immune system, how vaccines work, communicable disease management and assessing a client's eligibility for vaccinations.
This program is the first level in the Immunisation Clinical Pathway. Cost: $195 inc. GST. To register, please visit The Benchmarque Group's website.
Note - this program will need to be completed before students can register for the upcoming Immunisation Practice Workshop on 10 June. Details can be found via this flyer.
For further information, please contact The Benchmarque Group via 1300 855 568, or email courses@benchmarquegroup.com.au.
A highlight of news relating to the delivery of primary health care in Adelaide. Find more Adelaide PHN announcements via our website here.
Adelaide PHN continues to keep general practices and providers up to date with the latest COVID-19 information by providing relevant resources, support and updates as they become available. 
Most recently, Adelaide PHN has been supporting the COVID-19 vaccine roll-out to residential aged care facilities as part of phase 1a, and GP vaccination clinics as part of phase 1b.  
To find out more about how we're supporting the response and vaccine roll-out, to request PPE and access our 'To the Point' bulletin, please visit our COVID-19 provider update webpage. 
For any COVID-19 related queries or support, please email our team via covid19@adelaidephn.com.au.
To support the safe and secure exchange of clinical information between health care providers and our Central Referral Unit (CRU), Adelaide PHN will be ceasing fax to the CRU on 30 June 2021. 
We strongly encourage practices using either Argus or ReferralNet to start sending Mental Health Treatment Plan Referrals to the CRU via Secure Messaging now. 
Address book details (Argus or ReferralNet):
Name: Central Referral Unit
ID: CRU
*Best Practice and Zedmed software using Argus to send referrals to the CRU will need to contact Argus to turn on the functionality to send to ReferralNet. 
If you do not have secure messaging, Adelaide PHN is offering general practice a free ReferralNet licence to be able to send to the CRU. *This licence will allow you to send unlimited referrals to the CRU ONLY, however you will be still be able to receive messages from any organisation/provider. 
If you require support, please contact our Digital Health Officer, Bonnie Bretzke via bbretzke@adelaidephn.com.au.
HealthPathways SA has updated the Influenza Immunisation Pathway with 2021 seasonal influenza vaccination program details, incorporating information from SA Health and ATAGI. 
The pathway contains details about vaccinating specific patient groups and includes ATAGI advice regarding the recommended intervals between influenza and COVID-19 vaccine administration. 
Dr Katrina Couchman, in collaboration with Angela Newbound from Adelaide PHN, have reviewed and updated the current immunisation suite with 2021 vaccination recommendations and regulations.
HealthPathways SA is free and available for all South Australian health professionals. To access or find out more, please visit the HealthPathways SA Project Site. 
As of 13 April 2021, an adverse event following immunisation (AEFI) is a notifiable condition in South Australia pursuant to section 63(2) of the South Australia Public Health Act 2011. Medical practitioners and diagnostic laboratories are legally required to notify AEFI. 
All immunisation providers should notify any serious or unexpected AEFI, or any AEFI which resulted in health care attendance to SA Health. Members of the public are also able to report.
The South Australian Vaccine Safety Surveillance System (SAVSS) monitors AEFI for South Australia. All received reports are also sent to the Therapeutic Goods Administration (TGA).
For more information and to access clinical recommendations, please refer to the SA Health website.
The Department of Health is auditing usage of the MBS telehealth item numbers and are sending GPs letters asking them to justify their claims. 
Please ensure that all patients who receive a telehealth consult have had a face-to-face consult at your practice in the last 12 months - see MBS online for exceptions and requirements. 
The Department of Health have advised that telehealth services are not delivered face-to-face and therefore can't be utilised to satisfy the existing '12-month relationship rule'. 
More information and factsheets regarding the use of item numbers are available via MBS online.
In partnership with SAHMRI, SA Pathology now offers omega-3 status testing for all women with singleton pregnancies as part of the established SAMSAS program.
The collaboration aims to reduce the incidence of premature births and follows the release of the latest National Health and Medical Research Council and Department of Health Pregnancy guidelines. 
For more information, including how requesting providers can order the Omega-3 test, please refer to this document from the SA Pathology's Clinical Service Director, Tom Dodd. 
A highlight of research and consultation opportunities for primary health care providers.
Adelaide PHN distributes Primary Links to provide beneficial and relevant information. The content is sourced from credible organisations, but please note we do not undertake extensive quality reviews. While the Australian Government helped fund this document, it has not reviewed the content and is not responsible for any injury, loss or damage however arising from the use of or reliance on the information provided herein.
Adelaide PHN acknowledges the Kaurna peoples who are the Traditional Custodians of the Adelaide Region. We pay tribute to their physical and spiritual connection to land, waters and community, enduring now as it has been throughout time. We pay respect to them, their culture and to Elders past and present.