Click here if you are having trouble viewing this message. If images are not appearing, try pausing Adblock.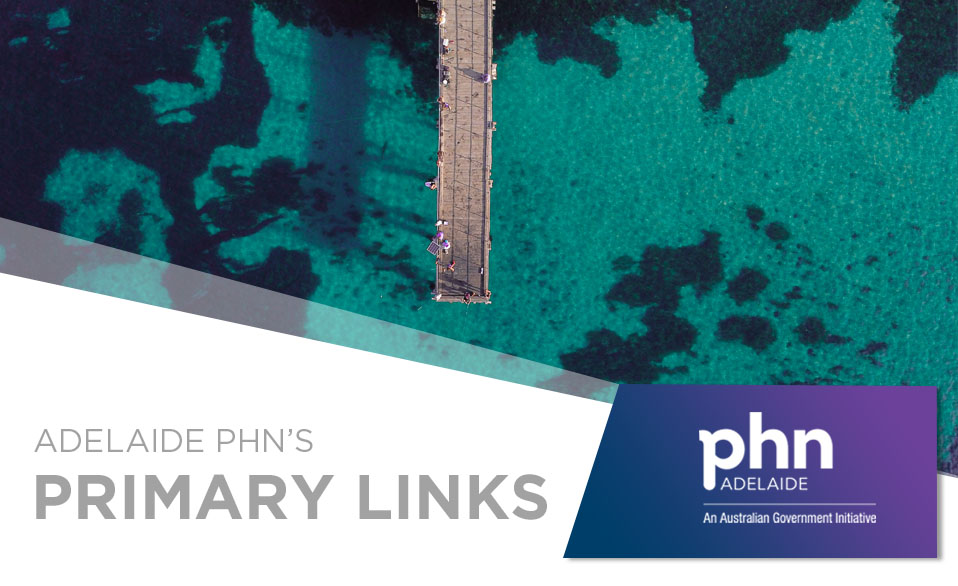 EDITION | 13 MAY 2021
Beach in Adelaide South
A highlight of upcoming local professional development opportunities for primary health care providers. Find more events via our website here.
A highlight of resources to support primary health care providers. Find more Adelaide PHN resources via our website resource library here.
Comcare has developed a new national one-page guide to assist GPs in managing the recovery pathway for injured workers in all Australian workers' compensation scheme.
The guide provides an overview of:
The workers' compensation process and key timeframes 
Statutory function of medical practitioners 
Roles of case managers/RTW coordinators and employer obligations 
Critical elements to successfully complete certificates of capacity 
A copy of the guide can be accessed here. 
For more information on your role in the return to work process, visit the Comcare website. 
Diabetes Qualified's 'Diabetes in Practice for Nurses' course is an online, CPD accredited course for practice and enrolled nurses looking to increase their diabetes knowledge. The course runs for 12 hours, covers 16 modules and attracts 12 APNA endorsed CPD hours. 
Learning outcomes include –-    
Update your knowledge on diabetes management 
Improve your ability to support the person living with diabetes and have a more helpful conversation using health literacy principles 
Know how to ask the right questions, and when to refer to other health professionals for more individualised advice  
Have the tools and resources to implement what you've learnt in your workplace, improving health outcomes for your patients 
For more information and to register, please visit the Diabetes Qualified website.
Cancer Council SA is promoting bowel screening for patients aged 50 to 74, via the National Bowel Cancer Screening Program.  
To support your patients, you can access bowel screening results and histories online, in real-time via the National Cancer Screening Register. You can also order a free home test kit for your overdue or never-screened patients directly to their home address.
Visit the Cancer Council SA website to find out more about the National Cancer Screening Register, or order promotional resources (including CALD resources).
Healthed offers a variety of trusted and popular learning resources for health professionals. Their content is delivered and endorsed by high-calibre national and international experts and is catered to a range of learning styles.
Some of their popular podcasts include:
GPs can claim CPD points through the RACGP CPD quick log system, earning 2 CPD points per hour. 
To view the full range of learning resources, including podcasts, video lectures and clinical articles, please visit the Healthed website.
A highlight of news relating to the delivery of primary health care in Adelaide. Find more Adelaide PHN announcements via our website here.
Adelaide PHN continues to keep general practices and providers up to date with the latest COVID-19 information by providing relevant resources, support and updates as they become available. 
Most recently, Adelaide PHN has been supporting the COVID-19 vaccine roll-out to residential aged care facilities as part of phase 1a, and GP vaccination clinics as part of phase 1b.  
To find out more about how we're supporting the response and vaccine roll-out, to request PPE and access our 'To the Point' bulletin, please visit our COVID-19 provider update webpage. 
For any COVID-19 related queries or support, please email our team via covid19@adelaidephn.com.au.
To support the safe and secure exchange of clinical information between health care providers and our Central Referral Unit (CRU), Adelaide PHN will be ceasing fax to the CRU on 30 June 2021. 
We strongly encourage practices using either Argus, ReferralNet or HealthLink to start sending Mental Health Treatment Plan Referrals to the CRU via Secure Messaging now. 
Address book details:
Argus or ReferralNet:
Name: Central Referral Unit
ID: CRU
HealthLink
*Best Practice and Zedmed software using Argus to send referrals to the CRU will need to contact Argus to turn on the functionality to send to ReferralNet. 
If you do not have secure messaging, Adelaide PHN is offering general practice a free ReferralNet licence to be able to send to the CRU. *This licence will allow you to send unlimited referrals to the CRU ONLY, however you will be still be able to receive messages from any organisation/provider. 
If you require support, please contact our Digital Health Officer, Bonnie Bretzke via bbretzke@adelaidephn.com.au.
Are you a clinician or service provider interested in getting involved with the development of our draft Child and Youth Mental Health Pathways?   
You can now view and give online feedback on the draft pathways. We value the diverse perspectives, experiences, and knowledge of all stakeholders. Feedback from this consultation will contribute to the development of the final Pathways published on HealthPathway SA.  
Consultation on the below draft pathways are open until 31 May 2021 -
Psychosis in Young People 
Suicide Prevention in Young People 
Anxiety in Children and Young People 
Depression in Children and Young People  
To express your interest, please contact the team via email enquiries@sahealthpathways.com.au or phone our  Clinical Coordinator, Veronica Hunter-Riviere, on 8219 5900.
To find out more about HealthPathways SA or to register for a login, visit the HealthPathways Project Site. 
*Note reviewing a pathway can be used as CPD activity and a certificate of participation can be issued on request.   
In recognition of the valuable contribution nurses in residential aged care make to the health of our communities, Adelaide PHN is pleased to offer a limited number of fully funded registrations for the ACIPC Aged Care Masterclass. 
The masterclass is a series of recorded presentations addressing high-level issues in Aged Care Infection Prevention and Control Management, including but not restricted to COVID-19 management in aged care facilities. 
To express your interest, please complete this online form. Applications close on Monday 31 May. Successful applicants will be notified by Monday 14 June.
For further information, please call 8219 5900 or email
A highlight of research and consultation opportunities for primary health care providers.
Adelaide PHN distributes Primary Links to provide beneficial and relevant information. The content is sourced from credible organisations, but please note we do not undertake extensive quality reviews. While the Australian Government helped fund this document, it has not reviewed the content and is not responsible for any injury, loss or damage however arising from the use of or reliance on the information provided herein.
Adelaide PHN acknowledges the Kaurna peoples who are the Traditional Custodians of the Adelaide Region. We pay tribute to their physical and spiritual connection to land, waters and community, enduring now as it has been throughout time. We pay respect to them, their culture and to Elders past and present.