Click here if you are having trouble viewing this message. If images are not appearing, try pausing Adblock.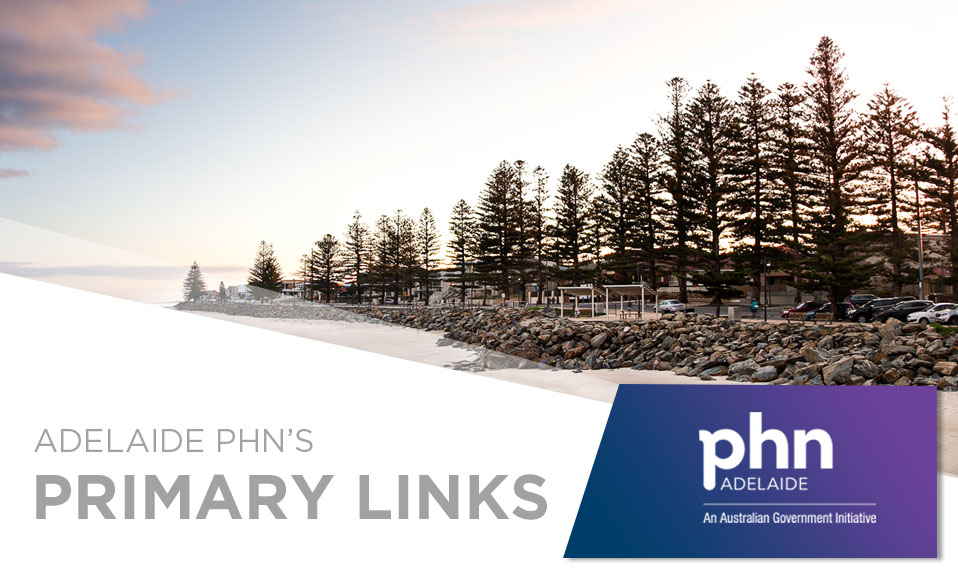 EDITION | 27 MAY 2021
Brighton Beach, Adelaide South
A highlight of upcoming local professional development opportunities for primary health care providers. Find more events via our website here.
A highlight of resources to support primary health care providers. Find more Adelaide PHN resources via our website resource library here.
To help GPs manage the care of patients experiencing mental health concerns, the GP Psychiatry Support Line has produced a number of online webinar series. 
The Suicidal Ideation and Prevention Webinar has recently been added to the series.
The webinar covers how to - 
Identify someone with suicidal ideation or behaviour
How to refer to treatment, how to monitor treatment, and acquire proper resources
All webinars are free and designed for GPs. Hosted by psychiatrists and accredited with RACGP for 2 CPD points. 
Please visit gpsupport.org.au/webinars to access the entire webinar series.
palliAGED has developed online learning modules for nurses to introduce palliative care in aged care. 
The interactive modules cover 10 essential topics and will help aged care nurses to learn the fundamentals of palliative care, as well as prepare to support older persons at the end of life. 

The modules are designed for self-paced learning, are free to use, and come with supporting resources such as a printable manual, forms, validated tools, and Practice Tip booklet/sheets. 
Each module comes with a certificate of completion, and like all palliAGED resources, are practical in nature and grounded in evidence. 
To learn more about the modules, visit the palliAGED website and read the blog.
Are you looking for ways to streamline CVD risk assessment and management in your practice? The Heart Foundation has developed the Heart Health Check Toolkit, containing practical templates that will help you do just that!
Heart Health Check Risk Assessment 
Helps capture key information needed for absolute CVD risk assessment during a Heart Health Check.
My Healthy Heart Management Plan 
Contains information tailored for the patient to take away and help them manage their own risk. 
For more information and to access these templates, please visit the Heart Foundation website. 
A highlight of news relating to the delivery of primary health care in Adelaide. Find more Adelaide PHN announcements via our website here.
Adelaide PHN continues to keep general practices and providers up to date with the latest COVID-19 information by providing relevant resources, support and updates as they become available. 
Most recently, Adelaide PHN has been supporting the COVID-19 vaccine roll-out to residential aged care facilities as part of phase 1a, and GP vaccination clinics as part of phase 1b and 2a.  
To find out more about how we're supporting the response and vaccine roll-out, to request PPE and access our 'To the Point' bulletin, please visit our COVID-19 provider update webpage. 
For any COVID-19 related queries or support, please email our team via covid19@adelaidephn.com.au.
To support the safe and secure exchange of clinical information between health care providers and our Central Referral Unit (CRU), Adelaide PHN will be ceasing fax to the CRU on 30 June 2021. 
We strongly encourage practices using either Argus, ReferralNet or HealthLink to start sending Mental Health Treatment Plan Referrals to the CRU via Secure Messaging now. 
Address book details:
Argus or ReferralNet:
Name: Central Referral Unit
ID: CRU
HealthLink
*Best Practice and Zedmed software using Argus to send referrals to the CRU will need to contact Argus to turn on the functionality to send to ReferralNet. 
If you do not have secure messaging, Adelaide PHN is offering general practice a free ReferralNet licence to be able to send to the CRU. *This licence will allow you to send unlimited referrals to the CRU ONLY, however you will be still be able to receive messages from any organisation/provider. 
If you require support, please contact our Digital Health Officer, Bonnie Bretzke via bbretzke@adelaidephn.com.au.
Since ScriptCheckSA's release in March 2021, 16% of doctors and 41% of pharmacists have registered. 
It is expected that it will become mandatory to use ScriptCheckSA next year, so register today at scriptcheck.sa.gov.au to access real-time information to help you make safer decisions when prescribing or dispensing monitored drugs.
More information about ScriptCheckSA can be found at sahealth.sa.gov.au/scriptchecksa and questions can be sent to Health.RTPM@sa.gov.au. 
Providers are reminded to check vaccine expiry dates and batch numbers prior to administration as a number of influenza vaccines with 2020 batch numbers have been reported to the Australian Immunisation Register (AIR) this influenza season.
Tips include –
Check the AIR prior to administration of any vaccine 
Check the vaccine 3 times prior to administration

at the fridge 
with the client or another health professional 
immediately prior to administration

Check you have entered the correct details into the patient's record 
Check AIR transmission and exception reports in your clinical software 
Have robust processes for identifying and disposing of expired stock
For a full list of tips and best practice advice, please refer to the NIP Influenza Vaccination Program Provider Update and the AIR Register Factsheet. 
Australian health care providers now have access to an improved and consolidated view of their patients' immunisation details through My Health Record (MyHR). 
 
This is important as the world continues to face the ongoing challenges of COVID-19 and shows how the national digital health system can support the response to both this and future pandemics.
 
For more information, please refer to the Australian Digital Health Agency's media release.
Beta-2 transferrin testing is now routinely performed in the immunology laboratory at Frome Road, between 9.00am - 5.00pm weekdays. 
Testing requires both a CSF and paired serum sample for analysis. 
For urgent samples outside of these hours, the requesting doctor must contact the on-call immunopathologist through the SA Pathology switchboard, 8222 3000. Only results that will trigger urgent intervention will be processed outside of routine hours.  
All other after-hours collections will be processed as soon as possible within routine hours.
Please refer to this attachment for full information.
A highlight of research and consultation opportunities for primary health care providers.
Adelaide PHN distributes Primary Links to provide beneficial and relevant information. The content is sourced from credible organisations, but please note we do not undertake extensive quality reviews. While the Australian Government helped fund this document, it has not reviewed the content and is not responsible for any injury, loss or damage however arising from the use of or reliance on the information provided herein.
Adelaide PHN acknowledges the Kaurna peoples who are the Traditional Custodians of the Adelaide Region. We pay tribute to their physical and spiritual connection to land, waters and community, enduring now as it has been throughout time. We pay respect to them, their culture and to Elders past and present.