Click here if you are having trouble viewing this message. If images are not appearing, try pausing Adblock.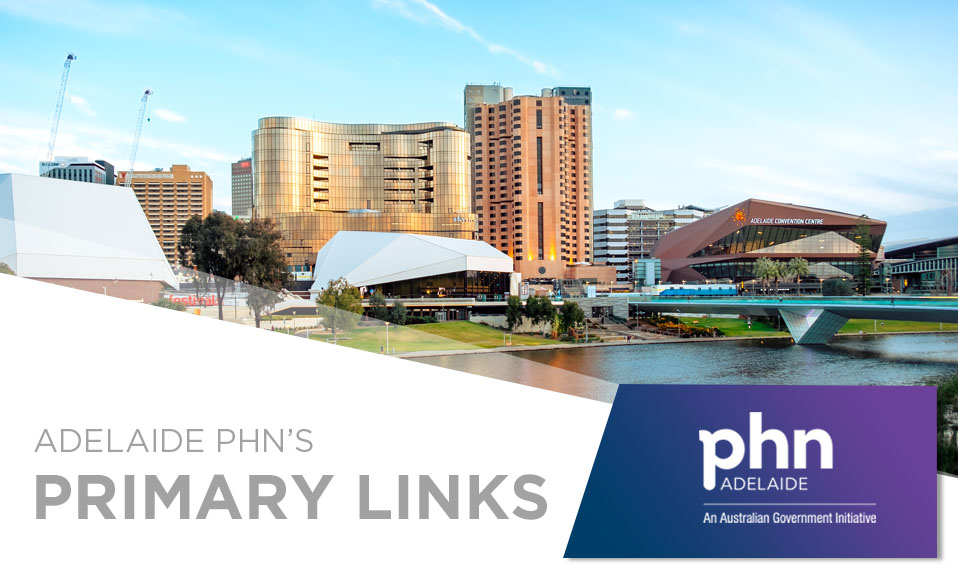 EDITION | 10 JUNE 2021
Adelaide CBD
A highlight of upcoming local professional development opportunities for primary health care providers. Find more events via our website here.
A highlight of resources to support primary health care providers. Find more Adelaide PHN resources via our website resource library here.
Healthed offers a variety of trusted and popular learning resources for health professionals. Their content is delivered and endorsed by high-calibre national and international experts and is catered to a range of learning styles.
Some of their popular podcasts include:
Dermatology Cases: The Risk of Other Cancers in Those with SCC and/or BCC
The Clinical Takeaway: Radiation Therapy vs Surgery for Prostate Cancer
Depression in Men - Practical Advice
GPs can claim CPD points through the RACGP CPD quick log system, earning 2 CPD points per hour. 
To view the full range of learning resources, including podcasts, video lectures and clinical articles, please visit the Healthed website.
Collaborating with optometrists ensures your patients receive the best eye health outcomes. Optometrists are AHPRA registered and authorised to prescribe scheduled medicines if therapeutically endorsed and can -
 
Further assess many ocular conditions for public ophthalmology referral as recommended by HealthPathways SA
Assess and manage ocular emergencies
Assess and treat many vision problems in children
Co-manage patients with systemic conditions and/or chronic eye conditions such as diabetes, glaucoma, macular degeneration, cataracts and dry eyes
Optometry examinations are very accessible. Patients do not require a referral to see an optometrists and Medicare rebates are available for most eye examinations.
For GPs, you can access more information and Optometry Australia's interactive tool, 'Find an Optometrist'. 
For more information that may be helpful for your patients, visit Good Vision for Life.
A highlight of news relating to the delivery of primary health care in Adelaide. Find more Adelaide PHN announcements via our website here.
Adelaide PHN continues to keep general practices and providers up to date with the latest COVID-19 information by providing relevant resources, support and updates as they become available. 
Most recently, Adelaide PHN has been supporting the COVID-19 vaccine roll-out to residential aged care facilities as part of phase 1a, and GP vaccination clinics as part of phase 1b and 2a.  
To find out more about how we're supporting the response and vaccine roll-out, to request PPE and access our 'To the Point' bulletin, please visit our COVID-19 provider update webpage. 
For any COVID-19 related queries or support, please email our team via covid19@adelaidephn.com.au.
To support the safe and secure exchange of clinical information between health care providers and our Central Referral Unit (CRU), Adelaide PHN will be ceasing fax to the CRU on 30 June 2021. 
We strongly encourage practices using either Argus, ReferralNet or HealthLink to start sending Mental Health Treatment Plan Referrals to the CRU via Secure Messaging now. 
Address book details:
Argus or ReferralNet:
Name: Central Referral Unit
ID: CRU
HealthLink
*Best Practice and Zedmed software using Argus to send referrals to the CRU will need to contact Argus to turn on the functionality to send to ReferralNet. 
If you do not have secure messaging, Adelaide PHN is offering general practice a free ReferralNet license to be able to send to the CRU. *This license will allow you to send unlimited referrals to the CRU ONLY, however you will be still be able to receive messages from any organisation/provider. 
If you require support, please contact our Digital Health Officer, Bonnie Bretzke via bbretzke@adelaidephn.com.au.
SA Health advises that invasive meningococcal disease (IMD) should be considered in the differential diagnosis of any systemic febrile illness in any age group. A rash is not always present. Early recognition, immediate empirical treatment with parenteral benzylpenicillin or ceftriaxone, and urgent transfer to hospital can be lifesaving. All GPs should have benzylpenicillin in their surgeries and emergency bags.
There have been 4 cases of IMD notified in SA year to date in 2021 (2 B, 2 W) with one death. In 2020 and 2019, there were five (3 B, 2 Y) and 27 (19 B, 4 W, 4 Y) notifications of IMD, respectively.
For more information, including clinical features, management and vaccination detail, please see the SA Health Alert. 
The Urgent Mental Health Care Centre (UMHCC) now accepts presentations from the broader community for urgent mental health needs without a referral. 
People in Adelaide seeking urgent mental health support can arrive at the UMHCC at 215 Grenfell Street, from 12.00pm - 10.30pm each day, including weekends and public holidays.
For more information, please visit umhcc.org.au, email umhcc@neaminational.org.au or phone 8448 9100.
The TGA has approved the supply of an alternative product to address a shortage of DILAUDID hydromorphone hydrochloride 1mg/mL oral liquid.
The alternative product, Rhodes HYDROmorphone Hydrochloride 1mg/mL oral solution, USP is therapeutically equivalent to the Australian medicine. 
Health professionals should contact Medsurge Healthcare on 1300 788 261 for further information or to arrange supply. 
For further information, please visit the TGA website.
A highlight of research and consultation opportunities for primary health care providers.
Adelaide PHN distributes Primary Links to provide beneficial and relevant information. The content is sourced from credible organisations, but please note we do not undertake extensive quality reviews. While the Australian Government helped fund this document, it has not reviewed the content and is not responsible for any injury, loss or damage however arising from the use of or reliance on the information provided herein.
Adelaide PHN acknowledges the Kaurna peoples who are the Traditional Custodians of the Adelaide Region. We pay tribute to their physical and spiritual connection to land, waters and community, enduring now as it has been throughout time. We pay respect to them, their culture and to Elders past and present.