Click here if you are having trouble viewing this message. If images are not appearing, try pausing Adblock.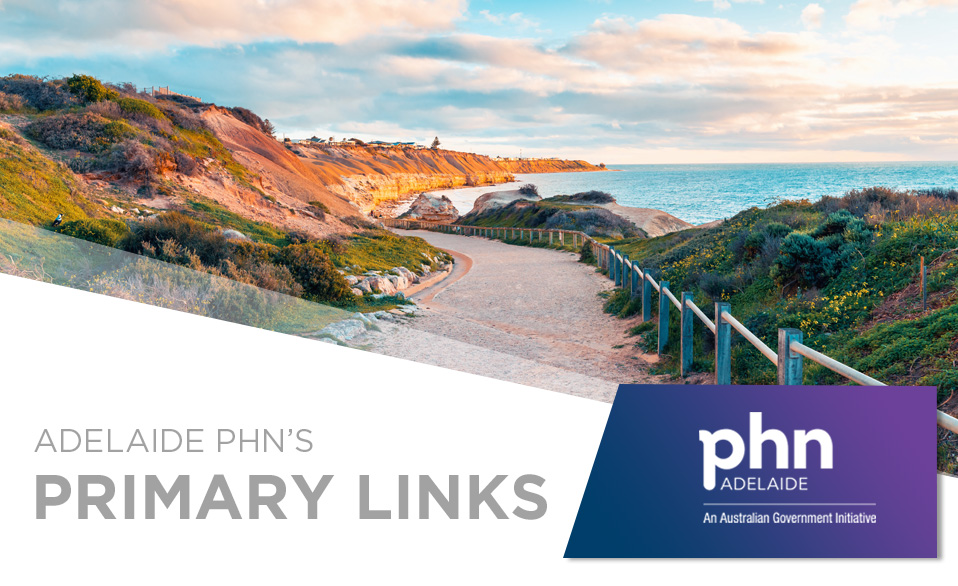 EDITION | 24 JUNE 2021
Port Willunga Beach, Adelaide South
A highlight of upcoming local professional development opportunities for primary health care providers. Find more events via our website here.
A highlight of resources to support primary health care providers. Find more Adelaide PHN resources via our website resource library here.
My Home Hospital is a Wellbeing SA service, providing hospital-level care for eligible patients in the comfort of their home. Referral forms are now available through your practice management software. Links and importing instructions can be found below - 
Please refer to the importing instructions before saving the referral form/s.
Best Practice 
Medical Director 
Zedmed 

Referral is simple - complete a referral form online or from your practice management system and send to My Home Hospital. The team will notify you of your patient's eligibility within 30 minutes and confirm admission within 60 minutes.
Clinical advice and referral support are available 24/7 via 1800 111 644. 
For more information about My Home Hospital, please visit http://bit.ly/myhomehospital.
The Perinatal Depression e-Consortium, led by the Parent-Infant Research Institute, offer the evidence-based MumMoodBooster online treatment program free to the Australian public, which now features a customised clinician portal to support GPs in the assessment and treatment of women with postnatal depression. 
MumMoodBooster is based on best-practice cognitive-behavioural therapy and has been proven effective in controlled scientific studies for clinically diagnosed cases of depression.
Developed with GPs, for GPs, the clinician portal allows direct referral of patients to MumMoodBooster and GPs can then track their patient's progress.
Register now at mumspace.com.au/clinician-portal/ to begin referring your patients now.
For more information, contact piri@austin.org.au.
The Heart Foundation has recently updated the functionality of its two most accessed resources, the Heart Health Check Risk Assessment and My Healthy Heart Plan templates. GPs will now be able to access the templates directly through the MyGPMP tool embedded in Topbar, included in the PHN funded PenCS data extraction software.
To help streamline the Heart Health Check, this new template functionality enables -
Pre-filling of patient data from your practice software 
Automation of the absolute cardiovascular disease risk calculation 
Conversion of all recorded information into comprehensive documents that can be saved into the patient file
To find out more, please visit the Heart Foundation website.
A highlight of news relating to the delivery of primary health care in Adelaide. Find more Adelaide PHN announcements via our website here.
Adelaide PHN continues to keep general practices and providers up to date with the latest COVID-19 information by providing relevant resources, support and updates as they become available. 
Previously, all COVID-19 related updates were communicated via our 'To The Point' bulletin. Going forward, general updates will be provided here.
Most recently, ATAGI released an update on the COVID-19 vaccines, including -
To find out more about how we're supporting the response, please visit our COVID-19 provider update webpage. 
For any COVID-19 related queries or support, please email our team via covid19@adelaidephn.com.au.
To support the safe and secure exchange of clinical information between health care providers and our Central Referral Unit (CRU), Adelaide PHN will be ceasing fax to the CRU on 30 June 2021. 
We strongly encourage practices using either Argus, ReferralNet or HealthLink to start sending Mental Health Treatment Plan Referrals to the CRU via Secure Messaging now. 
Address book details:
Argus or ReferralNet:
Name: Central Referral Unit
ID: CRU
HealthLink
*Best Practice and Zedmed software using Argus to send referrals to the CRU will need to contact Argus to turn on the functionality to send to ReferralNet. 
If you do not have secure messaging, Adelaide PHN is offering general practice a free ReferralNet license to be able to send to the CRU. *This license will allow you to send unlimited referrals to the CRU ONLY, however you will be still be able to receive messages from any organisation/provider. 
If you require support, please contact our Digital Health Officer, Bonnie Bretzke via bbretzke@adelaidephn.com.au.
Services Australia is transferring digital health functions to web services from 13 March 2022. From this time, pharmacies will only be able to claim PBS online via the PBS online web service in PRODA. Dispensing software will integrate this new functionality, but to establish communication for claiming, the organisation will need to link the PBS online web service in PRODA. To establish this link, the organisation needs to be registered in PRODA.
Download the Web Services eKit for more information or contact us at digitalhealthinfo@adelaidephn.com.au.
Please be advised that the criteria for suitability for gynaecology services provided at the Women's and Children's Hospital (WCH) has changed.
The WCH is unable to provide gynaecology surgical procedures to women who meet particular exclusion criteria due to the increased anaesthetic and surgical risks associated with this cohort. 
For more information about the exclusion criteria and to access WCH Specialised Outpatient Guidelines, please refer to this information sheet provided by WCH. 
The Closing the Gap (CTG) Pharmaceutical Benefits Scheme (PBS) Co-payment program was established in July 2010 to improve access to affordable PBS medicines for Aboriginal and Torres Strait Islander people living with, or at risk of, chronic disease.
 
From 1 July 2021, it will be easier for eligible Aboriginal and Torres Strait Islander people to access medicines through the CTG PBS Co-payment program.  
 
Below are a range of supporting materials, providing more detail in regard to the program reforms for the following stakeholder groups: 
 
 
For more information, please refer to this fact sheet. 
A highlight of research and consultation opportunities for primary health care providers.
Adelaide PHN distributes Primary Links to provide beneficial and relevant information. The content is sourced from credible organisations, but please note we do not undertake extensive quality reviews. While the Australian Government helped fund this document, it has not reviewed the content and is not responsible for any injury, loss or damage however arising from the use of or reliance on the information provided herein.
Adelaide PHN acknowledges the Kaurna peoples who are the Traditional Custodians of the Adelaide Region. We pay tribute to their physical and spiritual connection to land, waters and community, enduring now as it has been throughout time. We pay respect to them, their culture and to Elders past and present.