Click here if you are having trouble viewing this message. If images are not appearing, try pausing Adblock.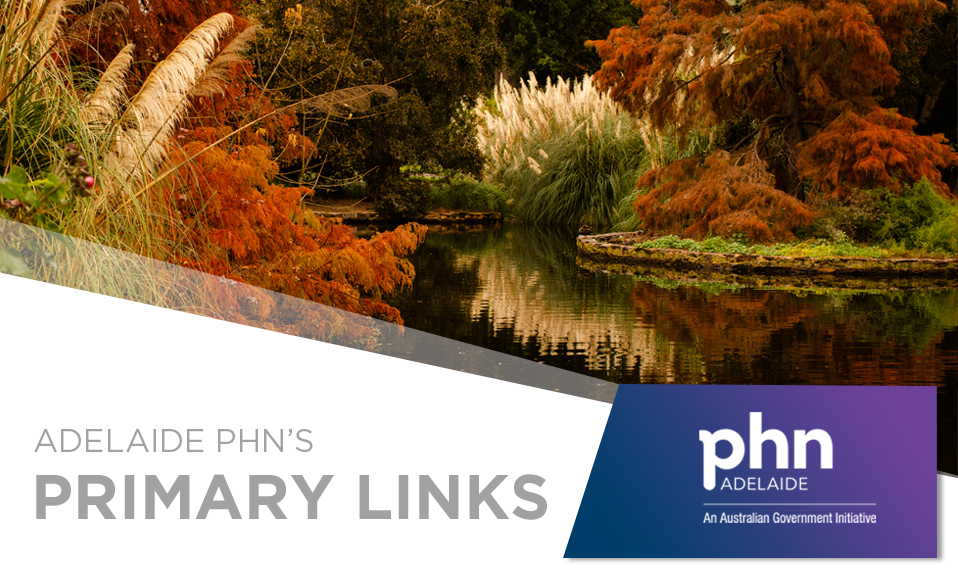 EDITION | 8 JULY 2021
Botanic Gardens, Adelaide CBD
A highlight of upcoming local professional development opportunities for primary health care providers. Find more events via our website here.
A highlight of resources to support primary health care providers. Find more Adelaide PHN resources via our website resource library here.
With the increased uptake of the My Health Record (MyHR) system within Pathology laboratories, the Royal College of Pathologists of Australasia and Australian Digital Health Agency launched new MyHR CPD modules.
The two modules provide an overview of MyHR and its use in pathology and obligations with respect to privacy, security, and access. Pathology staff can access these training modules here.
For any queries or additional information, please get in contact with Adelaide PHN's digital health team at digitalhealthinfo@adelaidephn.com.au.
Cancer Council SA is promoting bowel screening for patients aged 50 to 74, via the National Bowel Cancer Screening Program. To support eligible patients, you can access bowel screening results and histories online, in real-time via the National Cancer Screening Register.
You can also order a free home test kit for overdue or never-screened patients directly to their home address by calling 1800 627 701, or by completing the online form at ncsr.gov.au, under the 'contact' tab.
From January 2022, it will be compulsory for all doctors to be enrolled in an RACGP-approved program or have completed the Practice Experience Program – Standard Stream in order to be eligible to sit the RACGP Fellowship exams. Details can be found via the RACGP website.

Start your journey to Fellowship now with the Practice Experience Program – an RACGP-approved program that can put you on the path to Fellowship. With access to online learning units, experienced GP mentors and a structured exam preparation term, you can draw from and expand on your ongoing experience, while accessing full A1 Medicare rebates. And most importantly, you'll remain eligible to sit exams. 
 
Applications close Monday 19 July 2021. Visit the RACGP website for more information. 
A highlight of news relating to the delivery of primary health care in Adelaide. Find more Adelaide PHN announcements via our website here.
Adelaide PHN continues to keep general practices and providers up to date with the latest COVID-19 information by providing relevant resources, support and updates as they become available. Most recent updates include -
COVID-19 testing with children
Children who are displaying respiratory symptoms or other symptoms consistent with COVID-19 should be tested as soon as symptoms appear, even if mild. The preferred testing method is a nasopharyngeal swab, not a saliva swab, particularly if the child is symptomatic. Testing using a nasopharyngeal swab when someone is infectious is exceptionally accurate and sensitive. Salvia testing or oral swabs should be avoided in symptomatic patients due to lower sensitivity.
There are many COVID-19 testing options for children, including Respiratory Clinics, GPs, drive-through testing sites and regional hospital testing clinics.
For more information on testing, please visit the SA Health website.
PPE allocation and guidance materials 
Adelaide PHN continues to distribute PPE to Respiratory Clinics, general practices and allied health providers. If you require PPE, please request allocation via the Expressions of Interest form on our website.
Guidance documents for infection control and the use of PPE can be found via the SA Health and Department of Health websites. 
COVID-19 MBS telehealth factsheets 
You can access factsheets on the use of temporary
COVID-19 MBS telehealth and phone consultation item numbers via MBS Online. 
Please visit our COVID-19 provider update webpage or contact our team via covid19@adelaidephn.com.au for more information. 
Adelaide PHN's Central Referral Unit (CRU) fax was disabled on 30 June 2021. All referrals into the CRU are now required to be sent via secure messaging. 
 
Please see instructions on Adelaide PHN's online resource library on how to send a referral and add the CRU to your address book for HealthLink, ReferralNet or Argus. 
 
If your practice needs any support relating to this update, including adding the CRU to your address book, training, or would like a free ReferralNet licence, please contact the Digital Health Team at digitalhealthinfo@adelaidephn.com.au. 
PenCS is continuing to be the required method for data submission to Adelaide PHN.

Adelaide PHN will continue to offer free PenCS licensing for practices that agree to share full de-identified data set to Adelaide PHN. Practices that wish to only share the 10 PIP QI measures will need to contact PenCS to arrange to purchase a licence for their practice.

If your practice has a current PenCS licence that has been supplied by Adelaide PHN, keep an eye out for the contracts for the new financial year.
 
Please contact our digital health team via digitalhealthinfo@adelaidephn.com.au should you have any questions. 
Since its release in March 2021, 19% of medical practitioners and 47% of pharmacists have registered.
Health practitioners using ScriptCheckSA are reporting that it is a useful tool to support their clinical decision making. With one GP saying that ScriptCheckSA helped them identify a patient who was obtaining monitored drug prescriptions from other prescribers without their knowledge. 
Another reported that "An alert in ScriptCheckSA opened-up a conversation with my patient about the harms associated with opioids and as a result the patient agreed to reduce their dose, which they were previously resistant to."
It is expected that it will become mandatory to use ScriptCheckSA next year, so register today at scriptcheck.sa.gov.au to access real-time information to help you make safer decisions when prescribing or dispensing monitored drugs. 
SA Health are conducting a survey to better understand what prescribers and pharmacists know of and their opinions towards ScriptCheckSA. The survey can be accessed here and closes Friday 23 July 2021. 
More information can be found at sahealth.sa.gov.au/scriptchecksa and questions can be sent to Health.RTPM@sa.gov.au.
A highlight of research and consultation opportunities for primary health care providers.
Adelaide PHN distributes Primary Links to provide beneficial and relevant information. The content is sourced from credible organisations, but please note we do not undertake extensive quality reviews. While the Australian Government helped fund this document, it has not reviewed the content and is not responsible for any injury, loss or damage however arising from the use of or reliance on the information provided herein.
Adelaide PHN acknowledges the Kaurna peoples who are the Traditional Custodians of the Adelaide Region. We pay tribute to their physical and spiritual connection to land, waters and community, enduring now as it has been throughout time. We pay respect to them, their culture and to Elders past and present.