Click here if you are having trouble viewing this message. If images are not appearing, try pausing Adblock.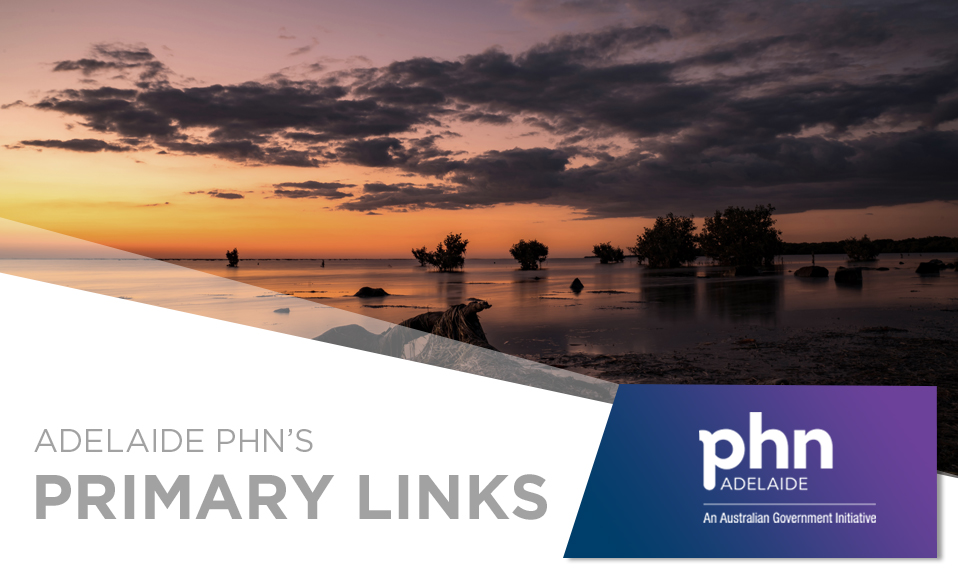 EDITION | 5 AUGUST 2021
St Kilda, Adelaide North
A highlight of upcoming local professional development opportunities for primary health care providers. Find more events via our website here.
A highlight of resources to support primary health care providers. Find more Adelaide PHN resources via our website resource library here.
APNA is working in conjunction with the Department of Veterans' Affairs (DVA) to provide practice nurses, Aboriginal and/or Torres Strait Islander primary health workers, and community nurses (RN or EN who is employed by a DVA contracted Community Nursing provider to provide community nursing services), with free education to help them deliver the best possible care to their patients enrolled in the Coordinated Veterans' Care (CVC) Program.

Practice or community nurses and Aboriginal and/or Torres Strait Islander Primary Health Workers who have patients enrolled in the CVC Program can now access the fully-funded education specifically on chronic disease management and care planning.

The education comprises of two online learning modules, which can be completed at your own pace - 
 
Chronic disease management - provides an understanding of chronic disease management in Australia and how nurses and Aboriginal and Torres Strait Islander primary health workers can play a vital role.
 
Care planning - a sequential 'how to' series for nurses and Aboriginal and Torres Strait Islander primary health workers on how a comprehensive chronic disease management health care plan may be conducted within the primary health care setting.
 
Please visit the APNA website for more information. 
Free online training is now available to health professionals and other social services professionals to assist smokers to quit. Training can contribute to CPD points. 
The training provides guidance on how to apply a three-step brief smoking cessation advice model (ask, advise, help) when talking to clients about their smoking, and covers -
The health effects of smoking and the benefits of quitting 
How smoking is addictive 
Evidence-based smoking cessation interventions 
How to use Quitline services and resources to address smoking with your patients/clients. 
The courses are available to South Australians through funding provided by SA Health and are available via the Quit website.
Australia's first autism helpline, Autism Connect, is now available to provide support for autistic people and their families in Adelaide.
The helpline is free, confidential, and independent. It can be accessed by phone, email, webchat, and a searchable information directory on the Autism Connect website.
Autism Connect advisors are available to discuss anything related to autism and supporting autistic people. This includes diagnosis support, navigating the NDIS, finding local autism services and more.
You can contact the service via 1300 308 699, or find out more by emailing info@autismconnect.org.au, or visiting their website. 
A highlight of news relating to the delivery of primary health care in Adelaide. Find more Adelaide PHN announcements via our website here.
Adelaide PHN continues to keep general practices and providers up to date with the latest COVID-19 information by providing relevant resources, support, and updates as they become available. Most recent updates include -

COVID-19 Direction Updates  
The new Supervised Quarantine Direction came into effect as of Wednesday 4 August 2021. This Direction places COVID-19 vaccination requirements on health care workers (and other workers) in specified settings. Health care workers in these settings must not engage in the specified work unless they have been vaccinated against COVID-19 with a TGA approved vaccine. More information on this direction is available via covid-19.sa.gov.au.

As of 12.01am Thursday 5 August 2021, a new Activities-Associated Direction (level 2 restrictions) came into effect, which includes changes to density requirements. More information about this direction and relevant FAQs can be accessed via covid-19.sa.gov.au. 

COVID-19 Vaccinations for RACF Staff
Adelaide PHN has been working with the Commonwealth Vaccination Clinics (CVCs) to stand up dedicated vaccination streams at their existing respiratory clinic locations for RACF staff. The clinic bookings for the dedicated vaccine streams will be managed through Adelaide PHN and run at the CVC locations. The dedicated clinic streams commenced this week. If you would like to book a vaccine appointment for yourself and/or your staff, please contact Adelaide PHN's COVID-19 Liaison Officer at covid19@adelaidephn.com.au. 

ASPEN Medical is providing the following RACF/disability worker pop-up clinic at Medindie (open various hours Monday to Friday). You can book an appointment here. Please note – the booking window states "Aspen Medical Disability Vaccination Clinic". Please disregard this statement as RACF staff are also eligible to book through this process.  

Health Care Australia (HCA) is providing the following COVID Vaccination Hub for RACF and Disability workforce. 

The Hub is located at West Lakes Tennis Club, 21 Edwin Street, West Lakes. They will only be providing the Pfizer vaccine, strictly by appointment only. They are open on Monday, Tuesday and Thursday. The Hub currently has numerous appointments available. To book an appointment, you need to be either an RACF staff member or a NDIS staff member, and contact Adelaide PHN's COVID-19 Liaison Officer via covid19@adelaidephn.com.au. 

General Practice EOI to Participate in the COVID-19 Vaccination Program
Adelaide PHN has been supporting the EOI process relating to the COVID-19 vaccine program. The Commonwealth is directly responsible for the role out of the COVID Vaccination Program, including the EOI Process, selection of practices, and the onboarding of practices to participate. There has been a staged approach to onboarding practices to participate in the Pfizer vaccine roll out. Additional practices will be onboarded to commence as more vaccine becomes available.
If you have any questions in regards to the above or would like to submit and EOI, please contact your Adelaide PHN Practice Facilitator. 

PPE Allocation and Guidance Materials 
Due to current restrictions, masks are a mandatory requirement for those in high risk settings.

Adelaide PHN continues to distribute PPE to Respiratory Clinics, general practices and allied health providers. If you require PPE, please request allocation via the Expressions of Interest form on our website. 

Guidance documents for infection control and the use of PPE can be found via the SA Health and Department of Health websites. 

More Information and Contact 
Please visit our COVID-19 provider update webpage or contact our team via covid19@adelaidephn.com.au or the COVID-19 line on 8314 3698 for more information and/or support. 
PenCS is proud to launch their inaugural PenCS Awards. This national event recognises the excellence in data-driven quality improvement in general practice and Aboriginal medical services, by using health informatics. 
Nominations are now open to all accredited Aboriginal medical services or general practice with a PenCS licence.
Prize includes $500 cash and a trophy per general practice or Aboriginal medical service who was recognised as the winner of each award category. 
Nominations close Monday 16 August 2021.
For more information, including award categories, eligibility criteria and how to nominate, please visit the PenCS Awards website.
From Wednesday 4 August, SA Pathology will resume standard enteric molecular tests for bacterial, viral and parasitic infections in all patient groups following a review of current SARS-CoV-2 testing demands and capacity within the MID Directorate. 

SA Pathology appreciates your understanding as their laboratory responded to the recent COVID-19 cluster. 

Please contact the on-call clinical microbiology consultant on 8222 3000 if you have any queries regarding the resumption of these services. 
More information can be found via this communication from Dr Tom Dodd, Clinical Service Director, SA Pathology
A highlight of research and consultation opportunities for primary health care providers.
Adelaide PHN's Central Referral Unit Survey
Type: Survey | For: Primary health care professionals | By: Adelaide PHN
Type: Survey | For: Carers | By: Southern Cross University
Type: Survey | For: GP | By: The University of Sydney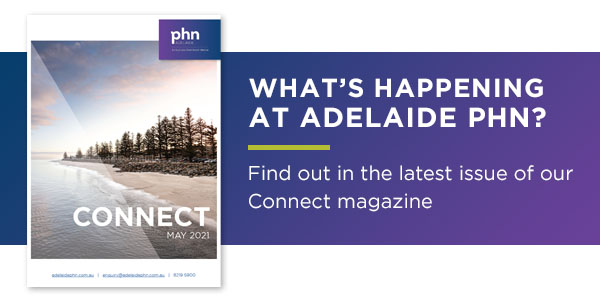 Engage with Adelaide PHN
8219 5900  |  enquiry@adelaidephn.com.au  |  adelaidephn.com.au 
Do you want to receive Adelaide PHN Communications? You can subscribe here.
Want to submit content to Primary Links? Please email comms@adelaidephn.com.au.
If you would like to adjust, or stop the communications you receive from Adelaide PHN, you can unsubscribe or change your preferences here.
Adelaide PHN distributes Primary Links to provide beneficial and relevant information. The content is sourced from credible organisations, but please note we do not undertake extensive quality reviews. While the Australian Government helped fund this document, it has not reviewed the content and is not responsible for any injury, loss or damage however arising from the use of or reliance on the information provided herein.
Adelaide PHN acknowledges the Kaurna peoples who are the Traditional Custodians of the Adelaide Region. We pay tribute to their physical and spiritual connection to land, waters and community, enduring now as it has been throughout time. We pay respect to them, their culture and to Elders past and present.