Click here if you are having trouble viewing this message. If images are not appearing, try pausing Adblock.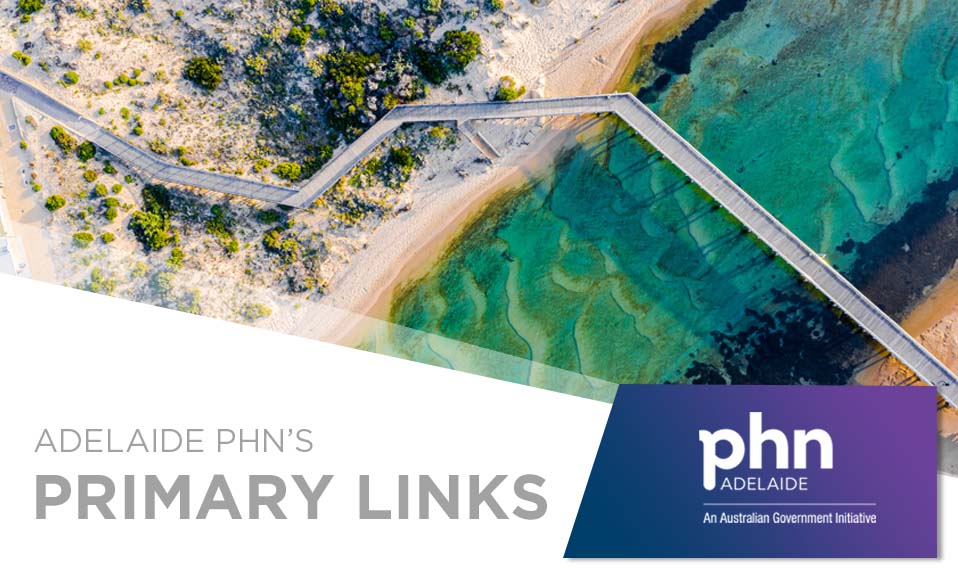 EDITION | 2 SEPTEMBER
Photo: Port Noarlunga, Adelaide South
A highlight of upcoming local professional development opportunities for primary health care providers. Find more events via our website here.
A highlight of resources to support primary health care providers. Find more Adelaide PHN resources via our website resource library here.
The Benchmarque Group has launched their new, free, online-only program - Foundations of Chronic Disease.
The program is aimed at a range of health professionals, working with Aboriginal and/or Torres Strait Islander health, or have Aboriginal and/or Torres Strait Islander clients. 
The course provides students with the skills and knowledge required to provide foundation chronic disease education, understand the burden of chronic disease and impact on Australia, identify chronic disease models, and the tools and resources used in managing chronic conditions in the primary health care arena. 
For further information and to express your organisation's interest, please visit The Benchmarque Group's website. 
If you are a health professional working within the Domestic and Family Violence (DFV) sector, or a GP or GP registrar in South Australia, you are invited to participate in a two-hour focus group. 
 
The study aims to explore issues you face when supporting patients, particularly regarding referrals to appropriate services and supports. Information gained through this project, will be used to establish an evidence-based referral pathway for primary health care professionals to use when assisting patients who are experiencing DFV. 
 
This study is being undertaken by the University of Adelaide's Discipline of General Practice (DGP) in partnership with HealthPathways South Australia.
 
Please contact the lead researcher, Dr Brian Gue, if you are interested in participating on 8313 3462 or brian.gue@gpexmail.com.au.
A highlight of news relating to the delivery of primary health care in Adelaide. Find more Adelaide PHN announcements via our website here.
Adelaide PHN continues to keep general practices and providers up to date with the latest COVID-19 information by providing relevant resources, support, and updates as they become available.
 
Key updates include:
Stay informed of South Australian exposure locations following a positive COVID-19 case travelling through South Australia. Visit the SA Health website for a list of exposure sites and the relevant health advice.
 

Vaccine eligibility changes include:

Individuals aged 16+

Children 12 – 15 with specific medical conditions

Aboriginal and Torrens Strait Islander people aged 12+

From 13 September 2021, all children aged
12 - 15

To book a vaccination appointment or for more information please visit the SA Health website.
 
For further information, please see Adelaide PHN's COVID-19 Provider Update.
CALHN has instigated a major incident to assist in managing the high demand on their services at the RAH and QEH. 
Declaring an incident in this way will allow the Network Incident Command Centre to assist with the coordination and deployment of resources to fast track a range of actions that will help emergency patients get the beds they need. They are also focusing on discharging patients who no longer need an acute bed.
While the major incident is in place, CALHN will prioritise category 1 surgery and procedures. Emergency Departments will continue to accept patients who are seriously ill - GPs should not hesitate to refer in this instance. 
For further information and a list of hospital avoidance pathways, please refer to this communication from CALHN. 
The Australian Digital Health Agency would like to advise that My Health Record (MyHR) will be upgraded on Thursday 26 August 2021. You can continue to use MyHR during this time. 
Access to COVID-19 digital certificate 
This upgrade introduces functionality for consumers to get their COVID-19 digital certificate from MyHR to show proof of their COVID-19 vaccinations. 
The digital certificate will become available once their vaccination provider has reported all required doses of an approved COVID-19 vaccine to the Australian Immunisation Register (AIR).
 
Consumers can already get an immunisation history statement from their record to show proof of all vaccinations recorded on the AIR, including COVID-19 vaccinations.
 
These documents are also available for non-Medicare eligible consumers who have a MyHR. 
 
Second dose alert date range 
The COVID-19 vaccine second dose due date alert now displays a date range in the Health Record Overview. The dates are calculated based on the minimum and maximum recommended interval for the second dose of the vaccine brand received for the first dose.
 
Please contact the MyHR helpline on 1800 723 471 should you require any support. 
A highlight of research and consultation opportunities for primary health care providers.
Type: Survey | For: health professionals and community | By: COTA SA
Type: Survey | For: GP | By: The University of Sydney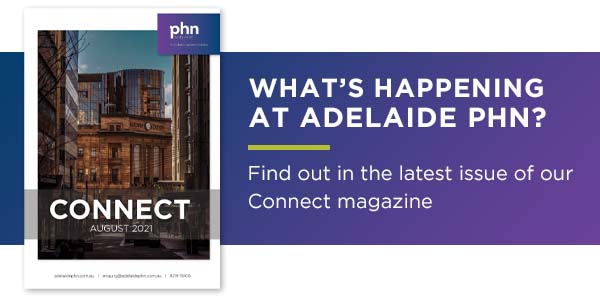 Engage with Adelaide PHN
8219 5900  |  enquiry@adelaidephn.com.au  |  adelaidephn.com.au 
Do you want to receive Adelaide PHN Communications? You can subscribe here.
Want to submit content to Primary Links? Please email comms@adelaidephn.com.au.
If you would like to adjust, or stop the communications you receive from Adelaide PHN, you can unsubscribe or change your preferences here.
Adelaide PHN distributes Primary Links to provide beneficial and relevant information. The content is sourced from credible organisations, but please note we do not undertake extensive quality reviews. While the Australian Government helped fund this document, it has not reviewed the content and is not responsible for any injury, loss or damage however arising from the use of or reliance on the information provided herein.
Adelaide PHN acknowledges the Kaurna peoples who are the Traditional Custodians of the Adelaide Region. We pay tribute to their physical and spiritual connection to land, waters and community, enduring now as it has been throughout time. We pay respect to them, their culture and to Elders past and present.