Click here if you are having trouble viewing this message. If images are not appearing, try pausing Adblock.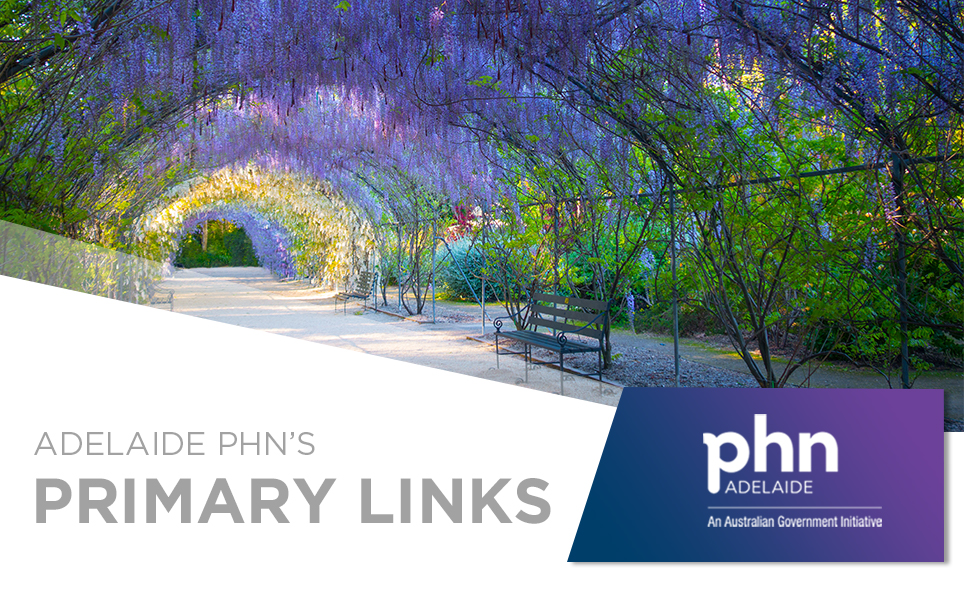 EDITION | 16 SEPTEMBER
Photo: Adelaide Botanic Gardens, Adelaide CBD
A highlight of upcoming local professional development opportunities for primary health care providers. Find more events via our website here.
A highlight of resources to support primary health care providers. Find more Adelaide PHN resources via our website resource library here.
The Benchmarque Group are offering a limited number of fully funded positions for Registered Nurses to become Authorised Nurse Immunisers and complete the Immunisation Endorsement Pathway.
There are only a number of fully funded places available which are expected to fill quickly. Expressions of Interest close on Monday 27 September 2021.
To complete an Expression of Interest Form and find out more, please visit the Benchmarque Group website.
The Collaborative Partnership to improve work participation has developed a new resource to guide GPs on how they can empower people to engage in good work.
The Principles on the role of the GP in supporting work participation has been officially recognised by the Royal Australian College of General Practitioners. The principles support the evidence that work is an important social determinant of health and 'good work' can be used as part of a patient's recovery and wellbeing. 
For further information, please visit the Comcare website or view the one page snapshot here.
The Department of Health has launched a national campaign to raise awareness of the current outbreak of infectious and congenital syphilis happening across Australia.
It is important to ensure that the public are aware of the health risks syphilis poses and steps they can take to reduce their risk. The 'Don't Fool Around with Syphilis' campaign is targeted at women aged 15 to 44 years, men who have sex with men, and those residing in outbreak areas (including Aboriginal and Torres Strait Islander communities).
For further information about the campaign and to download the Stakeholder Kit resources, please visit the Don't Fool Around with Syphilis webpage.
Did you know that 26% of Medical Practitioners and 57% of Pharmacists are now registered for ScriptCheckSA. 
Eligible health practitioners are encouraged to register before it becomes mandatory to use ScriptCheckSA next year.
New resources are available including:
Easy to read patient information which provides a useful counselling tool when speaking to patients with reading difficulties or from non-English speaking backgrounds
Five short walk-through videos that explain and demonstrate key ScriptCheckSA functionality
For further information and to access these resources, please visit the ScriptCheckSA website.
Lung Foundation Australia has launched a free CPD Accredited Activity, A Systematic Approach to Investigating Symptoms of Lung Cancer. 
Developed in collaboration with Cancer Australia, this scenario-based e-learning will assist health professionals in identifying lung cancer and facilitating early and rapid referral.
To find out more and to enrol in the training, visit the Lung Foundation Australia website.
A highlight of news relating to the delivery of primary health care in Adelaide. Find more Adelaide PHN announcements via our website here.
Adelaide PHN continues to keep general practices and providers up to date with the latest COVID-19 information by providing relevant resources, support, and updates as they become available.

Key updates include: 
Vaccination advice for those that are pregnant
Vaccine eligibility updates including:

Children aged 12+
Individuals aged 60+ access to Pfizer
Year 11 and 12 student's priority access

Pfizer vaccine update
Moderna vaccine update
Residential Aged Care vaccine rollout update
New vaccination resources including:

ATAGI clinical guidance on COVID-19 vaccines
Multicultural outreach in a range of languages
Factsheets for residential aged care providers and workers
Australian Immunisation Register factsheet

Mobile vaccination clinics in Adelaide's south and Adelaide Myer Centre
Drive through vaccination clinics
No fault COVID-19 Vaccine Indemnity Scheme
For further information, please see Adelaide PHN's COVID-19 Provider Update.
Adelaide PHN's Primary Health Care Awards are now open.
The Adelaide PHN Primary Health Care Awards are designed to celebrate outstanding achievement in improving the health and wellbeing of our community across the Adelaide metropolitan region. 

This year, Adelaide PHN is looking to recognise the hard work and dedication of our region's primary health care organisations, who have been responsive to our community's needs in an ever-changing environment.
Awards are open to Adelaide PHN commissioned service providers, as well as those involved in any of our partnership and membership activities. 
To access the awards pack, including criteria, submission requirements, and nomination form, please visit Adelaide PHN's website.
Adelaide PHN wishes to advise that it will conduct an open market tender for the recommissioning of primary mental health care services within the Adelaide PHN region for the period from July 2022 to June 2025, excluding youth mental health programs, mental health in residential aged care facilities programs, psychosocial support programs, Indigenous specific programs, and community-based suicide prevention programs. 
As a part of this process, we are now seeking to consult with a broad range of stakeholders and people with lived experience of mental health to better understand the gaps and opportunities within the primary mental health care service delivery model; and design a service that is person centred and best meets the needs of people within our region. 
You're invited to participate in our Mental Health Redesign Stakeholder and Lived Experience Consultation Survey. 
For more information about this recommissioning process, please refer to our website. 
From Monday 13 September, a number of chronic disease services at SALHN have changed their referral pathways and fax numbers including:
Respiratory Services (SALHN GP Plus Respiratory Service, SALHN Pulmonary Rehabilitation Service)
Diabetes Services (SALHN Out of Hospital Diabetes Service) 
Weight Management Services (SALHN GP Plus Bariatric Surgery Service) 
Early Childhood and Family Services (SALHN Allied Health Early Childhood and Family Service)
The updated service pages include a clinical description of these services, as well as eligibility criteria and referral information. SALHN have advised to include the requested referral information in your referral letter to facilitate appropriate triaging.

These pages also link to updated RTF referral templates for Medical Director, should your GP practice wish to use them. In addition, PDF versions, as well as RTF templates for Best Practice and Zedmed, will be added in the near future. 
These changes have been included in the updated SALHN Outpatient clinic list, also accessible through the "Outpatient specialist clinics" quick links on the SALHN GP Integration Unit website.
The South Australian Extension for Community Healthcare Outcomes (ECHO) Program has been officially launched. 
The ECHO Program supports primary health care providers to manage complex patient presentations by sharing knowledge, disseminating best practices, supporting integrated care, and building a community of practice. Kickstarting the program is the Alcohol and Other Drugs ECHO Network commencing this month.
For further information, please visit the South Australian ECHO Program website.
General practices are recommended to update their system to meet the new technical requirements before the upcoming release of Topbar Version 2.15. 
 
Topbar Version 2.15 is expected to be released for all general practices in mid-September 2021. Meeting the new technical requirements will ensure the best functionality and software security for primary care systems.
Please contact our Digital Health Team via digitalhealthinfo@adelaidephn.com.au or visit the PenCS website. 
A highlight of research and consultation opportunities for primary health care providers.
Adelaide PHN distributes Primary Links to provide beneficial and relevant information. The content is sourced from credible organisations, but please note we do not undertake extensive quality reviews. While the Australian Government helped fund this document, it has not reviewed the content and is not responsible for any injury, loss or damage however arising from the use of or reliance on the information provided herein.
Adelaide PHN acknowledges the Kaurna peoples who are the Traditional Custodians of the Adelaide Region. We pay tribute to their physical and spiritual connection to land, waters and community, enduring now as it has been throughout time. We pay respect to them, their culture and to Elders past and present.