Click here if you are having trouble viewing this message. If images are not appearing, try pausing Adblock.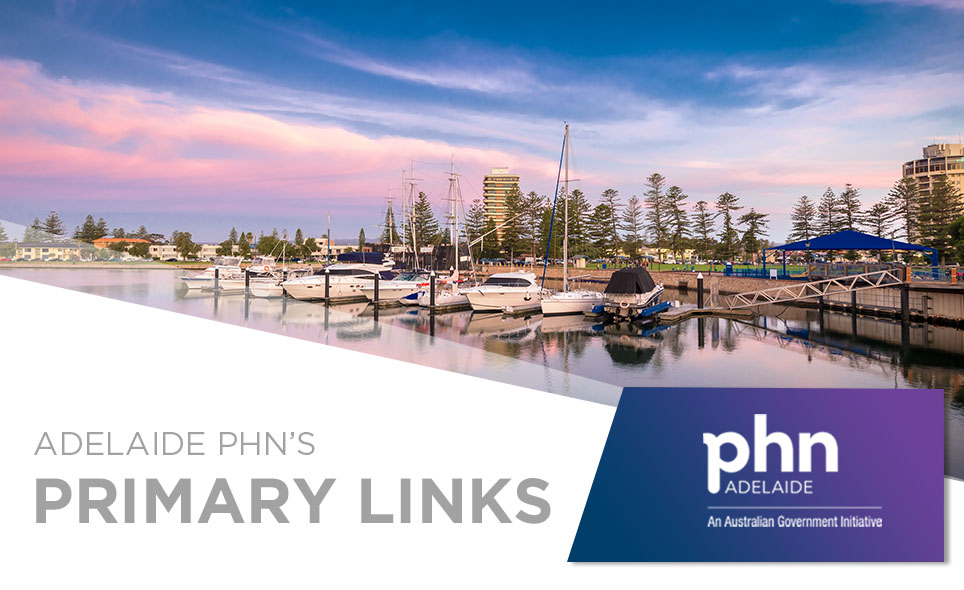 EDITION | 30 SEPTEMBER
Photo: Patawalonga Lake, Glenelg
A highlight of upcoming local professional development opportunities for primary health care providers. Find more events via our website here.
A highlight of resources to support primary health care providers. Find more Adelaide PHN resources via our website resource library here.
In the Port Adelaide (East) area it is estimated that of the 608 people living with chronic hepatitis C in 2016, 38.5% had been treated by the end of 2019. This leaves an estimated 374 people with hepatitis C still requiring treatment to prevent progression to liver disease including liver cancer.

SA Health in partnership with Adelaide PHN and Hepatitis SA are providing free in-practice lunch and education sessions in the Port Adelaide (East) region. Sessions will be delivered by a GP experienced in the management of chronic hepatitis C. These sessions are designed to assist you in the identification and management of people living with hepatitis C in your catchment area.

For more information or if you are interested in hosting a hepatitis C lunch and education session at your practice, please contact Hepatitis SA on 8362 8443 or ecgp@hepsa.asn.au.
Applications for round 2 of Wellbeing SA's Chronic Disease Integrated Partnership Grants are now open until Thursday 14 October.
Grant funded projects will ideally build on existing services, programs and initiatives and use innovative strategies to improve health outcomes and experiences for people living with chronic conditions.
For further information including guidelines, eligibility and to apply, please visit the Wellbeing SA website or contact 
From Monday 27 September, SA Pathology is offering Antimullerian Hormone (AMH) Testing at the Royal Adelaide Hospital Laboratory.
AMH is produced by the genulosa cells of the ovary and Sertoli cells of the testis. AMH is useful for:
Assessment of ovarian reserve, including assessment of premature ovarian failure (such as in patients with Turner syndrome or treated with gonadotoxic cancer treatments)  

Prediction of ovarian responsiveness to assisted reproductive treatments  

A surrogate marker for antral follicle count in the assessment of polycystic ovarian syndrome (PCOS)  

Assessment of infants with disorders of sexual differentiation 

Evaluation of testicular function in infants/children 

Monitoring of granulosa cell tumours of the ovary
For more information, please read the SA Pathology update. 
 
The Australian Contraception and Abortion Primary Care Practitioner Support Network (AUSCAPPS) is Australia's first online community supporting clinicians in providing long-acting reversible contraception and medical abortion. 

The network provides opportunities for primary care practitioners to:
Connect and chat with like-minded peers

Pose questions to expert clinicians

Build local networks

Keep up to date with the latest resources, guidance and training opportunities 
For more information and to join the network, please visit the AUSCAPPS website.
Following recent communication regarding SALHN's referral pathways for chronic disease services, please refer to the updated links and referral information below:
These pages also include a clinical description of these services and eligibility criteria. SALHN has advised to include the requested referral information in your referral letter to assist with facilitating appropriate triaging.
A highlight of news relating to the delivery of primary health care in Adelaide. Find more Adelaide PHN announcements via our website here.
Adelaide PHN continues to keep general practices and providers up to date with the latest COVID-19 information by providing relevant resources, support, and updates as they become available.

Key updates include: 
Resources for vaccination and pregnancy

Vaccination eligibility updates

Moderna vaccine

Additional vaccination clinics

Incentive payment for specific vaccination services

Proof of vaccination

Extended free interpreting services

Vaccine hesitancy webinar
For further information, please see Adelaide PHN's COVID-19 Provider Update.
There's still time to submit a nomination for our 2021 Primary Health Care Awards.
This year, we want to recognise the hard work and dedication of our primary health care organisations, who have been responsive to our community's needs in an ever-changing environment. First prize includes a professional development sponsorship of $3,000!
Nominations close Tuesday 5 October. To access the awards pack, including criteria, submission requirements, and nomination form, please visit Adelaide PHN's website.
The Australian Digital Health Agency are upgrading the NASH authentication system to strengthen security when accessing digital health services.
Organisations should upgrade their software to a NASH SHA-2 ready product by 13 March 2022 to continue to connect to the following services:

Next steps:
If your NASH PKI Certificate is due for renewal and your software provider is not NASH SHA-2 ready, then you must renew your NASH SHA-1 certificate to maintain access to digital health services. Your software provider may advise you to install additional files such as The Chain of Trust.
If your NASH is due to expire on 13 March 2022 and your software product is SHA-2 ready you can renew your NASH SHA-2 certificate through HPOS now.
For more information please see the ADHA website or for support contact digitalhealthinfo@adelaidephn.com.au. 
Adelaide PHN have been advised that as of Monday  27 September 2021, The Child and Adolescent Mental Health Service (CAMHS) will accept referrals from GPs, relevant health professionals, school counsellors, or mental health community organisations, rather than directly from a parent or carer.
 
This means that a parent or carer's concerns will be heard and assessed for immediate risk as per the current management and escalation processes within the CAMHS teams. However, any non-urgent enquiries, with some exceptions for vulnerable groups, will be redirected to their GP or a primary health care provider. Please be aware that this may have an impact on your practice
If you have any queries related to this change of scope, please contact CAMHS directly. Additional information is available on the CAMHS website. 
From 1 October 2021, consumers will require a prescription for all purchases of nicotine vaping products, such as nicotine e-cigarettes, nicotine pods and liquid nicotine.
Consumers can access nicotine vaping products under medical supervision where their doctor agrees that it is appropriate for smoking cessation. It's important that nicotine and smoking cessation counselling is provided by medical practitioners based on their patients' needs. 

For more information, visit the Therapeutic Goods Administration website.
South Australians are invited to step up to the Challenge and make every step count by registering for the Billion Steps Challenge, which commences October 1.
One third of South Australian adults do not accumulate the recommended amount of moderate-to-vigorous physical activity on a weekly basis. The Billion Steps Challenge encourages South Australians to move more and work together to achieve our state's goal of one billion steps. GPs, health care providers and community are encouraged to take part.
Find out more and sign up via the 10,000 Steps website.
A highlight of research and consultation opportunities for primary health care providers.
Adelaide PHN distributes Primary Links to provide beneficial and relevant information. The content is sourced from credible organisations, but please note we do not undertake extensive quality reviews. While the Australian Government helped fund this document, it has not reviewed the content and is not responsible for any injury, loss or damage however arising from the use of or reliance on the information provided herein.
Adelaide PHN acknowledges the Kaurna peoples who are the Traditional Custodians of the Adelaide Region. We pay tribute to their physical and spiritual connection to land, waters and community, enduring now as it has been throughout time. We pay respect to them, their culture and to Elders past and present.