Click here if you are having trouble viewing this message. If images are not appearing, try pausing Adblock.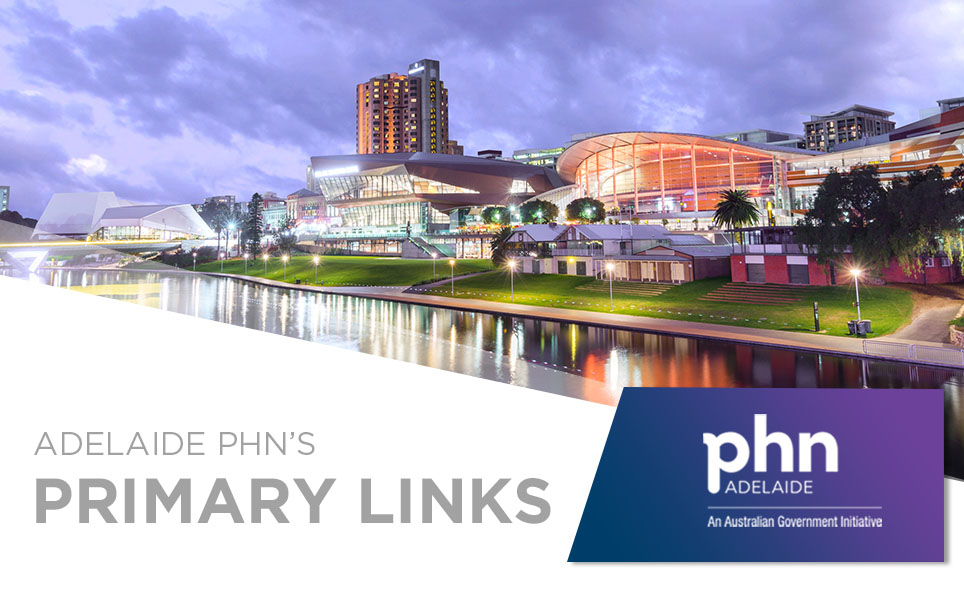 EDITION | 29 OCTOBER
Photo: River Torrens, Adelaide
A highlight of upcoming local professional development opportunities for primary health care providers. Find more events via our website here.
A highlight of resources to support primary health care providers. Find more Adelaide PHN resources via our website resource library here.
Extension for Community Health Care Outcomes (ECHO) is a virtual peer-group learning model for primary health care providers, including GPs, nurses, allied health professionals and community health workers.
The ECHO model uses a combination of didactic education and case-based discussion to create an interactive and reflective professional support and learning community. ECHO aims to assist primary health care providers to manage complex patient presentations by sharing knowledge, disseminating best practices, supporting integrated care, and building a community of practice.  

SAPMEA is conducting a series of on-line ECHO sessions for health care providers which focus on alcohol and other drug issues. These are being held fortnightly on Tuesday evenings through to December 2021. For more information, please visit the SAPMEA website.
Emerging Minds have launched their latest online course: A GP Framework for Infant and Child Mental Health Assessment (0-5 years) through Emerging Minds Learning.
GPs are most commonly the first port of call for children and families concerned about social and emotional difficulties and this course has been developed to meet this increasing need. It was co-designed in collaboration with GPs and parents to ensure content is relevant and realistic to the practitioner experience. 
The course is free, attracts 40 CPD points through the RACGP and is recognised by the General Practice Mental Health Standards Collaboration as a stand-alone Clinical Enhancement Module.
For more information and to access the course, please visit the Emerging Minds website.
The Heart Foundation has collaborated with NPS MedicineWise to develop a national program to support best practice management of heart failure in primary care. 
 
To help people with heart failure live better and longer lives the program focuses on: 
Early diagnosis and classification of heart failure to guide management

Initiation and up-titration of medicines in people with heart failure with reduced ejection fraction

Early and ongoing patient education and self-management
 
The program includes a range of practical tools, resources, on-demand webinars, case studies and information for health professionals and their patients. These resources are available on the NPS MedicineWise website.
A highlight of news relating to the delivery of primary health care in Adelaide. Find more Adelaide PHN announcements via our website here.
We are celebrating our achievements and demonstrating our impact from across the year with the launch of our 2020/21 online Annual Report.
Achievements from within our Annual Report include:
Commissioning 119 contracts worth over $48 million 

Supporting 15,401 people across Adelaide via our commissioned mental health services 

Supporting the health and wellbeing of our local Aboriginal and Torres Strait Islander community via the delivery of 32,486 Closing the Gap/Integrated Team Care services 

Supporting local practices and Commonwealth Vaccination Clinics in administering 172,531 COVID-19 vaccinations 

Supporting 8,221 patients via our 4 Priority Care Centres
To explore these achievements and access the full report, please visit our website.
Adelaide PHN continues to keep general practices and providers up to date with the latest COVID-19 information by providing relevant resources, support, and updates as they become available.

Key updates include: 
Vaccine booster doses

Mandatory vaccination for additional health care workers

Vaccination training updates

Pop-up vaccination clinics

Webinar recording: addressing COVID-19 vaccine hesitancy
For further information, please see Adelaide PHN's COVID-19 Provider Update.
The Women's and Children's Hospital Network (WCHN) has commenced implementation of SA Health's patient electronic medical record, Sunrise EMR and PAS, in a staged approach.
GPs who provide medical services at WCHN (including the Women's and Children's Hospital) will be required to undertake training – and demonstrate competency with using the system – prior to commencing work. GPs who currently provide medical services will be captured in the WCHN training plan that is underway.
Visit the SA Health website for more information about the new GP training requirements and the benefits of the Sunrise electronic medical record.
The Department of Health has extended the grace period for the Closing the Gap (CTG) Pharmaceutical Benefits Scheme (PBS) Co-payment Program until 31 January 2022.
A significant number of eligible Aboriginal and Torres Strait Islander people have not yet been correctly registered for the program. The grace period will prevent CTG annotated PBS prescriptions being rejected at the time of dispensing.
It is imperative that PBS Prescribers and Aboriginal and Torres Strait Islander Health Practitioners ensure eligible patients are correctly registered during this grace period. Please review the registration status for any Aboriginal or Torres Strait Islander patients by using the Health Professional Online Services (HPOS) and rectify any issues before 31 January 2022.
For further information, please visit the Department of Health website. Prescribers can also access information on using HPOS.
The Department of Health has extended the shingles (herpes zoster) vaccine catch-up program available under the National Immunisation Program (NIP).
Shingles vaccination with the Zostavax® vaccine is free under the NIP for people aged 70. The catch-up program offered to people aged 71-79 years was due to end on 31 October 2021 but has been extended for a further 2 years to 31 October 2023. This program extension will allow those who missed or delayed vaccination due to pandemic restrictions or other reasons, extra time to get vaccinated to protect against shingles disease.
Vaccination providers are reminded that it is now mandatory to report all NIP vaccinations to the Australian Immunisation Register.

For further information, please visit the Department of Health website.
The Heart Foundation has closed its telephone health information service.
The Heart Foundation Helpline has provided heart health information and cardiac support to Australians for more than 20 years, but changes in the health system, including the rise of telehealth, the introduction of other health-based telephone support options and the availability of online information, have reduced the demand for this service. 

The service is now closed and callers will be referred to alternative medical services including Health-direct and Nurse-on-call for immediate support, along with their doctor. Please remove any mention of the Heart Foundation Helpline service from printed publications, websites and other material. 
Consumers can be referred to the Heart Foundation website for information about heart health, cardiac conditions and care. 
A highlight of research and consultation opportunities for primary health care providers.
Adelaide PHN distributes Primary Links to provide beneficial and relevant information. The content is sourced from credible organisations, but please note we do not undertake extensive quality reviews. While the Australian Government helped fund this document, it has not reviewed the content and is not responsible for any injury, loss or damage however arising from the use of or reliance on the information provided herein.
Adelaide PHN acknowledges the Kaurna peoples who are the Traditional Custodians of the Adelaide Region. We pay tribute to their physical and spiritual connection to land, waters and community, enduring now as it has been throughout time. We pay respect to them, their culture and to Elders past and present.