Click here if you are having trouble viewing this message. If images are not appearing, try pausing Adblock.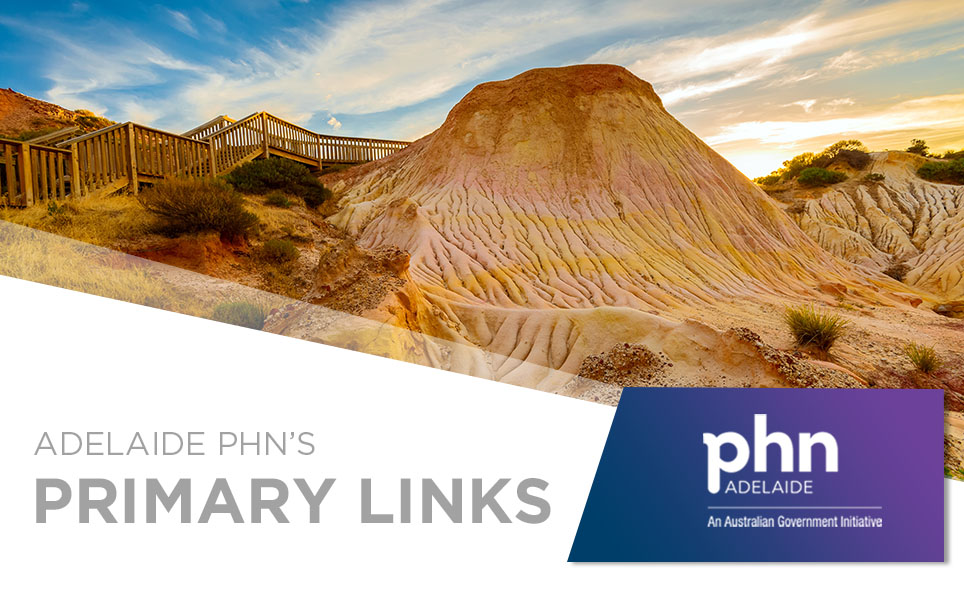 EDITION | 12 NOVEMBER
Photo: Hallett Cove, Adelaide South
A highlight of upcoming local professional development opportunities for primary health care providers. Find more events via our website here.
A highlight of resources to support primary health care providers. Find more Adelaide PHN resources via our website resource library here.
End of Life Directions for Aged Care (ELDAC) have developed a new resource on 'Capacity and Consent to Medical Treatment', specifically relevant to GPs, practice nurses and home care staff.
A person with decision-making capacity has the right to decide what is or is not done to their bodies. This means they can consent to medical treatment or refuse it.
How can GPs determine if a person has decision-making capacity? Can a person with dementia make medical treatment decisions themselves?
Find the answers in this ELDAC Fact Sheet.
Chronic insomnia is a prevalent and debilitating condition that reduces quality of life and increases risk of depression.

Cognitive Behavioural Therapy for insomnia (CBT-i) is the recommended 'first line' treatment for insomnia. CBT-i targets the underlying causes of insomnia, leading to long-lasting improvements in sleep, mental health, and reduced sleeping pill dependence. Many GPs report limited access to CBT-i treatment and referral pathways.
Researchers at Flinders University are providing GPs with a digital CBT-i pathway, Sleepio. Sleepio includes 6 weekly 20-minute online sessions. It has been used by thousands of people worldwide to improve insomnia, depression, and reduce sedative-hypnotic use. Patients will be provided free access to the 6-week Sleepio program. GPs will be reimbursed $50 for each eligible patient referred. 

Interested GPs can contact Dr Alexander Sweetman to access the pathway.
This month is Pulmonary Hypertension Awareness Month and November 17 is World Chronic Obstructive Pulmonary Disease (COPD) Day.
In collaboration with clinical experts, Lung Foundation Australia has developed a free, downloadable pack of tools and resources that will complement health professionals' existing treatment plans and help patients effectively self-manage these conditions.
For further information, please access the Pulmonary Hypertension resources here and the COPD resources here.
The National Diabetes Services Scheme is providing partial funding for a limited number of nurses to complete the Diabetes in Practice for Nurses Program.
This online course takes 12 hours to complete and will improve your ability to support a person living with diabetes and improve health outcomes for your patients.
For more information, please visit the Diabetes Qualified website.
A highlight of news relating to the delivery of primary health care in Adelaide. Find more Adelaide PHN announcements via our website here.
Adelaide PHN continues to keep general practices and providers up to date with the latest COVID-19 information by providing relevant resources, support, and updates as they become available.

Key updates include: 
Emergency direction updates

Booster vaccinations

Upcoming webinars

Pop-up vaccination clinics

Quantitative fit testing

Resources for COVID positive patients
For further information, please see Adelaide PHN's COVID-19 Provider Update.
Adelaide PHN's Immunisation Hub Coordinator continues to keep general practices and providers up to date with the latest immunisation resources and updates.
Key updates include:
Immunisation Coalition survey reports

Influenza vaccine orders

Webinar recordings from the Immunisation Education Session
For further information, please see our Immunisation Hub Coordinator Update.
The RACGP Mentoring Program is an exciting opportunity for experienced GPs to share their wisdom and support another GP through the earlier stages of their career.

The program provides a platform for GPs to seek support, guidance, and advice on tackling a career in general practice, with a particular focus on wellbeing, collegiality, and career development.

Places for the program are filling up so be quick to apply before applications close 30 November 2021.
 
For more information and to apply, please visit the RACGP website.
From 1 July 2022, all participants in the National Cervical Screening Program (NCSP) will have the choice in screening method - either self-collected or clinician-collected after a review of evidence concluded that self-collection is just as safe and accurate as clinician-collection.
Wellbeing SA is planning a campaign to increase community awareness of self-collection. This campaign will direct people to a webpage listing health care providers who are happy to offer self-collection to eligible patients and have swabs in stock. If your practice would like to be listed on this webpage, please complete the Healthcare Provider Nomination Form and email to Wellbeing SA.
For further information, please visit the Department of Health website or send any questions or concerns to NCSP.
Dr Mai Duong and Janet Berkshire (Nurse Consultant) of the SALHN GP Integration Unit recently launched Southern GP Matters, the unit's newsletter.
This newsletter was produced as a result of feedback received from GPs, practice nurses, practice managers and administrative staff. The newsletter aims to keep GP practice teams regularly updated and involved in activities relevant to the Southern Adelaide Local Health Network, with a view to improve how the hospital teams and GP practice teams work together for their patients.

Please contact the SALHN GPIU with your suggestions for content or if you would like to be added/removed from their mailing list.
A highlight of research and consultation opportunities for primary health care providers.
Adelaide PHN distributes Primary Links to provide beneficial and relevant information. The content is sourced from credible organisations, but please note we do not undertake extensive quality reviews. While the Australian Government helped fund this document, it has not reviewed the content and is not responsible for any injury, loss or damage however arising from the use of or reliance on the information provided herein.
Adelaide PHN acknowledges the Kaurna peoples who are the Traditional Custodians of the Adelaide Region. We pay tribute to their physical and spiritual connection to land, waters and community, enduring now as it has been throughout time. We pay respect to them, their culture and to Elders past and present.