Click here if you are having trouble viewing this message. If images are not appearing, try pausing Adblock.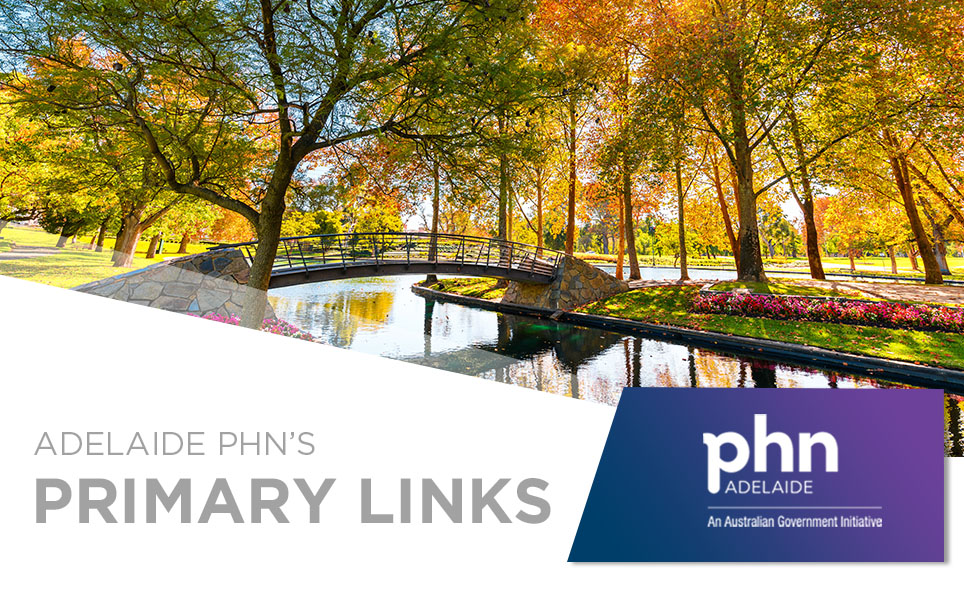 EDITION | 25 NOVEMBER
Photo: Southern Parklands, Adelaide
A highlight of upcoming local professional development opportunities for primary health care providers. Find more events via our website here.
A highlight of resources to support primary health care providers. Find more Adelaide PHN resources via our website resource library here.
Naloxone is a life-saving medicine. From 1 December 2019 until 30 June 2022, South Australia is participating in the PBS-subsidised Take Home Naloxone Pilot to increase access to naloxone and reduce fatalities associated with the use of prescribed or illicit opioids. These deaths often occur from usual or prescribed doses in combination with alcohol or other drugs (AOD) and are often accidental / unexpected.
It is recommended that naloxone should be provided to all patients taking:
≥ 100mg oral morphine equivalent daily dose (oMEDD)

≥ 50mg oMEDD who drink alcohol or are also taking CNS depressants (e.g., benzodiazepines or z-drugs, gabapentinoids, antipsychotics) 
Vouchers for no cost naloxone are available through a range of settings, including primary care settings, hospital and community pharmacies, prisons, AOD services and clean needle programs. Vouchers are provided with brief advice on preventing and responding to the adverse effects of opioids.
More information about accessing naloxone vouchers for patients is available on the SA Health website.
The National Centre for Antimicrobial Stewardship (NCAS) has released new resources to address antimicrobial resistance (AMR).
AMR is widely recognised as a global health priority. Resistant organisms exist in humans, animals, food, plants and the environment, and the main driver of this resistance is antimicrobials usage.
Patient information sheets have been developed to engage people in the treatment process and reduce inappropriate prescribing and use of antibiotics. These resources cover seven common infections. 
For further information, please refer to the patient information sheets on the NCAS website.
The Royal Australian College of General Practitioners (RACGP) has released their updated standards for general practices.
The updated standards include changes to telehealth including:
General practices should review the updated standards listed above and make any changes within their practice to meet the indicators.
For further information, please refer to the RACGP's guide to providing telephone and video consultations in general practice. For assistance and support, please contact your Practice Facilitator. 
A resource has been developed to help GPs understand the MBS items that can be used for patients with drug and alcohol issues.
There are no specific Medicare Benefits Schedule (MBS) items available for general practitioners to help support people with AOD problems. Nevertheless, there are a range of other items that can be used to support the management of these patients.
This resource provides information to help GPs understand how these item numbers can be used in general practice settings. 
A highlight of news relating to the delivery of primary health care in Adelaide. Find more Adelaide PHN announcements via our website here.
Adelaide PHN continues to keep general practices and providers up to date with the latest COVID-19 information by providing relevant resources, support, and updates as they become available.

Key updates include: 
SA Health living with COVID plans and resources

COVID-19 update webinar

HealthCheck SA mobile app

Pop up vaccination clinics

Updated emergency management directions
For further information, please see Adelaide PHN's COVID-19 Provider Update.
On 15 November 2021, SA Health issued a public health alert for heterosexual infectious syphilis after a significant increase in notifications across Adelaide.
Heterosexual infectious syphilis notifications in Adelaide have tripled compared to the average over the past five years. GPs are advised to follow the advice for testing, screening, and monitoring.
For further information, please read the public health alert here.
Diabetes SA has developed a new lifestyle change program, AUS2PREVENT, which aims to prevent or delay type 2 diabetes for people at high-risk of developing the condition.
A trail of the AUS2PREVENT program is now underway to determine its feasibility, acceptability, and effectiveness.
The trial is available to people residing or working in the Cities of West Torrens, Marion, Tea Tree Gully and Campbelltown. Health professionals are invited to support the trial by:
Referring patients at risk of developing type 2 diabetes to the trial

Supporting patients to check diabetes-relevant health outcomes four times over the trial

Promoting the trial to your patients and colleagues
For more information, please email Diabetes SA or visit the AUS2PREVENT website.
The Clinical Prioritisation Criteria (CPC) for the first five clinical specialities have been developed in partnership between the Department for Health and Wellbeing, specialists, and GPs for use by referring practitioners.
The CPC consultation process is opening for five clinical specialities: cardiology, ear, nose and throat, neurology, orthopaedics and vascular. The Department for Health and Wellbeing now welcomes feedback on the proposed CPCs from stakeholders and subject matter experts.
The CPC will be accessible through the SA Health website and feedback will be welcomed via response to health.cpc@sa.gov.au. Please be aware the consultation period is open from Friday 26 November 2021 to Friday 7 January 2022.
Omega-3 testing guidelines
SA Pathology have released updated guidelines for Omega-3 status testing. The South Australian Health and Medical Research Institute has updated their pregnancy care guidance for women with sufficient omega-3 status. The new guidance will be reflected in omega-3 test results.
For further information, please refer to SA Pathology's omega 3 testing guidelines.
Faecal calprotectin (FCP) - MBS items added
FCP, used in the diagnosis of inflammatory bowel disease, has acceptable diagnostic performance while being safer and more cost effective than an endoscopy. Two new FCP items listed on the MBS are now available through SA Pathology to eligible patients.
For further information, please refer to the SA Pathology update.
In the Port Adelaide (west) area it is estimated that of the 588 people living with chronic hepatitis C in 2016, 46.3% had been treated by the end of 2019. This leaves an estimated 316 people with hepatitis C still requiring treatment to prevent progression to liver disease including liver cancer.

SA Health, in partnership with Adelaide PHN and Hepatitis SA, are providing free in-practice lunch and education sessions in the Port Adelaide (west) region. Sessions will be delivered by a GP experienced in the management of chronic hepatitis C. These sessions are designed to assist you in the identification and management of people living with hepatitis C in your catchment area.

For more information or if you are interested in hosting a hepatitis C lunch and education session at your practice, please contact Hepatitis SA on 8362 8443 or ecgp@hepsa.asn.au.
A highlight of research and consultation opportunities for primary health care providers.
Adelaide PHN distributes Primary Links to provide beneficial and relevant information. The content is sourced from credible organisations, but please note we do not undertake extensive quality reviews. While the Australian Government helped fund this document, it has not reviewed the content and is not responsible for any injury, loss or damage however arising from the use of or reliance on the information provided herein.
Adelaide PHN acknowledges the Kaurna peoples who are the Traditional Custodians of the Adelaide Region. We pay tribute to their physical and spiritual connection to land, waters and community, enduring now as it has been throughout time. We pay respect to them, their culture and to Elders past and present.