Click here if you are having trouble viewing this message. If images are not appearing, try pausing Adblock.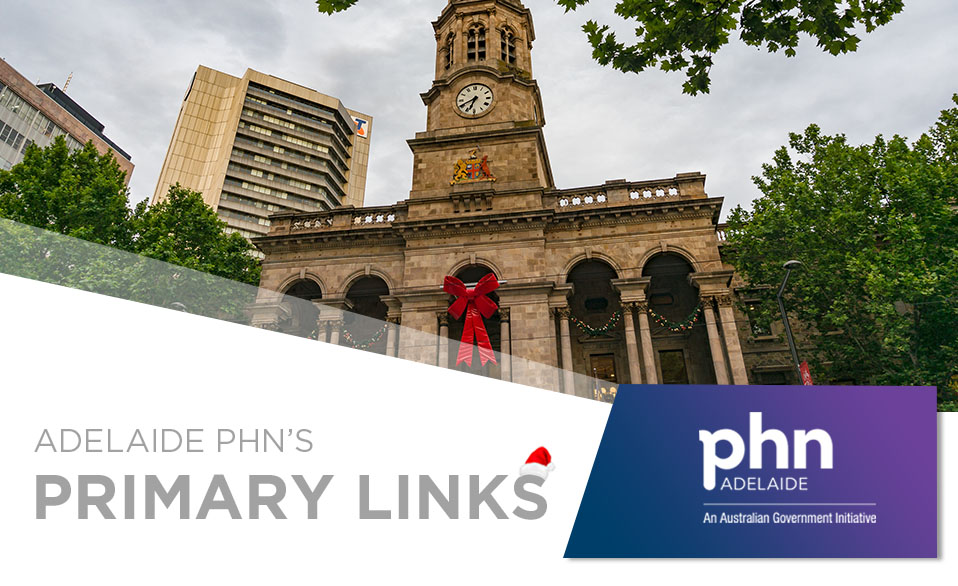 FINAL EDITION FOR 2021 | 9 DECEMBER
Photo: Adelaide Town Hall, Adelaide CBD
A highlight of upcoming local professional development opportunities for primary health care providers. Find more events via our website here.
PSEPTEMBER
A Self-Care Workshop with a Difference
Thurs 16 Dec | 12.00PM - 2.30PM
Royston Park
Please note - events may be subject to change due to current COVID-19 restrictions.
Visit the events page on our website to see upcoming events for 2022.
A highlight of resources to support primary health care providers. Find more Adelaide PHN resources via our website resource library here.
New Medicare Benefit Schedule (MBS) items are now available for eligible allied health professionals participating in multidisciplinary case conferences.
The new items apply to non-admitted patients under the care of an eligible health practitioner for:
Chronic disease management under the care of a GP in either community or residential aged care settings

Early diagnosis and treatment for children under 13 years with, or suspected of having, a pervasive developmental disorder (including autism) or an eligible disability, under the care of a specialist, consultant physician or GP.
The Department of Health hosted a webinar to promote the new items. The webinar recording and responses to questions are available on the Department's website.
For more information, please visit the MBS website.
A range of resources are available to assist GPs with medicine deprescribing.  

Primary Health Tasmania (Tasmania PHN) has developed deprescribing resources for a range of psychoactive and other medicines. The resources consist of an overview of deprescribing principles and research, deprescribing strategies for a range of commonly used medicines, videos, and consumer resources. These are available here. 

Deprescribing resources which focus on older people are also available from the Royal Australian College of General Practitioners and NPS MedicineWise.
Depression and insomnia symptoms commonly co-occur. Historically, when insomnia has occurred in the context of other physical and mental health conditions, it has been conceptualised as a 'secondary symptom' (e.g. depression and secondary insomnia). However, evidence suggests that insomnia and depression share important bi-directional relationships.
When insomnia and depression co-occur, targeted assessment and treatment options for both conditions may be considered for the best patient outcomes. Insomnia is one of the most consistent risk factors for future depression. 
Cognitive Behavioural Therapy for insomnia (CBT-i) is an effective insomnia treatment in the presence of mild, moderate, and severe depression. Treating insomnia with CBT-i also improves depression, anxiety, and stress symptoms. Untreated insomnia may contribute to relapse of depression symptoms.

Interested GPs can contact Dr Alexander Sweetman to find out more about different CBT-i treatment and referral options.
Did you know that almost one in three Australians aren't aware drinking alcohol during pregnancy can cause Fetal Alcohol Spectrum Disorder and nearly one in four aren't aware alcohol should be avoided altogether during pregnancy?

Seen as a trusted source of information about alcohol, pregnancy, and breastfeeding, there is no doubt health professionals have a key role in helping change this.

Every Moment Matters, a campaign about the importance of alcohol-free pregnancy and breastfeeding, is endorsed and funded by the Australian Government Department of
Health and developed by the Foundation for Alcohol Research and Education. The website also features a section just for health professionals to help you discuss the key issues raised by the campaign.
For more information, please visit the Every Moment Matters website.
Are you one of the 70% of doctors or 40% of pharmacists who haven't registered to use ScriptCheckSA?
Early next year it will be compulsory to use ScriptCheckSA when you prescribe or dispense a monitored drug. ScriptCheckSA gives you 24/7 access to real-time monitored drug history to support your clinical practice and can save time by helping you identify the other doctors and pharmacies providing monitored drugs for your patient.
Did you know that abruptly discharging or suddenly stopping treatment of patients who have been taking high-risk medicines over a long period of time is contrary to patient safety? If you identify a patient is at risk of harm from monitored drugs, resources (including triage referral pathways) can be found in the online training and ScriptCheckSA website.
Register now on the ScriptCheckSA website. For more information, please email Health.RTPM@sa.gov.au.
A highlight of news relating to the delivery of primary health care in Adelaide. Find more Adelaide PHN announcements via our website here.
Adelaide PHN continues to keep general practices and providers up to date with the latest COVID-19 information by providing relevant resources, support, and updates as they become available.

Key updates include: 
Personal Protective Equipment Supplies

Healthpathways SA COVID-19 Pages

Classification of the COVID Exposures in Primary and Community Health Care Settings Risk Matrix

Vaccination Exemptions

New Emergency Directions
For further information, please see Adelaide PHN's COVID-19 Provider Update.
In this last edition of Primary Links for 2021, the team at Adelaide PHN would like to thank you for your continuous support throughout the year and wish you all a happy holiday and joyous New Year.
Adelaide PHN's office will be closed from midday Tuesday 21 December 2021 and reopen Wednesday 5 January 2022.
During our office closure, our Central Referral Unit (CRU) will be operating reduced hours to process priority and suicide prevention referrals only. Providers can send referrals via secure messaging:
Health Link | EDI: adphncru

Referral Net/Argus | ID: CRU
For information and support about referrals, please contact our Mental Health Enquiry Line on 1300 898 213. 
Our COVID team will continue to support general practices and commonwealth vaccination clinics with urgent enquiries via covid19@adelaidephn.com.au or 8314 3698.
For more information and to access a list of commissioned support services during this time, please see the announcement on our website.
The Child and Family Health Service (CaFHS) is now offering two appointments rather than one as their initial contact with families following the birth of an infant: at 1-4 weeks of age, and at around 6-8 weeks.
The purpose of the second appointment is to offer support with sleep, settling and feeding, and to screen for postnatal depression and domestic and family violence. If it has not already been done by a GP or paediatrician, the CaFHS nurse will also conduct all parts of the six week check as documented in the "My Health and Development Record" (The Blue Book), except for the cardiovascular check. The family will be encouraged to see their doctor to complete a cardiovascular examination.  
For further information or questions, please visit the CaFHS website or email feedback@cafhs.sa.gov.au.
Adelaide PHN recently commissioned Links to Wellbeing to deliver mental health services for residents of Residential Aged Care Facilities (RACF) with severe mental illness.
The Connected in Wellbeing (CiW) program is designed for residents with a diagnosed mental illness that is severe in nature and will benefit from short-term psychological therapies. CiW is now accepting referrals from GPs and Older Persons Mental Health Service, through Adelaide PHN's Central Referral Unit.
The existing Supporting Emotional Wellness (SEW) RACF program has also expanded. SEW is delivered by Relationships Australia South Australia and now includes low intensity one on one sessions. 

For more information about both programs including how to refer, please visit the Adelaide PHN website.
New technology designed to streamline communication between hospitals and community health providers is allowing clinicians to share important patient information faster and improve patient care.
Secure messaging improves the accuracy, privacy, and speed in which clinical documents can be shared between sites. SA Health Chief Digital Health Officer, Bret Morris, said SA Health, in partnership with the Australian Digital Health Agency, has trialled the secure messaging technology and is now rolling it out in a staged approach. Health providers will be sent a direct invitation to join secure messaging.
For further information, please visit the SA Health website.
A highlight of research and consultation opportunities for primary health care providers.
Adelaide PHN distributes Primary Links to provide beneficial and relevant information. The content is sourced from credible organisations, but please note we do not undertake extensive quality reviews. While the Australian Government helped fund this document, it has not reviewed the content and is not responsible for any injury, loss or damage however arising from the use of or reliance on the information provided herein.
Adelaide PHN acknowledges the Kaurna peoples who are the Traditional Custodians of the Adelaide Region. We pay tribute to their physical and spiritual connection to land, waters and community, enduring now as it has been throughout time. We pay respect to them, their culture and to Elders past and present.