Click here if you are having trouble viewing this message. If images are not appearing, try pausing Adblock.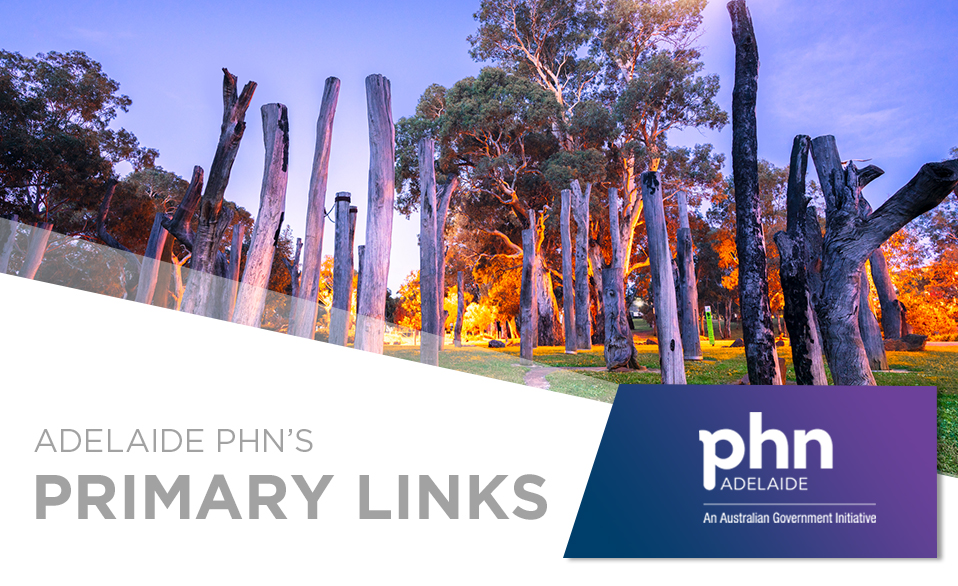 EDITION | 17 MARCH
Photo: Tjilbruki Gateway, Warriparinga
A highlight of upcoming local professional development opportunities for primary health care providers. Find more events via our website here.
A highlight of resources to support primary health care providers. Find more Adelaide PHN resources via our website resource library here.
Today marks National Close the Gap Day – a day to pledge support for achieving Aboriginal and Torres Strait Islander health equality. 
In light of this day, a range of resources relating to Aboriginal health and Torres Strait Islander health and wellbeing have been provided below:
To see what Adelaide PHN is doing as part of our commitment to improving health outcomes and accessibility of primary health care for Aboriginal people, please visit our website's directory or see our Innovate Reconciliation Action Plan. 
For more information about National Close the Gap Day, please visit the ANTaR website. 
Monash University's Department of Forensic Medicine has developed Continuing Professional Development (CPD) training in how to respond to patients who have experienced sexual violence.

This three-unit program addresses a known gap in medical training on sexual violence. The curriculum has been developed by forensic clinicians and nurses. Clinicians can choose to do one, two or all three units depending on their existing knowledge and practice reach.

Each unit is delivered over a six-week period (a total of six hours professional development) through interactive content and two one-hour zoom sessions with expert practitioners.

The training is available to registered and practicing doctors and nurses free of charge.

For more information and to register, please visit the Monash University website.
The National Quit Training and Resource Centre for Nicotine Cessation (Quit Centre) is a national best practice support service.

The Quit Centre's comprehensive and practical resources and training have been created by health professionals with extensive knowledge of smoking and vaping cessation. The resources and training will be updated continually and informed by emerging research and insights from ongoing consultation with Quitline counsellors, GPs and pharmacists.

More specifically, it will provide:
Accredited online training specific to primary health care professionals

Clinical tools and guidelines for providing smoking and vaping cessation care

Professional development opportunities

Latest news and research

Information about Quitline, including referral instructions
For more information, please visit the Quit Centre website.
The Ascent Asthma Toolkit has been developed for healthcare professionals working in primary care to help minimise flare-ups and maximise the quality of life in patients with asthma.
The toolkit contains information and practical resources to help you and your practice identify and manage patients with uncontrolled asthma using national guidelines and recommendations. With a constantly changing treatment landscape, the resources provided have been adapted for telehealth within your practice.

A RACGP approved CPD activity is also available to help you extend and apply your learnings in uncontrolled asthma. This activity runs all year from now until December 2022 and is free of cost.

For more information, please visit the Ascent website.
A highlight of news relating to the delivery of primary health care in Adelaide. Find more Adelaide PHN announcements via our website here.
Adelaide PHN continues to keep general practices and providers up to date with the latest COVID-19 information by providing relevant resources, support, and updates as they become available.

Key updates include: 
For further information, please see Adelaide PHN's COVID-19 Provider Update.
SA Health has issued an alert for paediatric inflammatory multisystem syndrome (PIMS-TS). Two cases of PIMS-TS have been identified in SA. 

Medical practitioners are advised to:
Urgently refer any children presenting with fever and shock to the nearest emergency department.

Assess and manage as per usual protocols for children with fever and shock. 

Consider the diagnosis of PIMS-TS in children who have had recent or current SARS-CoV-2 infection or been in contact with confirmed COVID-19 case.

Manage less severely unwell children through normal referral pathways.

Recommend COVID-19 vaccination for all children who are eligible.

Notify suspected and confirmed cases to the Communicable Disease Control Branch (CDCB).
For more information, please visit the SA Health website or contact the CDCB on 1300 232 272.
The grace period to register patients for the Closing the Gap Pharmaceutical Benefits Scheme Co-Payment Program (CTG PBS Co-Payment Program) has been extended to 30 June 2022.

Patients are eligible for the CTG PBS Co-payment program if they:
Self-identify as an Aboriginal or Torres Strait Islander Australian 

Will have setbacks in preventing or managing their condition if they don't take the medicine

Are unlikely to keep up their treatment without help with the cost

Are enrolled with Medicare
The patient's age, where they live, and their chronic disease status do not matter.

Please note proof of Aboriginality is not required to be shown to prescribers or pharmacist to determine the individual's Aboriginal and/or Torres Strait Islander status.

For more information about the CTG PBS Co-Payment Program, please read Adelaide PHN's update.
Vaccination against influenza this year is even more important. Over the COVID-19 period there has been lower exposure to influenza virus and lower levels of influenza vaccine coverage compared to previous years. With borders reopening a possible resurgence of influenza can occur in 2022. 
Free flu vaccines under the National Immunisation Program (NIP) are available from April 2022, subject to local supply arrangements. Eligibility for influenza vaccines under the NIP remains unchanged for 2022.
ATAGI has advised that influenza vaccines can be co-administered (on the same day) with a COVID-19 vaccine.
For more information, please refer to the:
Would you like to participate in one of the largest quality improvement programs in Australian primary care?
The Heart Foundation is offering 200 general practices the opportunity to be involved in Phase 2 of the National Heart Health Check Recall Program.
Known as Text to Detect, this pioneering program supports targeted identification and management of cardiovascular disease via an innovative recall system. Participating practices can expect to fulfil PIP QI and accreditation requirements by engaging in quality and data-driven improvement activities.
For more information and to express your interest, please visit the Heart Foundation website. Places are limited.
Healthdirect Australia has announced that MBS telehealth funding for general practice is here to stay as a permanent feature of Australia's primary healthcare system.
The Department of Health extended funding to June 2022, so healthcare providers can access a free video call service that is highly secure and easy to use.
 
Healthdirect Australia provides unlimited use of its video call service by GPs and practice managers, and provides free support to practices including onboarding, training and ongoing support.

For GPs in private practice wanting to start using the service, please register your practice. For GPs in Aboriginal Community Controlled Health Organisations (ACCHOs) wanting to start using the service, please register for access.

For more information, please refer to the Health Direct brochure. 
A highlight of research and consultation opportunities for primary health care providers.
Adelaide PHN distributes Primary Links to provide beneficial and relevant information. The content is sourced from credible organisations, but please note we do not undertake extensive quality reviews. While the Australian Government helped fund this document, it has not reviewed the content and is not responsible for any injury, loss or damage however arising from the use of or reliance on the information provided herein.
Adelaide PHN acknowledges the Kaurna peoples who are the Traditional Custodians of the Adelaide Region. We pay tribute to their physical and spiritual connection to land, waters and community, enduring now as it has been throughout time. We pay respect to them, their culture and to Elders past and present.