Click here if you are having trouble viewing this message. If images are not appearing, try pausing Adblock.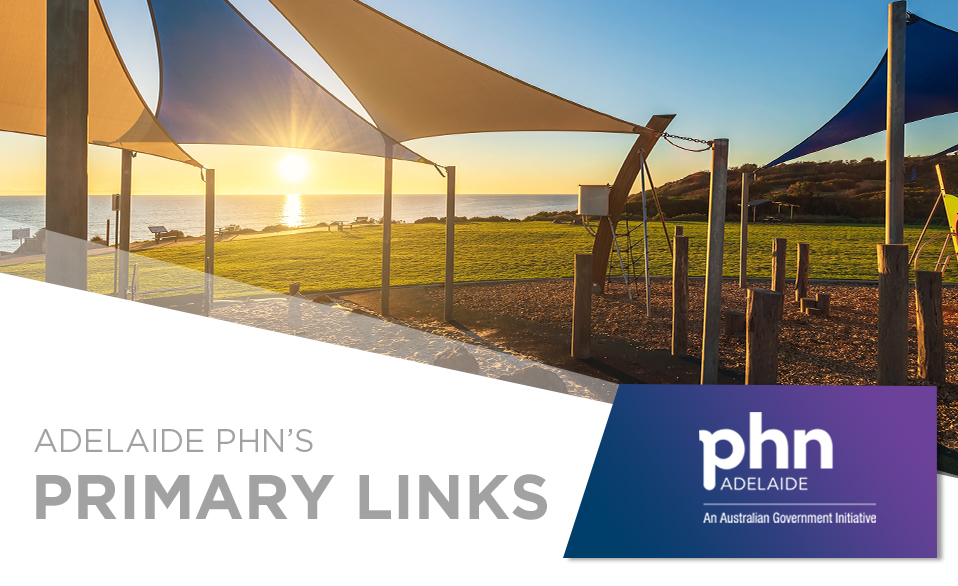 EDITION | 1 APRIL
Photo: Maslin Beach, Adelaide South
A highlight of upcoming local professional development opportunities for primary health care providers. Find more events via our website here.
A highlight of resources to support primary health care providers. Find more Adelaide PHN resources via our website resource library here.
The CareSearch website has recently been updated and now has a section specifically designed to support health professionals providing palliative care within the primary health care setting. 
The new Primary Health Care section includes information on: 
Pathways and Frameworks (Referral and Care Transitions)

Role in Palliative Care

Working in Multidisciplinary Teams (including Remuneration for Palliative Care Services)
The CareSearch website also contains evidence-based resources which can help you in supporting older people and their care providers. It features a diversity hub to support patients to overcome barriers to accessing care and contains resources to help you in supporting delivery of culturally safe and responsive care to Aboriginal and Torres Strait Islander people.
 
For more information, please visit the CareSearch website.
ForWhen is a new support service for parents and families experiencing perinatal mental health concerns and challenges. It's designed to provide new parents with a caring, supporting, and timely mental health navigation service in their local area.
 
ForWhen connects expectant and new parents to the support they need to improve mental health from their baby's conception to first birthday. Parents experience seamless service delivery, feel heard and supported, and are connected to services that best match their needs. 

Health practitioners can contact ForWhen on behalf of their perinatal patients to help them access mental health support.

For further information, please call ForWhen on 1300 24 23 22 or visit the ForWhen website.
The Safer Families Centre is leading 'The Readiness Program' – a national domestic and family violence (DFV) training program for primary care. 

Evidence shows primary care providers have a crucial role to play in addressing DFV. At least one in 10 women attending general practice will have experienced DFV, and it is estimated a full-time GP sees up to five unidentified abused women per week.
The Readiness Program includes a suite of e-learning modules, workshops, a webinar series hosted by RACGP and a practice-centred training program to equip general practices to effectively identify, respond and refer individuals and families experiencing DFV.
Find out more via the Safer Families website.
The national guidance for doctors assessing workers exposed to respirable crystalline silica dust (the guidance) has been developed to help GPs identify and assess people at risk of silicosis caused by exposure to respirable crystalline silica dust. 
The recent re-emergence of silicosis is linked to the increasing popularity of engineered stone products, and the processes for cutting, grinding, and polishing this material. 
The guidance has been developed by medical experts from a range of relevant fields, covering respiratory and thoracic medicine, radiology, environmental and occupational medicine, and work health and safety. It contains the best available evidence to help make informed assessments of at-risk workers.
For more information and to access the guidance, please visit the Department of Health website.
A highlight of news relating to the delivery of primary health care in Adelaide. Find more Adelaide PHN announcements via our website here.
Adelaide PHN continues to keep general practices and providers up to date with the latest COVID-19 information by providing relevant resources, support, and updates as they become available.

Key updates include: 
Updates to close contacts requirements

COVID-19 and pregnancy

Multilingual COVID-19 factsheets


 
For further information, please see Adelaide PHN's COVID-19 Provider Update.
The COVID-19 pandemic may impact the ability of general practices to participate in on-site accreditation assessments. As a result, the following provisions apply during 2022:
On-site assessment to proceed, whenever safe and feasible

Hybrid assessment may occur where it is not possible for a full assessment team to be on-site

Off-site virtual assessment may be allowed in exceptional circumstances and must be followed up with an on-site assessment

Accreditation can be maintained, and the accreditation expiry date revised by up to six months.

For more information, download the fact sheet on our National General Practice Accreditation Scheme page or direct questions to advicecentre@safetyandquality.gov.au.
Adelaide PHN's Digital Health Team would like to inform GPs, specialists, practice managers, practice nurses and Aboriginal health workers about upcoming My Health Record (MHR) learning opportunities. 

Register for a MHR Q&A session about your software via the link below:

Register for a demonstration on how to use MHR most effectively in routine practice including how to: 
Access your patients' records in your software

Use filters to find documents

View documents and overviews

Understand how to view immunisation history

Enter access codes for patients with protected documents/records

Upload documents

Ensure appropriate security and access governance mechanisms are in place


 
Register for this demonstration of your software via the link below:
Please reach out to our Digital Health Team via digitalhealthinfo@adelaidephn.com.au should you require support.
Grants for the Specialist Dementia Care Program (SDCP) are now open!
SDCP provides care for people who are exhibiting very severe behavioural and psychological symptoms of dementia and are unable to be appropriately cared for by mainstream aged care services. The Australian Government is committed to establishing 35 SDCP units nationally, with a unit in each of the 31 PHN regions.
Eligible residential aged care facility providers can apply for the grant opportunity through GrantConnect (Ref #GO 5304). Applications close 1.30PM, Friday 13 May 2022. 
To support the process, an information webinar is being held on 7 April from 1.30PM to 2.30PM to provide additional guidance to potential applicants. You can register here.
For further information, please contact the SDCP Team via sdcp@health.gov.au.
ScriptCheckSA supports your clinical practice by providing 24/7 access to your patient's monitored drug history, including details of other prescribers and pharmacies providing treatment for your patient.
40% of doctors and 70% of pharmacists in South Australia are already registered for ScriptCheckSA. 
From 1 April 2022, AHPRA registered doctors and pharmacists (including those in private and public hospitals, aged care facilities, correctional facilities, and other health services) will be required to check ScriptCheckSA before prescribing or dispensing a monitored drug to a patient.  
To learn more about ScriptCheckSA, register and access free online training, please visit the ScriptCheckSA website. Questions should be directed to Health.RTPM@sa.gov.au.
A highlight of research and consultation opportunities for primary health care providers.
Adelaide PHN distributes Primary Links to provide beneficial and relevant information. The content is sourced from credible organisations, but please note we do not undertake extensive quality reviews. While the Australian Government helped fund this document, it has not reviewed the content and is not responsible for any injury, loss or damage however arising from the use of or reliance on the information provided herein.
Adelaide PHN acknowledges the Kaurna peoples who are the Traditional Custodians of the Adelaide Region. We pay tribute to their physical and spiritual connection to land, waters and community, enduring now as it has been throughout time. We pay respect to them, their culture and to Elders past and present.