Click here if you are having trouble viewing this message. If images are not appearing, try pausing Adblock.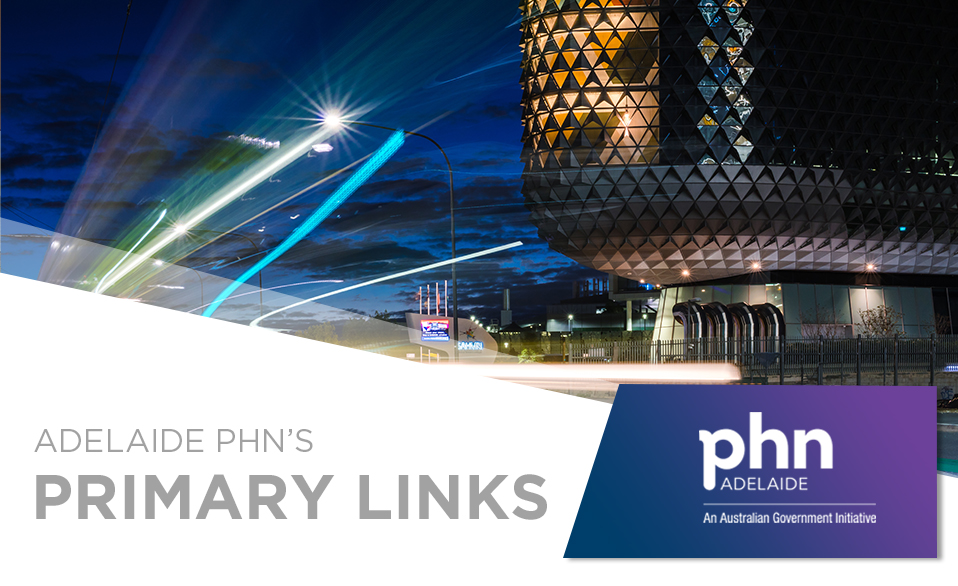 EDITION | 14 APRIL
Photo: SAHMRI Building, Adelaide CBD
A highlight of upcoming local professional development opportunities for primary health care providers. Find more events via our website here.
A highlight of resources to support primary health care providers. Find more Adelaide PHN resources via our website resource library here.
Adelaide PHN has developed a brochure of our commissioned alcohol and other drugs (AOD) treatment providers.
This brochure was developed in response to requests from primary and other health care providers, consumers, families, carers and members of the public.
The easy-to-read brochure:
Lists all our commissioned service providers including a brief description of the program, the target population group, the types of interventions available and when and how services can be accessed

Information about contacting emergency services and links to other AOD resources
Check out our new brochure by downloading a copy via our website. Hard copies may be requested by emailing enquiry@adelaidephn.com.au.
Topbar is a clinical decision support system that integrates with clinical software (Best Practice, Medical Director, and Zedmed) and utilises data in a dynamic way to provide a variety of insights and information for your practice. 
The apps designed within Topbar can be used to improve your financial performance and productivity, provide a better patient experience, and build a sustainable practice. It supports more productive workflows, greater billing efficiency, and more comprehensive care by better identifying patient needs.
Some of the benefits of utilising Topbar within your practice include knowledge and person-specific information, evidence-based clinical decision support, and multiple items of data to achieve more knowledgeable clinical advice for patient care. 
If you would like more information regarding training and installation for Topbar, reach out to our Digital Health Team at digitalhealthinfo@adelaidephn.com.au.
Murra Mullangari: Introduction to Cultural Safety and Cultural Humility is training specifically designed for practising nurses and midwives, recognising the importance of cultural safety and cultural humility in these professional roles. 
This course will deliver the following outcomes:
An understanding of cultural safety and cultural humility

Insights to the culture of power and its implications on nursing and midwifery workforce

Clarity towards consciously transforming the health inequities as they relate to Aboriginal and Torres Strait Islander peoples

An awareness of the key initiatives being taken to address inequities and health outcomes 
The course is an 8-hour self-paced program to be completed over 8 weeks. For more information and to enrol, please visit the CATSINaM website.
The End-of-Life Essentials (EOLE) Project provides free evidence-based online education for health professionals to assist in improving end-of-life care. 
Individuals and organisations can have an enormous influence enabling inclusive care, and this is crucial when planning and delivering end-of-life care. 
A new training module, 'end-of-life care for diverse communities', addresses many of the common issues for health care professionals to consider for quality care for all patients.
The module presents fictitious cases to illustrate the importance of providing excellent end-of-life care to all people in your local community including:
People of culturally and linguistically diverse backgrounds

Individuals who are lesbian, gay, bisexual, transgender and intersex

Those who live with mental illness
For more information and to access the training, please visit the EOLE website.
A highlight of news relating to the delivery of primary health care in Adelaide. Find more Adelaide PHN announcements via our website here.
Adelaide PHN continues to keep general practices and providers up to date with the latest COVID-19 information by providing relevant resources, support, and updates as they become available.

Key updates include: 
Vaccinating vulnerable populations - expression of interest

Flu and COVID-19 vaccination

COVID-19 vaccine - winter dose

COVID-19 update for primary care providers webinar recording

PPE requests
For further information, please see Adelaide PHN's COVID-19 Provider Update.
Vaccinating Pharmacies will have limited access to the National Immunisation Program (NIP) flu vaccine this year and can offer NIP vaccines to:
Individuals at any stage of pregnancy

Aboriginal and Torres Strait Islander people aged 10 years and older

Individuals aged 65 years and older (Fluad Quad)
For further information, please refer to the Pharmacist Immuniser Information Resource.
Pharmacists cannot sell NIP vaccines; however, they may charge a small service fee to cover administration costs, providing they advise the consumer about the availability of free vaccination services prior to administering the vaccination.
ATAGI state there is no preference for one influenza vaccine to be used over another. However, Fluzone Quad High Dose is the preferred vaccine for non-Medicare eligible patients aged 65 years and older.
For further information on this year's flu vaccines, read the full ATAGI advice here.
The Commission on Excellence and Innovation in Health (CEIH) is sponsoring up to 30 employees from the public and private health sector in South Australia to become a 'CHIA'.

CHIA is a professional certification program in health informatics managed by the Australasian Institute of Digital Health. CHIA formally recognises the knowledge and skills of those working in health informatics and digital health.

The CHIA program is self-directed study, and the exam is 100% online. 
 
Upon CEIH application review and confirmation, you will be invited to an induction session (mid-June) with the anticipated study period to commence early July 2022.
Applications close Monday 9 May 2022.

To check your eligibility and apply, visit the CEIH website.
Diabetes SA is recruiting 600 people who are at risk of type 2 diabetes to the AUS2PREVENT trial. The trial aims to demonstrate that a 12-month lifestyle change program can prevent or delay type 2 diabetes. 

Diabetes SA are asking GPs to support the trial by:
Referring patients with pre-diabetes or at risk of type 2 diabetes (i.e., those with AUSDRISK score ≥12, HbA1c ≥ 6.0 to < 6.4% &/or FBG Levels ≥ 6.1 to <6.9 mmol/L, overweight/obese, high blood pressure, high lipids)

Distributing promotional posters or flyers in the practice waiting room

Working with the AUS2PREVENT trial team to complete diabetes screening tests

Maintaining participant engagement throughout the 2-year trial period
For more information, please visit the Diabetes SA website.
My Home Hospital enables GPs to refer their patients directly for inpatient care for a broad range of clinical conditions, including infections requiring IV antibiotics; exacerbations of COPD or heart failure; gastrointestinal conditions and postoperative care, in the comfort and privacy of patients' own homes. 

This Wellbeing SA service offers medical, nursing and allied health care, medications, pathology and diagnostics, equipment, and other support services as necessary. 

The referral process is simple. GPs can call 1800 111 644 between 8.00AM and 8.00PM to make a referral or templates for written referrals to import into your practice management software are available on the My Home Hospital website.
 
Eligible patients must have Medicare, be aged 13+, have a safe home environment including working telephone, and provide their consent. The My Home Hospital service catchment covers metropolitan Adelaide, Gawler, Mount Barker and surrounds.

More information is available on the My Home Hospital website.
A highlight of research and consultation opportunities for primary health care providers.
Adelaide PHN distributes Primary Links to provide beneficial and relevant information. The content is sourced from credible organisations, but please note we do not undertake extensive quality reviews. While the Australian Government helped fund this document, it has not reviewed the content and is not responsible for any injury, loss or damage however arising from the use of or reliance on the information provided herein.
Adelaide PHN acknowledges the Kaurna peoples who are the Traditional Custodians of the Adelaide Region. We pay tribute to their physical and spiritual connection to land, waters and community, enduring now as it has been throughout time. We pay respect to them, their culture and to Elders past and present.