Click here if you are having trouble viewing this message. If images are not appearing, try pausing Adblock.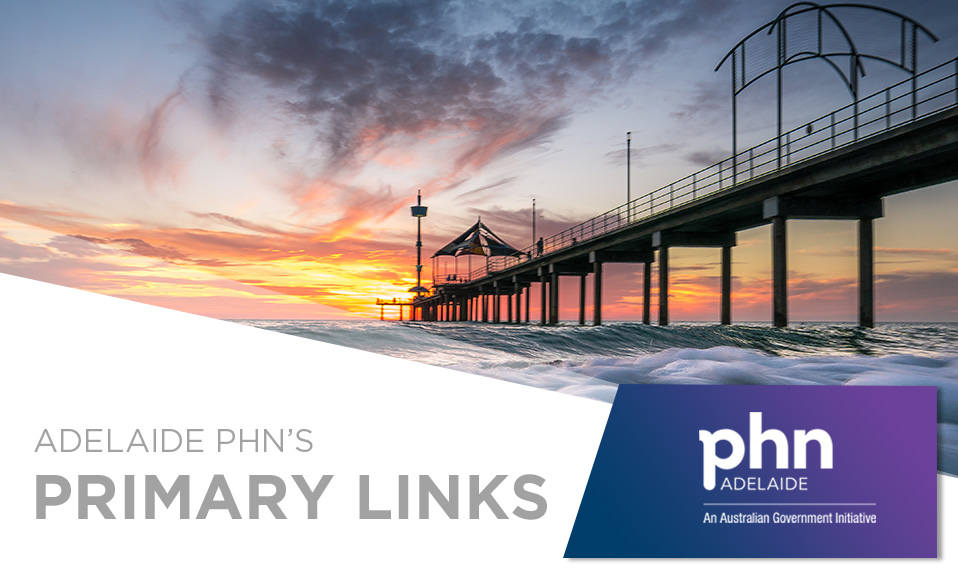 EDITION | 28 APRIL
Photo: Brighton Jetty, Adelaide South
A highlight of upcoming local professional development opportunities for primary health care providers. Find more events via our website here.
A highlight of resources to support primary health care providers. Find more Adelaide PHN resources via our website resource library here.
RACGP has recently closed off applications for the top two tiers of its Alcohol and other Drug (AOD) Training Program but the Essential Skills level is still available. 

Essential Skills Training provides a skill update for GPs wanting to improve their approach to conversations about alcohol and drug use, identify at-risk groups and safely and effectively manage difficult patient behaviours that can arise during GP consultations.
The program supports GPs to better screen for alcohol and drug use, assess patients' readiness for change and determine appropriateness of referring to AOD treatment services. 

Essential Skills Training takes approximately four hours to complete and is accredited for 8 CPD points.

For more information, please visit the RACGP website. 
Applications for Australian Government Aged Care Scholarships are now open for nurses, personal care workers and allied health professionals.
These scholarships include the study areas of palliative care, dementia care and infection prevention and control. Scholarship recipients will be eligible for a completion bonus on successfully finishing their course. 
Applications for studies in 2022 are open until 5 May 2022.
For more information and to apply, please visit the Australian College of Nursing website.
Pre-pregnancy planning and care for women with diabetes is an online course for health professionals developed as part of the National Diabetes Services Scheme (NDSS).
Three e-learning modules cover key aspects of planning and preparing for pregnancy for women with type 1 or type 2 diabetes. Four non-assessed case studies have been incorporated into the modules to assist learners with applying the content to their practice.

The course is free to complete and takes approximately two hours. A certificate is provided upon completion of the modules and course evaluation. CPD points are available for health professionals who provide care for women with type 1 or type 2 diabetes.

For more information, please visit the NDSS website. 
End of Life Directions for Aged Care (ELDAC) has developed a Self-Care Room for aged workers recognising that those working to care for others may often forget to care for themselves.

Self-care is important in maintaining physical, emotional, and mental health. In ELDAC's Self-Care Room aged care workers can learn about what self-care is and is not, browse self-care ideas and access resources. Organisations can also find information to support their staff.

The Self-Care Room was co-designed and co-produced by care workers with the unique environment of aged care in mind.

The Self-Care Room is available on the ELDAC website.
Do you want to help your patients avoid an unplanned pregnancy and conceive a healthy baby when the time is right for them?
 
Funded by the Australian Government Department of Health and the Victorian Government Department of Health, Your Fertility is a program that can help you deliver this potentially life changing intervention quickly and efficiently. 

The Your Fertility website includes a range of resources and professional development opportunities including:
For more information, please visit the Your Fertility website.
A highlight of news relating to the delivery of primary health care in Adelaide. Find more Adelaide PHN announcements via our website here.
Adelaide PHN continues to keep general practices and providers up to date with the latest COVID-19 information by providing relevant resources, support, and updates as they become available.

Key updates include: 
Upcoming free infection prevention and control webinars

What you need to know about the COVID antivirals webinar recording

Resources for COVID antivirals

Close contact changes
For further information, please see Adelaide PHN's COVID-19 Provider Update.
SA Health has issued an alert for notifiable conditions related to increased levels of international travel due to easing border restrictions.
Doctors are asked to:
Be alert for notifiable conditions in returning travellers

Arrange urgent laboratory testing for these conditions

Notify suspected or confirmed cases to the CDCB

Encourage annual influenza vaccinations
Doctors are asked to support travellers with:
Appropriate vaccinations based on their travel plans

Ensuring they are up to date with routine vaccines

Minimising health risks during travel (e.g., prevention of mosquito bites, gastroenteritis prevention, safer sex practices)
For more information including a list of notifiable diseases likely to increase, please visit the SA Health website or call the CDCB on 1300 232 272.
HealthPathways SA supports health professionals in the assessment, diagnosis and management of clinical conditions. A new pathway for Lymphoedema is now available.
In collaboration with Lymphoedema expert Professor Neil Pillar and utilising best evidence, the pathway has been localised to the South Australian context. 

Dr Helena Williams, GP Clinical Editor for the Lymphoedema pathway said, "I'm embarrassed to admit that as a GP of 30 years' experience, I really didn't know an awful lot about Lymphoedema. I'm really hoping other GPs find the pathway as helpful as I do". 
Access to HealthPathways SA is free to health professionals. Click here for access. 

Provide feedback on this and other pathways via the pathway and referral webpage or email HealthPathways SA at enquiries@sahealthpathways.com.au. 
The South Australian Intellectual Disability Health Service (SAIDHS), formerly known as the Centre for Disability Health, is a state-wide, specialised health service funded by SA Health. 

SAIDHS provides:
Multidisciplinary medical and mental health assessment and consultation for adults with an intellectual disability and complex needs to support ongoing care in the community

Clinical support and advice for GPs and specialists who provide care to people with an intellectual disability
The new SAIDHS website provides:
Eligibility criteria and referral templates to import into your practice management software 

Information on annual health assessments

My health information to support patients to communicate their needs and preferences when accessing hospital care 
For more information, please visit the SAIDHS Website, call 8257 7300 or email HealthSAIDHS@sa.gov.au.
The Heart Foundation would like to thank you and your commitment to keeping Australian hearts healthy. There have been over 275,000 Heart Health Checks delivered since April 2019. 
  
The Heart Foundation encourages you and your general practice networks to get ready for Heart Week (2 - 8 May) by visiting their website to:
Download your Heart Week digital promotional pack
Order your print promotional pack

Enter the creative challenge competition

Register and tune in for our Heart Week clinical webinar on the latest evidence on cholesterol management
Use the Heart Health Check Toolkit to plan and implement Heart Health Checks

Spread the word to your community and network
For more information, please visit the Heart Week website.
A highlight of research and consultation opportunities for primary health care providers.
Adelaide PHN distributes Primary Links to provide beneficial and relevant information. The content is sourced from credible organisations, but please note we do not undertake extensive quality reviews. While the Australian Government helped fund this document, it has not reviewed the content and is not responsible for any injury, loss or damage however arising from the use of or reliance on the information provided herein.
We acknowledge the Kaurna peoples who are the traditional Custodians of the Adelaide region. We pay tribute to their physical and spiritual connection to land, waters and community, enduring now as it has been throughout time. We pay respect to them, their culture and to Elders past and present. We would also like to acknowledge and pay our respects to those Aboriginal and Torres Strait Islander people from other Nations who live, work, travel and contribute on Kaurna Country.
Marni Naa Pudni "Welcome"