Click here if you are having trouble viewing this message. If images are not appearing, try pausing Adblock.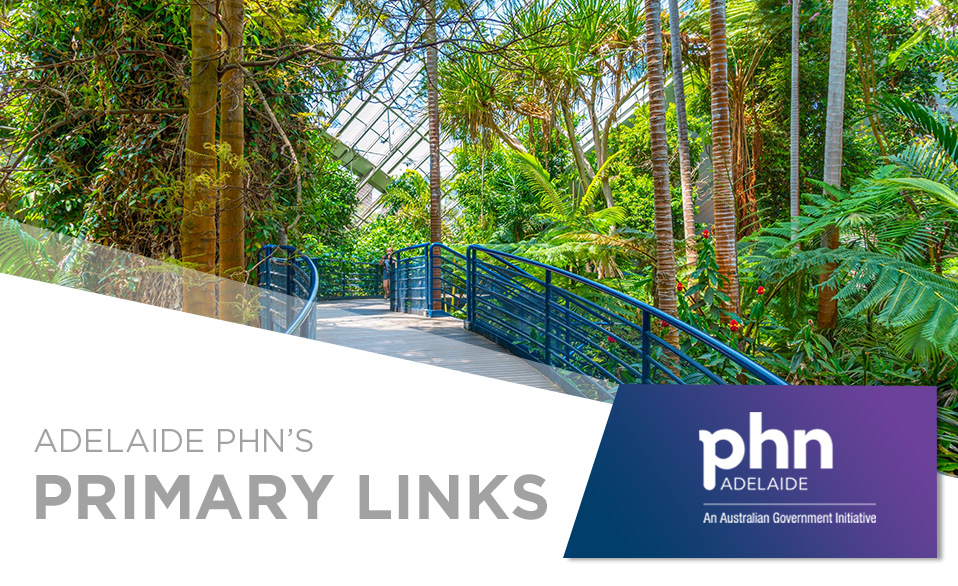 EDITION | 12 MAY
Photo: Botanic Garden, Adelaide
A highlight of upcoming local professional development opportunities for primary health care providers. Find more events via our website here.
A highlight of resources to support primary health care providers. Find more Adelaide PHN resources via our website resource library here.
Soundfair and the Deafness Foundation are pleased to announce the launch of a new suite of hearing health information resources.
Research shows it takes on average ten years for people to access help for their hearing loss. This project provides GPs and consumers with the resources they need to understand the impact of, and seek help for, hearing loss.
This suite of resources has been developed in consultation with GPs and co-designed by people with hearing loss and includes:
Patient resources covering a range of important topics including signs of hearing loss and communication tips for friends and family

A referral algorithm for GPs

Information on funding pathways 

The find an audiologist tool
For more information, please visit the Soundfair website.
GPs play a key role in facilitating work participation for their patients. Comcare's new one-page resource is designed to assist GPs to assess their patient's functional capacity for work. 
Evidence-based assessment should consider both physical and psychological functions and focus on what the person can do, not what they can't do. This guide will help GPs to perform psychological assessments of capacity for work and make recommendations for reasonable adjustments to support performance of work duties.
The guide is available here. For more information and resources to assist with work-related injury or illness, please visit the Comcare website. 
A new resource kit has been developed to support health professionals in response to the recent Japanese encephalitis virus (JEV) outbreak in Australia.
The kit includes: 
Communication products including posters, social media posts and newsletter content 

Important information including details of the current outbreak, symptoms of JEV and how to protect against the disease

Links for further information including ATAGI clinical guidance
This resource has been developed by the Department of Health and the Department of Agriculture, Water and the Environment.
Download the JEV kit here. For more information about the spread of JEV, please visit the Department of Health website.
Are you a GP, practice nurse or practice manager in the southern regions of Adelaide? Did you know that the SALHN GP Integration Unit (GPIU) produces a newsletter with updates specific to you?

Southern GP Matters aims to keep GP practice teams regularly updated and involved in activities relevant to the Southern Adelaide Local Health Network, with a view to improve how the hospital teams and GP practice teams work together for their patients.
The newsletter covers topics including current initiatives, urgent and after-hours care, outpatient, inpatient activities, as well as education activities and events.

Please contact the SALHN GPIU with your suggestions for content or if you would like to be added/removed from their mailing list.

For more information and to view previous newsletter editions, please visit the SALHN website.
ScriptCheckSA supports good clinical practice by alerting prescribers and pharmacists to patients who may be at an increased risk of harm from monitored drugs. However, it can be difficult to know what to do to support your patients if you think that they may be at risk of harm. 
To help you provide quality care for your patients, the ScriptCheckSA online training modules contain resources, referral pathways and contact details for clinical and legislative advice in the one easily accessible location.  
Patient specific resources, including printable handouts, FAQs and a list of support services can be found on the ScriptCheckSA website.
For more information, please visit the ScriptCheckSA website and direct any questions to Health.RTPM@sa.gov.au.
A highlight of news relating to the delivery of primary health care in Adelaide. Find more Adelaide PHN announcements via our website here.
Adelaide PHN continues to keep general practices and providers up to date with the latest COVID-19 information by providing relevant resources, support, and updates as they become available.

Key updates include: 
Free infection prevention and control webinars

Mental health liaison team

iCCnet home monitoring for COVID positive patients

PPE distribution
For further information, please see Adelaide PHN's COVID-19 Provider Update.
From October 2021 to 29 April 2022, at least 169 cases of acute hepatitis of unknown aetiology have been reported in 12 countries (predominately in Europe) in children aged from one month to 16 years of age, with most cases aged under 5 years. No cases have been identified in Australia to date.
Medical practitioners are advised to:
Be alert for cases of hepatitis of unknown aetiology in children aged 16 years and younger

Seek advice from a paediatric infectious diseases specialist regarding children presenting with compatible symptoms

Urgently refer any severely unwell children to the nearest emergency department
For more information including additional advice, please read the health alert on the SA Health website and direct questions to the CDCB on 1300 232 272.
Vaccination against influenza is important this year due to lower levels of exposure to the virus throughout the COVID-19 pandemic.
HealthPathways SA can support winter preparedness with the following pathways tailored to the South Australian context:
HealthPathways SA is free and available for all South Australian health professionals. For more information, please visit the HealthPathways SA website.
Flinders University is establishing a research interest group for health professionals working in primary health care in South Australia.
The Primary Health Care Research Interest Group will provide an opportunity for health professionals with an interest in primary health care research to connect and build their skills in research.
 
There are no prerequisites to join the interest group. The activities for the group will be co-designed with its members and may include regular online meetings, seminars and social networking events.
 
If you would like to participate in the Primary Health Care Research Interest Group, please click here and complete the online form to register your interest.
Stay informed of SA Pathology's latest news listed below.
B2 Glycoprotein Test Change
From Tuesday 3 May, SA Pathology has changed its methodology for the performance of Beta 2 Glycoprotein testing. The new test method improves test accuracy. Please note the new method has resulted in a change in reference ranges.

For more information, please read the SA Pathology advice.
New Clinical Services Director
SA Pathology has appointed a new Clinical Services Director, Dr Sophia Otto. Sophia is a skilled Anatomical Pathologist and has worked for SA Pathology for almost 20 years. 

To learn more about Sophia's skills and experience, please read the SA Pathology advice.
A highlight of research and consultation opportunities for primary health care providers.
Adelaide PHN distributes Primary Links to provide beneficial and relevant information. The content is sourced from credible organisations, but please note we do not undertake extensive quality reviews. While the Australian Government helped fund this document, it has not reviewed the content and is not responsible for any injury, loss or damage however arising from the use of or reliance on the information provided herein.
We acknowledge the Kaurna peoples who are the traditional Custodians of the Adelaide region. We pay tribute to their physical and spiritual connection to land, waters and community, enduring now as it has been throughout time. We pay respect to them, their culture and to Elders past and present. We would also like to acknowledge and pay our respects to those Aboriginal and Torres Strait Islander people from other Nations who live, work, travel and contribute on Kaurna Country.
Marni Naa Pudni "Welcome"