Click here if you are having trouble viewing this message. If images are not appearing, try pausing Adblock.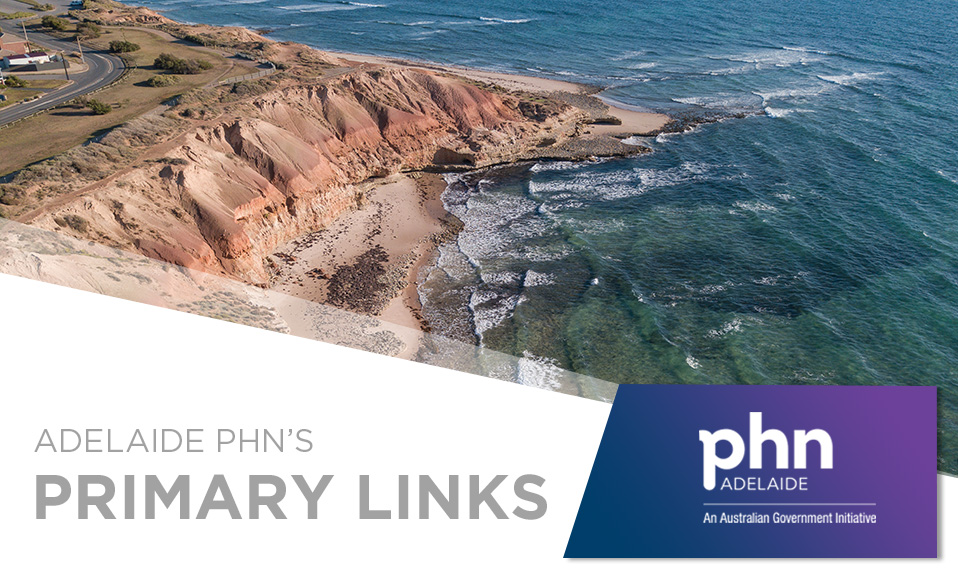 EDITION | 26 MAY
Photo: Port Noarlunga, Adelaide South
A highlight of upcoming local professional development opportunities for primary health care providers. Find more events via our website here.
A highlight of resources to support primary health care providers. Find more Adelaide PHN resources via our website resource library here.
The Australian Primary Health Care Nurses Association (APNA) has fully funded training licences available to Nurses and Aboriginal and Torres Strait Islander Primary Health Care Workers who have patients participating in the Coordinated Veterans' Care Program.

The training supports the delivery of the best possible care to veterans and covers two online learning modules:
The modules can be completed at any time and at your own pace. Certificates are provided upon course completion and reflection templates are available for recording continuing professional development hours.

This opportunity is funded by the Department of Veterans Affairs and places are limited. 

Applications must be submitted before 21 June 2022 via the APNA website. Please direct any questions to education@apna.asn.au.
Timed with National Palliative Care Week (22-28 May 2022), South Australia's Statewide Palliative Care Clinical Network (SPCCN) have released a series of short videos to increase community awareness of palliative care. 
Co-Leads, consumer advocate Kathryn Hourigan and Dr Peter Allcroft discuss some of the common patient concerns and bust several myths.  

The SPCCN, managed and supported by the Commission on Excellence and Innovation in Health (CEIH), is the first network to implement a co-leadership structure where both a clinical and consumer representative join forces to lead the network.  
Together Kathryn and Dr Allcroft, aim to deliver better palliative care through increasing awareness of advanced care planning, education and collaboration to improve data collection, measurement and reporting.

To watch the full series, please visit the CEIH website. 
Did you know you have access to a free coaching service for your patients which has been running in South Australia successfully since 2014? Proven to be effective at weight loss and positive behavioural change, Get Healthy is a free telephone-based coaching service that can support your patients to eat healthier, be more physically active and reduce their alcohol intake.
Funded by Wellbeing SA, the six-month evidence-based program is personalised for each participant and delivered by qualified health professionals who can update you on your patients' progress. There's even a specialised module for pregnancy.

For more information and to make an online referral, please visit the Get Healthy website. If you have used the service and have any feedback please let Wellbeing SA know by emailing cory.stewart@sa.gov.au. We are always looking for ways to improve the service and ensure it is meeting your needs.
Teen Talk is a safe space for young people aged between 13-20 living with a musculoskeletal or chronic pain condition to get together and support one another.

Many teens living with a musculoskeletal condition have never met another teen going through the same thing. The online portal Teen Talk enables these kids to "meet up" and connect with others who understand.  

Musculoskeletal Australia's (MSK) Teen Talk is administrated by three of MSK Kids' young ambassadors, who all live with a form of musculoskeletal condition, and it is overseen by staff at MSK — all have undergone Working with Children checks and Mental Health First Aid training. 

The program is free to use and allows teens to chat about whatever is on their mind.

For more information, please visit the Musculoskeletal Australia website. 
With World Haemochromatosis Week (June 1-7) almost upon us, it is timely to consider the resources available to improve outcomes for people with haemochromatosis.

Haemochromatosis is the most common genetic disorder in Australia affecting 1 in 200 people. It can cause serious health problems but is often underdiagnosed because the symptoms of tiredness, muscle weakness and joint pain, are generic and non-specific.

Haemochromatosis Australia (HA) provides a range of resources for health professionals including:
Informative podcast series IronMatters

Free accredited, online learning for Nurses and Doctors

Testing and treatment information

Resources for patients
For more information and to access resources, please visit the HA website.
A highlight of news relating to the delivery of primary health care in Adelaide. Find more Adelaide PHN announcements via our website here.
Adelaide PHN continues to keep general practices and providers up to date with the latest COVID-19 information by providing relevant resources, support, and updates as they become available.

Key updates include: 
COVID-19 vaccinations in the home

Vaccination service for NDIS participants

Dedicated medical advice phone line for COVID community response
For further information, please see Adelaide PHN's COVID-19 Provider Update.
SA Health has issued an alert for Monkeypox Virus (MPV) Infection.
As of 20 May 2022, 15 countries have reported 27 confirmed and 45 suspected cases of MPV. Two cases have been reported in Australia in returned travellers. 
The clinical features of MPV include:
Prodromal symptoms: fever, headache, back pain, myalgia, fatigue and lymphadenopathy

Rash that usually commences within 1 -3 days of fever and starts as macular rash that develops into papules, vesicles then pustules
Medical practitioners are advised to:
For more information including how to manage suspected cases, please read the SA Health alert.
Adelaide PHN is seeking expressions of interest (EOIs) from general practices to participate in an innovative 12-month program to help your older patients (aged 50+) discuss their alcohol consumption. 
Reach and Refer comprises a suite of modulated interventions.
The Reach arm will be delivered by GPs / Practice Nurses of participating practices and involves information provision, preliminary screening and initial brief intervention.
The Refer arm will be delivered to patients with identified harmful alcohol consumption and will involve holistic assessment and intensive patient-centered counselling.
 
Adelaide PHN will select up to eight practices to take part in the program. Successful practices will receive resources developed by Monash University and incentive payments from Adelaide PHN. 
For further information including inclusion criteria, please read the attached EOI. Submit your EOI to practicesupport@adelaidephn.com.au by Tuesday 31 May 2022.
From June 15, 2022, Internet Explorer will no longer be supported by Microsoft.
We encourage you to use a supported browser to access Therapeutic Guidelines content, including Microsoft Edge, Google Chrome, Safari or Firefox.
Current users of Internet Explorer will not be immediately affected, but future product updates will not be developed or tested for this web browser, so future product functionality cannot be assured. Those who continue to use Internet Explorer past June 15, 2022 can expect to see a decline in usability.
For more information, please visit the Microsoft website. If you require support, please contact the Therapeutic Guidelines team.
End of Life Directions for Aged Care (ELDAC) is calling for expressions of interest (EOI) from aged care service providers who wish to develop palliative care and advance care planning activities within their organisation.
Aged care providers selected to join the Linkages Program will work with an ELDAC facilitator who will support your service to:
Develop, implement and sustain palliative care and advance care planning activities

Build capacity to provide care for older people nearing the end of life

Strengthen linkages between your service and other care providers in palliative care
Selected organisations may be eligible to receive an administrative grant of up to $20,000.
EOIs close Wednesday 15 June 2022.
For more information and to submit your EOI, please visit the ELDAC website.
A highlight of research and consultation opportunities for primary health care providers.
Adelaide PHN distributes Primary Links to provide beneficial and relevant information. The content is sourced from credible organisations, but please note we do not undertake extensive quality reviews. While the Australian Government helped fund this document, it has not reviewed the content and is not responsible for any injury, loss or damage however arising from the use of or reliance on the information provided herein.
We acknowledge the Kaurna peoples who are the traditional Custodians of the Adelaide region. We pay tribute to their physical and spiritual connection to land, waters and community, enduring now as it has been throughout time. We pay respect to them, their culture and to Elders past and present. We would also like to acknowledge and pay our respects to those Aboriginal and Torres Strait Islander people from other Nations who live, work, travel and contribute on Kaurna Country.
Marni Naa Pudni "Welcome"