Click here if you are having trouble viewing this message. If images are not appearing, try pausing Adblock.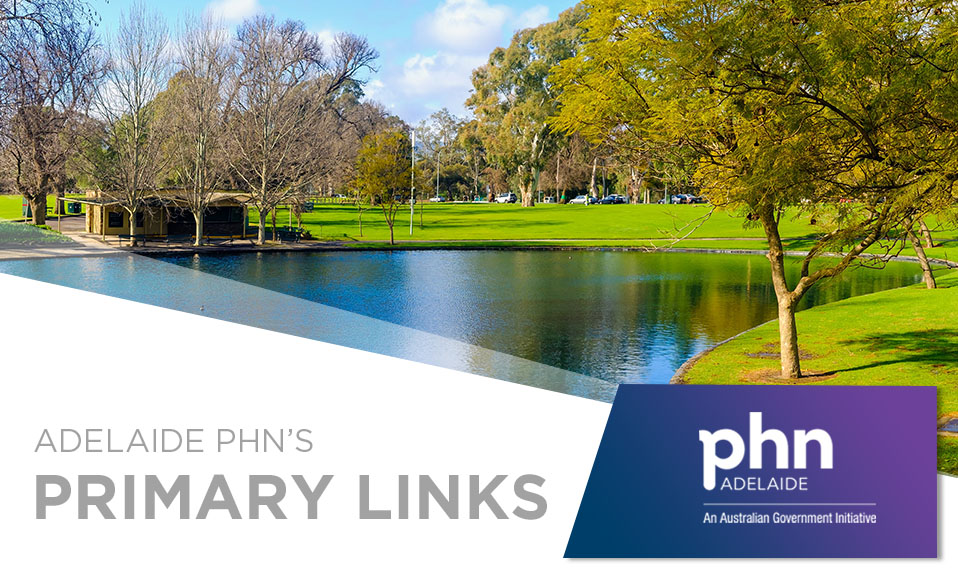 EDITION | 16 JUNE
Photo: Rymill Park, Adelaide CBD
A highlight of upcoming local professional development opportunities for primary health care providers. Find more events via our website here.
A highlight of resources to support primary health care providers. Find more Adelaide PHN resources via our website resource library here.
The RACGP has a new Winter Planning Toolkit to assist GP practices to safely manage COVID and influenza patients.
The Winter Planning Toolkit highlights key priorities and principles of:
Infection prevention and control

Workforce protection and planning

Processes for patient management

Managing the risk of cross infection

Health and wellbeing of staff
The RACGP has also updated its other COVID guides for GPs to ensure consistency with the Toolkit. Later this year it will be updating its broader Infection Prevention and Control Standards, with an estimated release date of September.
For more information, please refer to the Winter Planning Toolkit.
LELAN (SA Lived Experience Leadership and Advocacy Network) and TACSI (The Australian Centre for Social Innovation) have released a reflective resource: How ready, willing and able are you to embark on an authentic co-design process?

This resource includes important considerations when working with people with lived and living experience in co-design, evaluation, and stakeholder consultation. The resource came out of the collaboration in co-designing the Urgent Mental Health Care Centre.
Readers are guided through 5 components:
Committing to involving people with lived experience

Thinking about your organisation's culture

Your approach to co-design

Working together

Your reflection
For more information, please refer to LELAN's reflective resource.
Decision-making when people are approaching end of life with one or more life-limiting and/or chronic illnesses (such as dementia or advanced heart disease) is complex.
To inform these palliative care decisions, make use of the recently expanded Care Search Evidence Centre's curated collections and information retrieval tools including:
The Remuneration for Palliative Care Services has also been updated to reflect changes in MBS item payments.
For more information, please visit the Care Search webpage.
RHD Australia has published a new version of the Acute Rheumatic Fever (ARF) and Rheumatic Heart Disease (RHD) Guidelines. 
Recommendations for managing borderline RHD have been updated in response to new evidence: secondary prophylaxis is now recommended for borderline RHD. 

Previously, advice was to give only if there was a 'family preference for prophylaxis, family history of rheumatic heart valve surgery, or suspected retrospective history of ARF'. A summary of the evidence, assessment process by an expert advisory group and the resulting new recommendation can be found here. 
For more information and to access the Guidelines, please visit the RHD Australia website. 
A highlight of news relating to the delivery of primary health care in Adelaide. Find more Adelaide PHN announcements via our website here.
Adelaide PHN continues to keep general practices and providers up to date with the latest COVID-19 information by providing relevant resources, support, and updates as they become available.

Key updates include: 
Post COVID-19 Syndrome (Long COVID) Pathway

Access to Paxlovid

Adelaide Central Respiratory Clinic Relocation

Expanded ATAGI recommendations on winter COVID-19 boosters

Webinar Recordings
For further information, please see Adelaide PHN's COVID-19 Provider Update.
SA Health has issued an updated alert for Monkeypox Virus Infection (MVI).
MVI continues to spread globally with 257 confirmed and 127 suspected cases in 23 countries. MVI has been declared a notifiable and a controlled notifiable condition. 
Doctors are advised to:
Be alert for cases with clinical features of MVI

Ensure transmission-based precautions (contact and airborne) are in place

Advise suspected MVI cases to wear a mask and cover lesions while seeking medical care

Discuss suspected cases with an infectious diseases physician

Notify suspected cases urgently to the CDCB by phoning 1300 232 272 (available 24 hours)

Contact SA Pathology on-call microbiologist 8222 3123 to discuss appropriate testing
For more information, please read the SA Health alert.
Flu is back! Australia has seen a surge in flu notifications this year. Nationally there have been 38,743 notifications, including 26,193 notifications in the past fortnight.
According to SA Health, there have been 2,645 influenza notifications in SA this year.
Please encourage flu vaccination to every patient, especially those at risk of severe disease including:
Please consider recalling all eligible children to your practice/service.
Free flu vaccines are now being offered to all South Australians until 30 June 2022. For more information, please visit the SA Health website.
As part of the Department of Health's 2022 winter preparedness plan, packs of the prescription-only medication, Tamiflu (oseltamivir), will be deployed to residential aged care facilities (RACFs).
The one-off pre-placement of this oral antiviral used to treat and prevent influenza A and B infections, will ensure access to supplies at the commencement of this year's flu season.
This is not intended to replace standard supply chains used by providers, rather it reduces the impacts of supply shortages within the private market and the delays in shipping that may result from increased demand during the winter period.
RACFs will need to source additional supply in line with normal arrangements once the pre-placed stock has been expended.

For more information, please visit the Department of Health website. 
Reporting timely, high quality and accurate vaccination information ensures that the Australian Immunisation Register (AIR) contains a complete and reliable dataset. 
It is mandatory for vaccination providers to report all COVID-19, influenza, and National Immunisation Program vaccinations to the AIR and include:
Provider number, name and contact details

Individual's Medicare number (if applicable), name, contact details, date of birth and gender

Vaccine brand name, dose number, batch number and date of administration
Vaccination providers are reminded to:
Ensure batch numbers are correct, noting a significant number has been recorded incorrectly

Ensure data entry errors are resolved before using software to autofill data

Not include additional information such as clinical notes, test results and letters when recording a medical contraindication, noting incomplete, invalid, or unsigned forms will cause processing delays
For further information, please visit the Services Australia website.
The Pen CS Awards are a national event that recognises excellence in data-driven quality improvement in General Practice and Aboriginal Medical Services, by using health informatics. 

Nominations for the 2022 Pen CS Awards are now open. Categories include:
'Closing the Gap' Award

Quality Improvement Initiative of the Year Award

Data-driven Clinical Excellence Award

Research in General Practice Award

Data Quality Award

Digital Innovation Award

Patient-centred Care Award

CAT Plus Super User Award
Winners will be announced at the award ceremony in September and receive a cash prize with their trophy. Nominations close Sunday 31 July 2022.
For more information and to nominate, please visit the Pen CS website.
A highlight of research and consultation opportunities for primary health care providers.
Adelaide PHN distributes Primary Links to provide beneficial and relevant information. The content is sourced from credible organisations, but please note we do not undertake extensive quality reviews. While the Australian Government helped fund this document, it has not reviewed the content and is not responsible for any injury, loss or damage however arising from the use of or reliance on the information provided herein.
We acknowledge the Kaurna peoples who are the traditional Custodians of the Adelaide region. We pay tribute to their physical and spiritual connection to land, waters and community, enduring now as it has been throughout time. We pay respect to them, their culture and to Elders past and present. We would also like to acknowledge and pay our respects to those Aboriginal and Torres Strait Islander people from other Nations who live, work, travel and contribute on Kaurna Country.
Marni Naa Pudni "Welcome"