Click here if you are having trouble viewing this message. If images are not appearing, try pausing Adblock.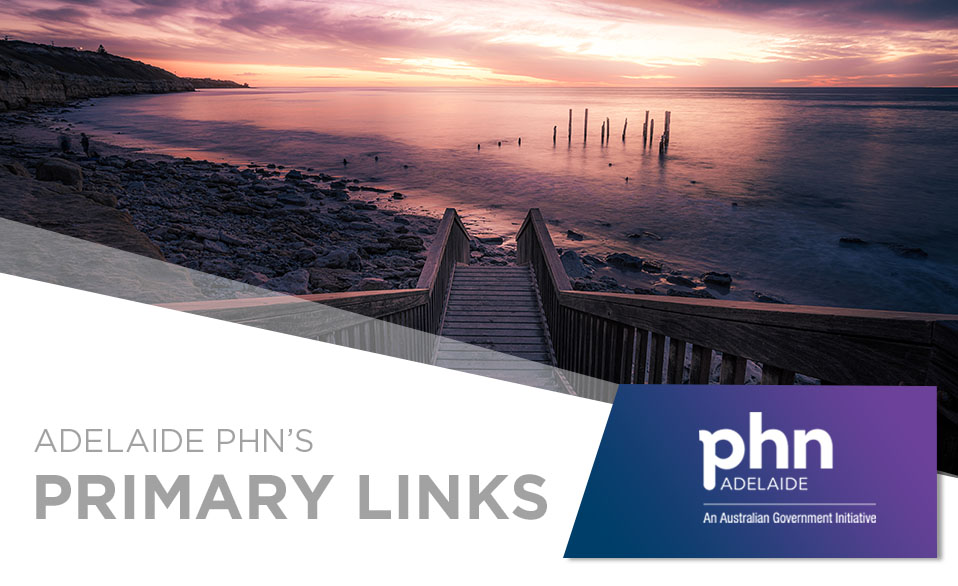 EDITION | 23 JUNE
Photo: Port Willunga, Adelaide South
A highlight of upcoming local professional development opportunities for primary health care providers. Find more events via our website here.
A highlight of resources to support primary health care providers. Find more Adelaide PHN resources via our website resource library here.
The Australian Taxation Office (ATO) has put together a helpful guide to work-related expenses for nurses and midwives, to help navigate tax time this year. This information is also available in other languages. 
An important change this tax period is how COVID -19 related purchases may impact your deductions. You can claim a deduction for COVID-19 tests you paid for from 1 July 2021 as long as you: 
Used the test for a work-related purpose 

Had a qualifying COVID-19 test, such as a PCR test or a rapid antigen test 

Have a record of your purchase 

Paid for the test yourself and were not reimbursed for the cost by your employer 
For more information, please read the Nurse and Midwife Tax Time Toolkit or visit the ATO website.
Crohn's and Colitis Australia has made a range of education resources available to assist GPs in the management of inflammatory bowel disease (IBD) as part of the GP Aware Project. 
The new GutSmart website features free online eLearning modules, interactive workshops and webinars covering the following topics:
The GP's role in early detection of Crohn's disease and ulcerative colitis

Early intervention, therapies, referral and triage

Management of IBD and preventative health

Multidisciplinary team-based care

Managing complex IBD issues (ages, stages, relapse and comorbidities)
CPD points are available through RACGP at the completion of modules and workshops. 
For more information and to access these resources, please visit the GutSmart website. 
Lung Foundation Australia recently released two new accredited eLearning modules about chronic wet cough called Lung Health in First Nations Children.
Chronic respiratory disease is highly prevalent amongst First Nations children. Disease progression can be halted and even reversed when diagnosed and treated early. 
This free training provides a supportive tool for health professionals to improve lung health outcomes. 
 
Topics include: 
Fundamentals of providing culturally secure care to First Nations families 

Respiratory diseases prevalent in First Nations children 

Appropriate ways of diagnosing and managing lung conditions
The online training is free and accredited with RACGP and ACRRM.

For more information and to enrol, please visit the Lung Foundation Australia website.
Forward with Dementia provides information, tools and resources for GPs and other primary health professionals on diagnosis and post-diagnostic support for people with dementia. 
Access articles, educational videos, links to webinars, a diagnostic conversation checklist and other tools to help you deliver post-diagnostic support and meet current clinical guidelines.
It is an important resource that health professionals can share with recently diagnosed patients as it provides answers and practical actions to take after a dementia diagnosis. There are a range of resources, links, news items, and inspirational stories from others who have lived through the challenges of a dementia diagnosis but continue to live full and meaningful lives.
For more information, please visit the Forward with Dementia website.
A highlight of news relating to the delivery of primary health care in Adelaide. Find more Adelaide PHN announcements via our website here.
Adelaide PHN continues to keep general practices and providers up to date with the latest COVID-19 information by providing relevant resources, support, and updates as they become available.

Key updates include: 
New paediatric drug treatments tool

Adelaide Central Respiratory Clinic relocation

Long COVID HealthPathway

COVID home monitoring
For further information, please see Adelaide PHN's COVID-19 Provider Update.
SA Health has issued an alert for the 2022 Meningococcal Season.

Studies suggest that higher rates of influenza virus in winter may be a causative factor for increased cases of Invasive Meningococcal Disease (IMD). With high rates of influenza expected in 2022, IMD rates may also increase.

Doctors are advised to:
Be alert for IMD. Early recognition and treatment can be lifesaving

Take blood for culture and PCR

Immediately treat patients with suspected IMD with benzylpenicillin or ceftriaxone

Transfer the patient urgently to hospital by ambulance

Notify suspected cases to CDCB urgently by phoning 1300 232 272 (24 hrs/7 days). Do not wait for laboratory confirmation
For more information, please visit the SA Health website.
The Chronic Pain ECHO (Extension for Community Healthcare Outcomes) Network will commence in July for a 10-part program. The online sessions will be held on Mondays from 6.30PM - 7.45PM via Zoom. 

Project ECHO creates virtual networks for professional support and shared learning.

Join the expert panel and community of peers each fortnight as they share and support you to apply the latest evidence and best practice to your pain management approach. Contribute to the discussion on case presentations and share your own patient case for feedback. 

The Chronic Pain ECHO Network is open to all primary health care professionals and enrolment is free!

For more information, please visit the SAPMEA website or submit enquiries to echo@sapmea.asn.au.
Electronic prescriptions are providing Australians with convenient access to their medicines. Since the start of the COVID-19 pandemic, more than 56 million electronic prescriptions and repeats have been issued by more than 41,000 prescribers. 

For patients taking multiple medications, the Active Script List (ASL) is a solution that provides further convenience and flexibility. You can help your patients use electronic prescriptions by encouraging them to talk to their pharmacist about registering for an ASL.
Once they have an ASL, any electronic prescription created is automatically added to the ASL (unless the patient asks the prescriber not to) and the patient does not need to present a token at the pharmacy to get their script filled.
 
Prescribers can access CPD accredited free online training here. For more information, please visit the Australian Digital Health Agency website.
From 1 July 2022, the National Cervical Screening Program (NCSP) will expand screening test options, offering self-collection as a choice to all people participating in cervical screening. 
 
Both self-collection and clinician collected samples will be accessed through a health care provider. These changes mean that health care providers may start to see an increase in the volume of requests from patients to use self-collection as an option for their cervical screening test. 
The NCSP guidelines have been reviewed and updated to support these changes and will come into effect from 1 July 2022. The updated guidelines bring together the best available evidence to prevent, diagnose and manage cervical cancer, providing recommendations for health care providers with patients in specific situations. 
For more information, please refer to the NCSP Program Update.  
Stay informed of SA Pathology's latest news listed below.
Supply Disruption – BD Ultra Touch Wingset
Significant supply and logistical disruptions have adversely impacted the SA Health Catalogue item 367364 (23G Ultra Touch wingset). In the interim, it is recommended that the BD Vacutainer™ Safety-Lok™ Blood Collection Set 23G x.75, 12" tubing with luer (BD material number 367288) be used as a substitute. 

For further information, please read the SA Pathology advice.
New Trace Element EDTA Tubes
From late June, SA Pathology will stock BD Trace Element EDTA tubes (navy top) for Zinc, Copper, Selenium, Cobalt and Chromium analyses. The new tube provides improved detection of trace element levels and reduced risk of false high Zinc results.
For further information, please read the SA Pathology advice.
A highlight of research and consultation opportunities for primary health care providers.
Adelaide PHN distributes Primary Links to provide beneficial and relevant information. The content is sourced from credible organisations, but please note we do not undertake extensive quality reviews. While the Australian Government helped fund this document, it has not reviewed the content and is not responsible for any injury, loss or damage however arising from the use of or reliance on the information provided herein.
We acknowledge the Kaurna peoples who are the traditional Custodians of the Adelaide region. We pay tribute to their physical and spiritual connection to land, waters and community, enduring now as it has been throughout time. We pay respect to them, their culture and to Elders past and present. We would also like to acknowledge and pay our respects to those Aboriginal and Torres Strait Islander people from other Nations who live, work, travel and contribute on Kaurna Country.
Marni Naa Pudni "Welcome"