Click here if you are having trouble viewing this message. If images are not appearing, try pausing Adblock.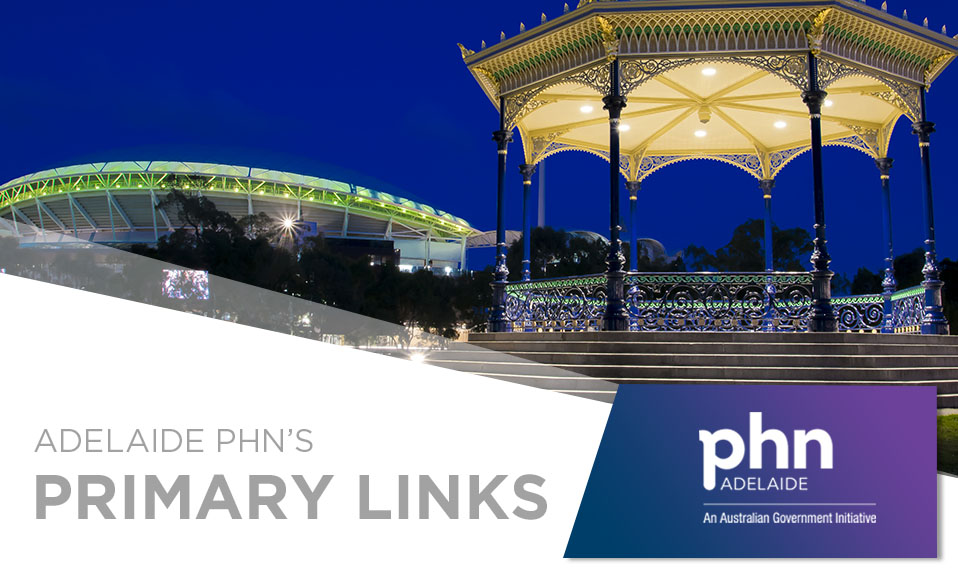 EDITION | 8 JULY
Photo: Elder Park, Adelaide
A highlight of upcoming local professional development opportunities for primary health care providers. Find more events via our website here.
A highlight of resources to support primary health care providers. Find more Adelaide PHN resources via our website resource library here.
The Australian Government Department of Health is seeking help to increase participation in the national cancer screening programs (bowel, breast and cervical).  
Only around 50% of Australians eligible for the national cancer screening programs complete the tests. 
The department is distributing cancer screening packs to more than 8000 general practices across Australia. The packs will include:
A3 posters for practices to place in waiting rooms and other places visible to patients to prompt a conversation about cancer screening

Demonstration samples of the bowel cancer screening home test kit and the cervical screening self-collection swab – these can be used to show patients how to do the tests

Information on how to use the cancer screening tests and where to find educational resources on cancer screening
For more information, please visit the Department of Health website. 
Hepatitis SA has a collection of resources in Chinese that are reliable and free to access.

Research has shown that Chinese immigrants to Australia have an increased prevalence of hepatitis B virus (HBV) infection compared to the general population and found that understanding of HBV transmission and treatment among people originally from mainland China was relatively low.

Resources have been developed in conjunction with members of the Chinese community to support access to reliable information. Available resources include posters, brochures, booklets, videos and websites.

For more information and to access the resources, please visit the Hepatitis SA website.
The Australian Digital Health Agency (ADHA) has announced a major new release of HIPS Mobile. HIPS Mobile allows clinicians in the hospital setting to have mobile device access to patient My Health Record information while engaging with patients in ward and bed-side settings or remotely off-site. 

Clinicians in public and private hospitals already widely rely on mobile devices (smart phones and tablets) for accessing their patients' clinical information, so HIPS Mobile will add My Health Record patient data access to their repertoire.

HIPS Mobile v3.0 is the next major release and features:
Connection to multiple Active Directories

Addition of biometric authentication

Login experience improvements

Wildcard search on patient names

Installation process improvements

Data archiving functionality
For more information, please visit the ADHA website.
The Australian and New Zealand Academy for Eating Disorders (ANZAED) and National Eating Disorder Collaboration (NEDC) have launched connect-ed, Australia's first searchable, accessible, national directory of credentialed eating disorder clinicians. 

Finding and connecting with a health professional who is trained in eating disorder management can be challenging, often impacting on the recovery journey. The new platform enables people experiencing an eating disorder to connect with the right treatment at the right time, increasing the chance of timely intervention and positive treatment outcomes.

This resource was developed with funding support from the Australian Government Department of Health and based on consultation with people with lived experience, their supports, mental health professionals and dieticians.

For more information, please visit the connect-ed website.
A highlight of news relating to the delivery of primary health care in Adelaide. Find more Adelaide PHN announcements via our website here.
Adelaide PHN continues to keep general practices and providers up to date with the latest COVID-19 information by providing relevant resources, support, and updates as they become available.

Key updates include: 
Afterhours COVID-19 and flu vaccination service

Upcoming webinar and webinar recording

Temporary health surge workforce

Care planning for COVID and influenza

COVID Kids
For further information, please see Adelaide PHN's COVID-19 Provider Update.
SA Health has issued an updated alert for Monkeypox virus (MPX).
There is now sustained transmission of MPX in Europe and North America and isolated transmission in Australia. SA has recorded its first case in a returned traveller.
The current outbreak is characterised by a high percentage of atypical presentations including:
Rash starting in the genital, perianal and rectal areas and may present as proctitis

Rash may not disseminate

Prodromal symptoms may be mild or absent

Medical practitioners are advised to:
Obtain a detailed travel and sexual history for suspected cases

Consider MPX infection where there is clinically compatible illness in the context of recent international travel

Consider MPX in patients with compatible clinical features
For more information including how to manage suspected cases, please read the SA Health alert.
Primary care can now provide medical abortion for the first time due to new regulations for the delivery of abortion care. 
Are you a GP, community pharmacist or practice nurse wanting to support women's reproductive choices and learn how to incorporate medical abortion into your practice? If so please join the free online AusCAPPS Network. 
The AusCAPPS Network will:
Connect you with GPs, pharmacists and nurses around Australia who also provide medical abortion and contraceptive services

Provide access to training and education opportunities

Enable you ask questions of our expert network

Provide access to resources, guidelines, referral forms and patient handouts

Connect you with the latest news and research
For more information and to join, please visit the AUSCAPPS website.
The Heart Foundation's National Heart Health Check Recall Program, 'Text to Detect', is now open to general practices for official enrolment.
Practices can enrol by returning a practice participation agreement signed by an authorising representation of the practice (e.g. CEO or delegate). The agreement covers participation in the Text to Detect program, and data sharing agreement to share data at baseline and at the three-month reporting period.

Text to Detect program enrolments are limited to 200 general practices nationally. Please submit your participation agreement as soon as possible to secure your spot in the program.
For further information, please visit the Text to Detect program website.
The Voluntary Assisted Dying Act 2021 (the Act) requires medical practitioners to undertake approved mandatory training prior to participating in the voluntary assisted dying process. 
The purpose of the training is to educate medical practitioners on the role, functions and obligations of the coordinating and consulting medical practitioners under the Act. 
It is anticipated the package will be available to medical practitioners in November 2022. Eligible South Australians will have access to voluntary assisted dying from early 2023. 

Register your interest in completing voluntary assisted dying training by submitting an expression of interest online. This will take approximately two minutes. 
If you have any questions about voluntary assisted dying, please contact the Implementation Team at Health.VoluntaryAssistedDying@sa.gov.au. 
Applications are now open for Seqirus Australia's 2022 – 2023 Championing Change Innovation Practice Nurse Sponsorship Program.
This sponsorship program recognises and supports practice nurses' enhancement of 'community immunity' through the implementation of innovative adult immunisation initiatives designed to boost coverage rates or improve the quality use of adult vaccines.
Three innovation sponsorships are available to the value of $5,000 each. Successful program recipients will also receive travel, accommodation, and registration to the 2023 Australian Primary Health Care Nurses Association National Conference.
Applications close 5.00PM Sunday 10 July 2022. 
For further information and to apply, please visit the Championing Change website.
A highlight of research and consultation opportunities for primary health care providers.
Adelaide PHN distributes Primary Links to provide beneficial and relevant information. The content is sourced from credible organisations, but please note we do not undertake extensive quality reviews. While the Australian Government helped fund this document, it has not reviewed the content and is not responsible for any injury, loss or damage however arising from the use of or reliance on the information provided herein.
We acknowledge the Kaurna peoples who are the traditional Custodians of the Adelaide region. We pay tribute to their physical and spiritual connection to land, waters and community, enduring now as it has been throughout time. We pay respect to them, their culture and to Elders past and present. We would also like to acknowledge and pay our respects to those Aboriginal and Torres Strait Islander people from other Nations who live, work, travel and contribute on Kaurna Country.
Marni Naa Pudni "Welcome"