Click here if you are having trouble viewing this message. If images are not appearing, try pausing Adblock.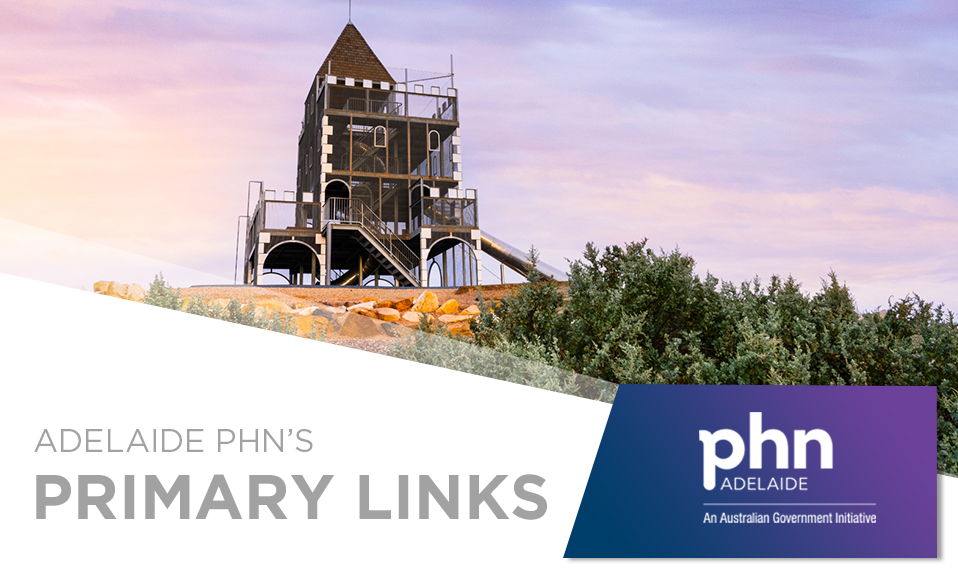 EDITION | 22 JULY
Photo: St Kilda Adventure Playground, Adelaide's North
A highlight of upcoming local professional development opportunities for primary health care providers. Find more events via our website here.
A highlight of resources to support primary health care providers. Find more Adelaide PHN resources via our website resource library here.
Are you a GP, part of the aged care workforce or an allied health provider? Adelaide PHN, in partnership with Country SA PHN, are inviting you to join us for our upcoming News in Ageing Well Webinar where we'll discuss key ageing well initiatives that will support you in the aged care and primary care sector. 
The joint webinar will be held on Wednesday 27 July 2022 from 5.30pm - 6.10pm. Please register your attendance by visiting this webpage.
For any queries relating to the webinar, please contact Adelaide PHN's Older Persons, Aged Care and Palliative Care Lead, Lesley Habel, via LHabel@adelaidephn.com.au. 
The Department of Health, GPEx and the Jodi Lee Foundation invite GPs, practice nurses and their clinics to attend a free 30-minute webinar focusing on the skills and knowledge they need to support their patient's participation in the National Bowel Cancer Screening Program (NBCSP).
 
Topics covered in the webinar include: 
The roles of the GP and Practice Nurse

Patient eligibility and relevant clinical information

How to complete the bowel cancer screening home test

Understanding test results

Where to find further tools and resources
Click here to register now. For more information regarding the webinar series, please contact Joshua Penley, Program Success Manager at GPEx. 
The Statewide Palliative Care Clinical Network, operating within the Commission on Excellence and Innovation in Health (CEIH), has identified the need for two important working groups to come together for a period of 9 - 12 months, to achieve the following project goals for South Australians.
Applications close Monday 1 August 2022. For more information, please visit the CEIH website.
Griffith University is currently taking registrations for the blended learning mode of Systematic Tailored Assessment for Responding to Suicidality (STARS). 
STARS is a person-centred, psycho-social needs based semi-structured interview, which assesses client suicidality.
STARS training includes 12 - 15 hours of online training followed by a 1-day skills-based webinar. Participants are provided with expert suicidology and lived experience trainers as well as online mini lectures, interactive activities, contemporary evidence-based materials, and a PDF of the STARS protocol. The program also offers a license for 12 months utility and online support.
The first STARS program will commence 1 August 2022 and registrations are limited. For more information and to register, please visit the Griffith University website.
Rare Cancers Australia is a nationally registered charity aiming to improve the lives and health outcomes of people living with a rare, less common, or complex cancer. 

Common cancers are usually accompanied by an optimal care pathway. This is not the case for people diagnosed with a rare cancer. Australians with rare cancers can feel isolated as a patient.

Rare Cancers Australia's Patient Support Team provides a '360 degree' personalised support package which includes emotional, practical, clinical and financial aspects for those with rare cancers. 

Contact the Patient Support Team on 1800 257 600 or email support@rarecancers.org.au to speak with their Specialist Cancer Navigators. For more information, please visit the Rare Cancers Australia website.
A highlight of news relating to the delivery of primary health care in Adelaide. Find more Adelaide PHN announcements via our website here.
Adelaide PHN continues to keep general practices and providers up to date with the latest COVID-19 information by providing relevant resources, support, and updates as they become available.

Key updates include: 
Upcoming webinar and webinar recordings

Expansion of in-home visiting services

Expanded eligibility for COVID antivirals

Expansion of General Practice Respiratory Clinics
For further information, please see Adelaide PHN's COVID-19 Provider Update.
Enrolment is underway for the Heart Foundation's National Heart Health Check Recall Program – 'Text to Detect 2022' – the largest quality improvement program of its kind in Australian primary care. 

Part of the Text to Detect study design is to recruit at least 30% of practices from areas disproportionately affected by heart disease. The Heart Foundation is seeking general practices from the following Adelaide postcodes to participate:
Unley – 5063, 5064, 5061 5034, 5035

Light – 5118
Practices can enrol by returning a practice participation agreement signed by an authorising representation of the practice (e.g., CEO or delegate). Please enrol by 31 July 2022.
For further information, please visit the Text to Detect program website.
The Department of Health has extended healthdirect video call services for GPs, allied health and aged care.

The healthdirect Video Call COVID-19 GP Program has been extended to 31 December 2022. We encourage you to continue using this secure video consulting platform which has been purpose-built for primary care settings. GPs can start using the service by registering their practice and access RACGP CPD accredited training here.

For allied health and aged care, the healthdirect Video Call Exemplar Program has been extended to 30 June 2023. To register for this service, please click here. For more information, please visit the healthdirect website.

For queries about healthdirect Video Call services please contact our Digital Health Team via digitalhealthinfo@adelaidephn.com.au.
The Australian Digital Health Agency has been working closely with Services Australia and the medical software industry to upgrade the NASH authentication system.
To enhance security, all organisations must transition to NASH SHA-2 by 31 December 2022 to comply with Australian Government cyber security requirements.
 
To know if your software product is SHA-2 ready, check the NASH SHA-2 Readiness Register. After upgrading your software, your practice will need to revoke the current NASH SHA-1 certificate using the reason 'Transition to NASH SHA-2 certificate'. The NASH SHA-1 certificate will remain valid for 90 days to allow time to request, download and install a NASH SHA-2 certificate. 
 
For more information, please visit the National Authentication Service for Health (NASH) page or contact Adelaide PHN's Digital Health Team via digitalhealthinfo@adelaidephn.com.au.
Flinders University is seeking women with endometriosis to participate in their research study.
Exercise is now recognised as a first line of treatment for reducing pain, mental health, and risk factors for cardiovascular disease (i.e., blood pressure, blood cholesterol, blood sugar level, etc.). However, the specific impact of a virtual reality versus telehealth exercise program in managing pelvic pain and improving health in women with endometriosis has yet to be investigated.
Researchers at Flinders University are therefore seeking participants for their trial to investigate the effects of a 'virtual reality' versus 'telehealth' exercise program in improving pelvic pain, mental health, and risk factors of cardiovascular disease.  

Refer your patients to the Flinders University website for more information.
A highlight of research and consultation opportunities for primary health care providers.
Adelaide PHN distributes Primary Links to provide beneficial and relevant information. The content is sourced from credible organisations, but please note we do not undertake extensive quality reviews. While the Australian Government helped fund this document, it has not reviewed the content and is not responsible for any injury, loss or damage however arising from the use of or reliance on the information provided herein.
We acknowledge the Kaurna peoples who are the traditional Custodians of the Adelaide region. We pay tribute to their physical and spiritual connection to land, waters and community, enduring now as it has been throughout time. We pay respect to them, their culture and to Elders past and present. We would also like to acknowledge and pay our respects to those Aboriginal and Torres Strait Islander people from other Nations who live, work, travel and contribute on Kaurna Country.
Marni Naa Pudni "Welcome"