Click here if you are having trouble viewing this message. If images are not appearing, try pausing Adblock.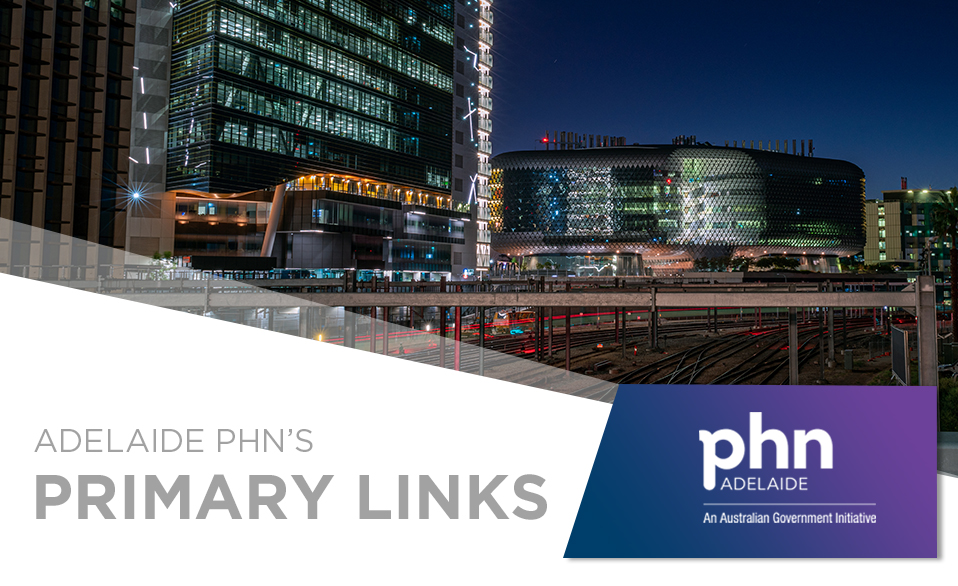 EDITION | 4 AUGUST
Photo: Adelaide Train Line, Adelaide
A highlight of upcoming local professional development opportunities for primary health care providers. Find more events via our website here.
A highlight of resources to support primary health care providers. Find more Adelaide PHN resources via our website resource library here.
The Health Provider Registry (HPRy) is an essential resource for GPs. Its information is utilised to distribute communication from SA Health facilities to GPs, including preferred method of distribution - fax, share file or SMD (Secure Messaging Delivery). 
With the emergence of digital forms of clinical communication, keeping this registry up to date is more important than ever. As GPs and non-GP specialists, you can register and easily update your own information. Practice managers can also update this information on your behalf, with appropriate access. GPs are encouraged to register, check their details and update as required to ensure they can utilise this important resource.
For more information about HPRy, please visit the Summit Health website. For queries and support, please contact Adelaide PHN's Digital Health Team via digitalhealthinfo@adelaidephn.com.au.
One in four people who are pregnant, planning a pregnancy or who would consider having a baby in the near future are unaware that drinking alcohol during pregnancy can cause Fetal Alcohol Spectrum Disorder (FASD) – a lifelong disability.
To support conversations between health professionals and patients, the Foundation for Alcohol Research and Education (FARE) has launched new information resources for health professionals, that provide evidence-based information about alcohol consumption during pregnancy and while breastfeeding, and about FASD. 

The information and resources are part of FARE's national campaign, called Every Moment Matters, that supports alcohol-free pregnancy and breastfeeding, in line with the updated Australian Alcohol Guidelines. 

For further information and to access the new resources, please visit the Every Moment Matters website.
The Health Journey Mapping project has recently delivered a brand new set of tools and resources that aim to improve the quality and cultural safety of Aboriginal and Torres Strait Islander peoples' healthcare journey.

True to its name, "health journey mapping" records the experiences of and interactions between patients, families and health care teams along the health care continuum.
For Aboriginal and Torres Strait Islander peoples, health care journeys can often be culturally and personally unsafe and include many communication and coordination gaps.
The Health Journey Mapping tools and resources were co-designed with Aboriginal and Torres Strait Islander patients, families, and communities. The resources include three mapping tools that have been carefully tailored for Aboriginal and Torres Strait Islander peoples.
The tools can be accessed via the Lowitja Institute website.
Macular Disease Foundation Australia (MDFA) has launched free CPD courses for GPs.

In collaboration with Australia's leading retinal specialists, and representatives from ACRRM and RACGP, MDFA has developed two courses for GPs:
Funded by the Federal Government, these courses aim to improve patient communication about macular disease and its impacts, manage and reduce modifiable risk, ensure high-risk individuals have regular eye examinations, and link people diagnosed with macular disease with appropriate supports and services.
Both courses are accredited for CPD points through RACGP and ACRRM.

For further information and to access the training, please visit the MDFA website.
The Department of Veteran's Affairs (DVA) has released Quick Guides for general practices to support veterans and their family members.
The DVA Basics Quick Guide reminds you to ask your patient if they've served, which veteran cards to look out for and what they cover, as well as key DVA contacts for you and your veteran patient
The DVA Claiming Quick Guide reminds you of the item numbers for different DVA programs and the associated tools and supports available for those programs

Both guides were developed in consultation with practice managers and GPs.

For more information and to access the guides, please visit the DVA website.
A highlight of news relating to the delivery of primary health care in Adelaide. Find more Adelaide PHN announcements via our website here.
Adelaide PHN continues to keep general practices and providers up to date with the latest COVID-19 information by providing relevant resources, support, and updates as they become available.

Key updates include: 
COVID-19 Update for Primary Health Care Providers webinar recording

Western Respiratory Clinic now open

Seeking general practice expressions of interest to vaccinate vulnerable patients
For further information, please see Adelaide PHN's COVID-19 Provider Update.
The Australian Government Chief Medical Officer has declared Monkeypox (MPX) a Communicable Disease Incident of National Significance. 
This follows the World Health Organization (WHO) declaring the global situation regarding MPX to be a public health emergency of international concern.

MPX had not been identified in Australia before May 2022. As of 2 August 2022, there are 53 cases (confirmed and probable) of MPX in Australia including one in South Australia.

New and updated MPX resources are now available including a fact sheet, patient referral and testing guidance and updated ATAGI clinical guidance on vaccination against MPX.
For more information, please refer to the Department of Health and Aged Care website.
Consumers now have faster access to common respiratory infection test reports including influenza.

Consumers who have these tests processed by a pathology lab that uploads to My Health Record can now see the reports as soon as they are uploaded.  
This change is an important step to contend with a mounting wave of respiratory infections over winter. 

Medical practices wanting to assist their patients and other clinicians to access pathology reports in My Health Record should check they are using software compatible with their preferred pathology lab to have e-requesting and report upload progressed. 

For more information, please visit the Australian Digital Health Agency website. For queries and support, please contact Adelaide PHN's Digital Health Team via digitalhealthinfo@adelaidephn.com.au.
The Pen CS Awards recognises excellence in data-driven quality improvement in primary care.  
Nominations are still open for general practices and Aboriginal Medical Services with the closing date extended until 31 August 2022.
Practices will have the opportunity to win in one of the below award categories:
'Closing the Gap' Award

Quality Improvement Initiative of the Year Award

Data-driven Clinical Excellence Award

Research in General Practice Award

Data Quality Award

Digital Innovation Award

Patient-centred Care Award

CAT Plus Super User Award
For further information and to nominate, please visit the Pen CS website.
Stay informed of SA Pathology's latest news listed below.

Register now for iPath eOrdering of Respiratory Testing 
SA Pathology's web-based application iPath now offers an electronic ordering capability for all COVID-19 and respiratory testing. 

For further information, please read the SA Pathology advice.

Change in Instrument and Test Kit Reference Ranges 
SA Pathology has implemented a change in instrument from SPAPlus to Optilite, resulting in a slight change in reference ranges for some tests.
For further information, please read the SA Pathology advice.

Genetic Carrier Screening
SA Pathology offers genetic carrier testing of CFTR, FMR1 and SMN1 genes, indicators of common inherited conditions: cystic fibrosis, fragile X syndrome and spinal muscular atrophy. Medicare funding for genetic carrier testing may be available. 
For further information, please read the SA Pathology advice.
A highlight of research and consultation opportunities for primary health care providers.
Adelaide PHN distributes Primary Links to provide beneficial and relevant information. The content is sourced from credible organisations, but please note we do not undertake extensive quality reviews. While the Australian Government helped fund this document, it has not reviewed the content and is not responsible for any injury, loss or damage however arising from the use of or reliance on the information provided herein.
We acknowledge the Kaurna peoples who are the traditional Custodians of the Adelaide region. We pay tribute to their physical and spiritual connection to land, waters and community, enduring now as it has been throughout time. We pay respect to them, their culture and to Elders past and present. We would also like to acknowledge and pay our respects to those Aboriginal and Torres Strait Islander people from other Nations who live, work, travel and contribute on Kaurna Country.
Marni Naa Pudni "Welcome"