Click here if you are having trouble viewing this message. If images are not appearing, try pausing Adblock.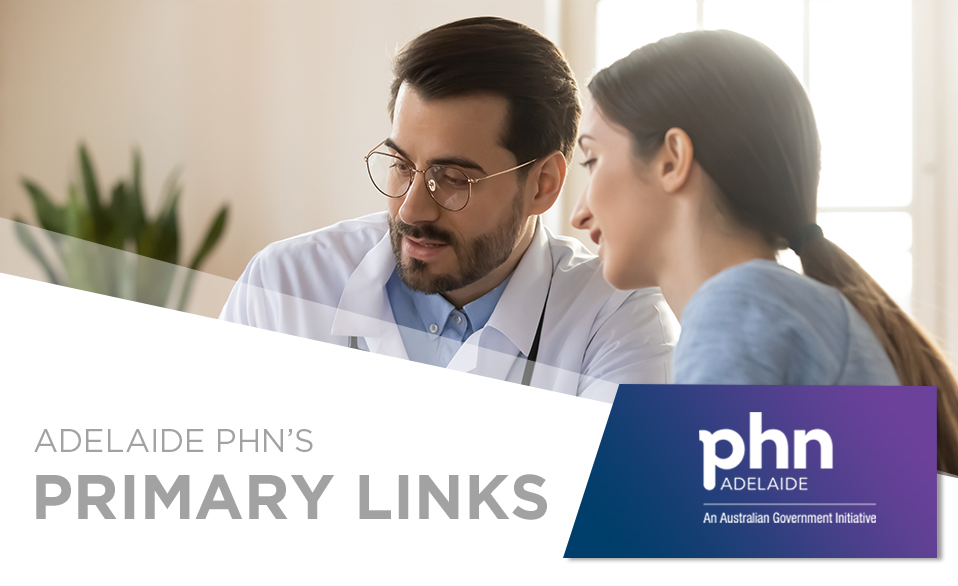 EDITION | 14 September 2023
A highlight of Adelaide PHN current activities. Find more Adelaide PHN announcements via our website here.
You are invited to view a pre-recorded session on 'My Health Record in Specialist Practice - How to Save your Practice Time and Improve Patient Outcomes.'
  
Delivered by Kathy Rainbird from Australian Digital Health Agency (ADHA) in a Q&A format, this pre-recorded session will provide critical information on the importance of My Health Record (MHR) and focus on:
Documents that can be uploaded to MHR, with special emphasis on specialist letters.
MHR current usage statistics across the health care sector.
Information around authorisation to view and upload patient information.
Consumer centricity and their information control on MHR.
Scenario based questions on emergency access etc.
Resources from ADHA for optimal utlisation of MHR.
 
Click here to view the recorded session.
 
In case of any queries, please email Adelaide PHN's Digital Health Team on digitalhealthinfo@adelaidephn.com.au.
Please see below the next round of Initial Assessment Referral and Decision Support Tool (IAR-DST) group training for GPs.
GPs who complete the training will -
 

If you are a GP practicing in metropolitan Adelaide and haven't yet undertaken the training, please watch this short explainer video to learn more about the tool and see what benefits it can bring to your practice, or visit our website.
Mental Health ECHO
Open to health care professionals across all disciplines.
A shared learning and professional support community for health care professionals working with people living with a mental illness. This program will focus on management of mental illness in the context of the national Equally Well action to improve the mental and physical health of people living with mental illness.
 
The online ECHO meetings connect health care professionals with our panel of experts to share and learn from each other through education and real life case discussions.
Monthly on Wednesdays
6:30pm - 7:30pm via Zoom
20 September - Perinatal Anxiety & Depression
25 October - Psychotic Disorders vs Delirium
22 November - Youth Eating Disorders
6 December - Pyschotropics & Cardiometabolic Effects

Info and to enrol: https://sapmea.asn.au/echo/mh
Enquiries to: echo@sapmea.asn.au
A highlight of upcoming local professional development opportunities for primary health care providers. Find more events via our website here.
A highlight of news relating to the delivery of primary health care in Adelaide. Find more Adelaide PHN announcements via our website here.
Ending soon! COVID-19 Vaccination Training Program (CVTP) 
The CVTP training program will be coming to an end as of Sunday 1 October 2023. The Department of Health and Aged Care will no longer be producing new COVID-19 vaccine training modules and the COVID-19 learning platform will close. The training will no longer be mandatory for participation in the COVID-19 Vaccine Program. 
 
COVID-19 resources will continue to be updated and will be available here, and for access to learning resources for COVID-19 vaccines, please follow this link.
 
All primary care sites participating in the COVID-19 Vaccine Program must continue to either:
Hold a valid accreditation (or be undergoing accreditation) through the National General Practice Accreditation Scheme, or
Administer vaccines as part of the National Immunisation Program (NIP), or
Be approved to dispense pharmaceutical benefits as part of the PBS defined in Section 90 of the National Health Act 1953 (Cwlth) (Section 90 Pharmacy).
 
If you have any clinical questions regarding COVID-19 Vaccine administrations, please contact the Vaccine Operations Centre on 1800 318 208 or 
SA Health eReferrals Program – Women's and Children's now live!

The SA Health Statewide eReferrals Program is now live. The Women's and Children's Hospital is the first Local Health Network to begin accepting eReferrals from Wednesday 13th September 2023.  
The program will enable GPs to digitally send referral forms to outpatient clinics; replacing the use of faxes and letters. It offers GPs and practice managers a secure, efficient way to manage referrals, that enhances patient care, and streamlines workflows.
The electronic referral forms will appear in some practice management system (Best Practice, Medical Director, ZedMed and Genie) on 13 September 2023 under the HealthLink tab as a SmartForm. 

If you do not use one of the listed practice management software's, you can still continue to refer via traditional methods. 

As future LHNs go live, they will appear as recipients in the HealthLink eReferrals SmartForm list. 

Further details about the SA Health Statewide eReferral Program is available on the SA Health eReferrals website 
Please contact SA Health at health.statewidereferralmanagementsystem@sa.gov.au for further information.
If your practice needs support or training in the use of HealthLink SmartForms please contact the Adelaide PHN Digital Health team at digitalhealthinfo@adelaidphn.com.au
 
The following interim support service continues to be available until eReferral lauches at SALHN.

Outpatient 'Referral hotline' for GP Practice teams to confirm a referral has been received, triaged, or appointed. GP Practices can phone (08) 8204 7886 between 10am - 12pm on Tuesdays, Wednesdays, and Thursdays if they would like to check if a referral has been received, triaged, or appointed. 
MyMedicare is a new voluntary patient registration model. It aims to strengthen the relationship between patients, their general practice, general practitioner, and primary care teams. 
Why is it important?
Patients will have access to: 
Greater continuity of care with their registered practice, improving health outcomes.
Longer MBS-funded telephone calls (Levels C and D) with their usual general practice.
Triple bulk billing incentive for longer MBS telehealth consultations (Levels C, D and E) for children under 16, pensioners, and concession card holders. 

MyMedicare practices will have access to: 
More information about regular patients, making it easier to tailor services to fit the patient's needs. 
The new longer telehealth items linked to MyMedicare outlined above. 
The General Practice in Aged Care Incentive from 1 August 2024, which will support regular health assessments, care plans and regular GP visits for people in residential aged care homes. 
New blended funding payments to support better care in the community for people with complex, chronic disease who frequently attend hospitals.
Chronic Disease Management items linked to a patient's registration in MyMedicare from November 2024, to support continuity of care for people with chronic and complex conditions. Patients who are not registered in MyMedicare will still be able to receive Chronic Disease Management items from their usual GP. 
Practices that provide services to patients who would benefit from these services are encouraged to register in MyMedicare as a priority over the next three months. 
Further information can be found here 
If you need assistance with understanding MyMedicare please contact your Adelaide PHN Practice Facilitator.
A highlight of resources to support primary health care providers. Find more Adelaide PHN resources via our website resource library here.
Are you a GP seeing patients with chronic pain aged between 12 - 19?

The Youth Pain Project through the University of South Australia are conducting a study on patients, aged between 12 and 19, who are living with chronic pain, and would like to interview the children and their parents/ carers on their experiences living with chronic pain and how helpful their medical care has been.

If you have any patients or parents/ carers that would like to participate in the study, please provide them this registration link.

Or for more information, please contact carolyn.berryman@unisa.edu.au
The Cancer Council in partnership with SHINE SA have developed a campaign demystifying self-collection. An accurate and accessible option that can make cervical screening easier and less stressful for trans and gender diverse people. 
All cervical screening participants now have the choice to self-collect their own Cervical Screening Test sample. A self-collected sample is taken from the vagina and is checked for human papillomavirus (HPV); a common infection that causes almost all cervical cancers.
As a part of this campaign, SHINE SA are excited to share that they have two posters available for free on their Online Shop here.
Practices are encouraged to download and display the posters in their waiting rooms to spread awareness
A highlight of research and consultation opportunities for primary health care providers.
Adelaide PHN distributes Primary Links to provide beneficial and relevant information. The content is sourced from credible organisations, but please note we do not undertake extensive quality reviews. While the Australian Government helped fund this document, it has not reviewed the content and is not responsible for any injury, loss or damage however arising from the use of or reliance on the information provided herein.
We acknowledge the Kaurna peoples who are the traditional Custodians of the Adelaide region. We pay tribute to their physical and spiritual connection to land, waters and community, enduring now as it has been throughout time. We pay respect to them, their culture and to Elders past and present. We would also like to acknowledge and pay our respects to those Aboriginal and Torres Strait Islander people from other Nations who live, work, travel and contribute on Kaurna Country.
Marni Naa Pudni "Welcome"