Click here if you are having trouble viewing this message. If images are not appearing, try pausing Adblock.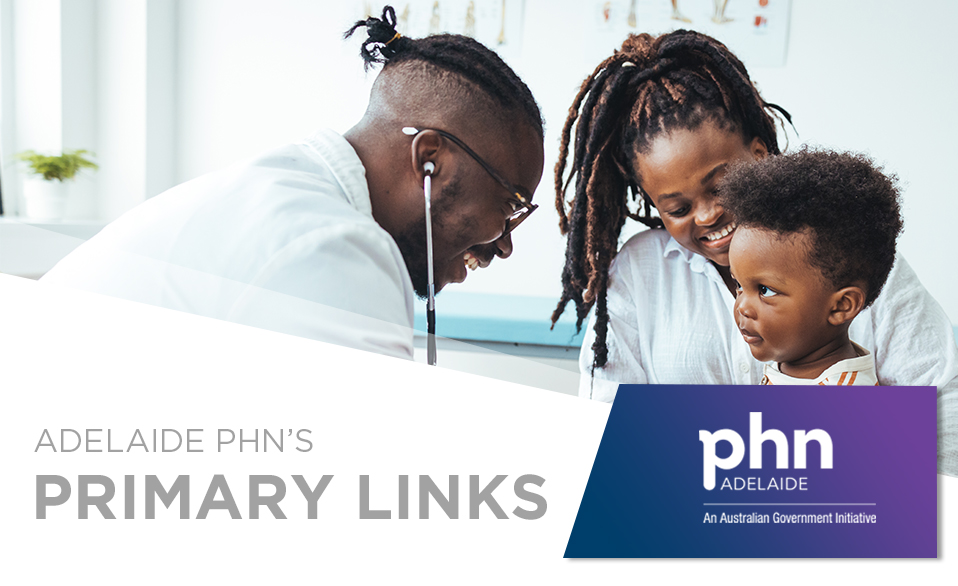 EDITION | 28 September 2023
A highlight of Adelaide PHN current activities. Find more Adelaide PHN announcements via our website here.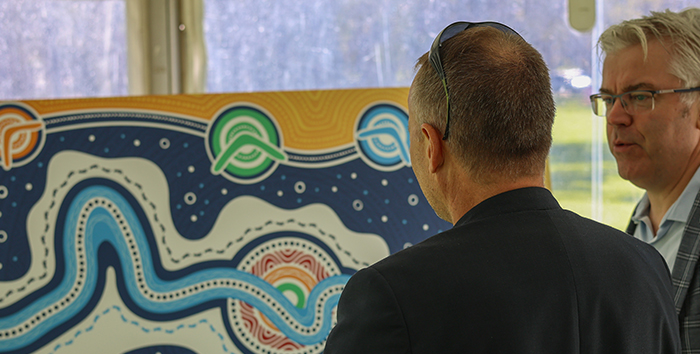 We are thrilled to announce the launch of our second Innovate Reconciliation Action Plan (RAP) and newly commissioned art piece, which reflects our commitment to meaningful engagement and strengthened partnerships with Aboriginal and/or Torres Strait Islander peoples across Kaurna land.  
 
Our formal commitment to reconciliation began with the launch of our first Innovate RAP in 2020 and we proudly continue this journey via the launch of our second Innovate plan.  
 
Our RAP is at the heart of what we do and drives our focus of improving health equity for Aboriginal and/or Torres Strait Islander peoples. It is the next building block to driving sustainable change to ensure cultural inclusion, fairness and recognition is realised across all our activities.  
 
The artwork, created by Ngarrindjeri artist, Jordan Lovegrove, represents our organisation and service to surrounding communities. It depicts our partners, connection to land, partnerships with our service providers and community, and equal opportunity for positive health outcomes. It's a symbol of us coming together to achieve a reconciled Australia.  
We thank our staff, and members of our Aboriginal Community Advisory Council who have given their time and expertise to contribute to the development of our RAP and artwork.
 
We also extend our sincere thanks to Reconciliation Australia for their guidance and support and welcome their continued leadership in advancing reconciliation. 
 
Please visit adelaidephn.com.au/innovaterap to learn more about our reconciliation journey, RAP, and commissioned art piece.  
 
If you have any questions about our commitment, please contact us via enquiry@adelaidephn.com.au.  
 
Urgent Care Clinics (UCC) Announced!
Adelaide PHN is pleased to announce the following general practices as the providers of Medicare Urgent Care Clinics (UCC) services across three of the four locations in the Adelaide PHN region to June 2026:
Adelaide Central Location – Old Port Road Medical and Dental Centre (to be established as Western Medicare UCC)
Southern Adelaide Metropolitan Location – Marion Domain Medical and Dental Centre (to be established as Marion Medicare UCC)
Outer Northern Adelaide Metropolitan Location – Elizabeth Medical and Dental Centre (to be established as Elizabeth Medicare UCC)
The fourth Medicare UCC to be established in the outer southern suburbs is in contract negotiations with an announcement to be made soon.
The Medicare UCCs will be open extended hours, seven days a week and offer walk-in care that is fully bulk billed.
Medicare UCCs are expected to begin opening from October 2023, with all to be open by the end of the year.
If you have any questions about the Medicare UCCs within the Adelaide PHN region, please contact Adelaide PHN's Urgent Care Project Manager, Simran Bhatia, via SBhatia@adelaidephn.com.au or phone 8219 5900. 
Please see below the next round of Initial Assessment Referral and Decision Support Tool (IAR-DST) group training for GPs.
GPs who complete the training will -
 

If you are a GP practicing in metropolitan Adelaide and haven't yet undertaken the training, please watch this short explainer video to learn more about the tool and see what benefits it can bring to your practice, or visit our website.
A highlight of upcoming local professional development opportunities for primary health care providers. Find more events via our website here.
A highlight of news relating to the delivery of primary health care in Adelaide. Find more Adelaide PHN announcements via our website here.
A New Specialist Dementia Care Program Unit in SA!
The Department of Health and Aged Care would like to advise that a new unit has recently opened under the Specialist Dementia Care Program (SDCP) at HammondCare Daw Park. This brings the total number of operational SDCP units across Australia to 15 units, with another 5 units expected to open throughout 2023 and 2024.
 
The SDCP supports people with severe behavioural and psychological symptoms of dementia who cannot be cared for in a mainstream aged care home. Information on eligibility, referrals and locations of the SDCP units can be found on the department's website.
 
If you have any queries, please do not hesitate to contact the Specialist Dementia Care Team via email at sdcp@health.gov.au.
Applications are open for the October 2023 intake of APNA's Transition to Practice Program (TPP).
Fully funded places available for nurses in APNA's TPP

APNA's TPP offers a 10-month, fully funded education framework for nurses transitioning to primary health care (PHC). It provides valuable clinical and professional support, and mentorship opportunities.
Who can apply?
Transitioning Nurses: Graduate and experienced nurses transitioning into PHC roles.
Clinical and Professional Mentors: Registered Nurses or Nurse Practitioners with PHC experience. 
This tailored program is designed to provide new PHC nurses with the support, knowledge, and tools needed to succeed in your career.  Experienced nurse mentors are paid and well supported.
Learn more at the TPP website or click here to apply now. 
A highlight of resources to support primary health care providers. Find more Adelaide PHN resources via our website resource library here.
Mental Health ECHO
Open to health care professionals across all disciplines.
A shared learning and professional support community for health care professionals working with people living with a mental illness. This program will focus on management of mental illness in the context of the national Equally Well action to improve the mental and physical health of people living with mental illness.
 
The online ECHO meetings connect health care professionals with our panel of experts to share and learn from each other through education and real life case discussions.
Monthly on Wednesdays
6:30pm - 7:30pm via Zoom
25 October - Psychotic Disorders vs Delirium
22 November - Youth Eating Disorders
6 December - Psychotropics & Cardiometabolic Effects

Info and to enrol: https://sapmea.asn.au/echo/mh
Enquiries to: echo@sapmea.asn.au
RACGP's "First Do No Harm" Guide.

The RACGP has released new topics as part of "First do no harm: a guide to choosing wisely in general practice". This living guide helps GPs and patients to make shared decisions on evidence-based health care, with QR codes for patients to access information during the consultation. 

The new topics provide information for both GPs and patients on:
Australian Physio Association (APA) Pain Awareness Factsheet
 
The APA, in relation to Pain Awareness Month, would like to share resources on the role of physiotherapy in pain management. 
 
Physiotherapy management is effective in reducing pain and in improving quality of life, physical functioning, and depression, and the APA aim to increase understanding and awareness about pain between health professionals, people living with pain, policy makers, and the wider community.
 
The Australian Physiotherapy Association has developed a fact sheet that outlines Primary Health's role in pain management.
 
Click here for more information about the APA and pain management.
A highlight of research and consultation opportunities for primary health care providers.
Adelaide PHN distributes Primary Links to provide beneficial and relevant information. The content is sourced from credible organisations, but please note we do not undertake extensive quality reviews. While the Australian Government helped fund this document, it has not reviewed the content and is not responsible for any injury, loss or damage however arising from the use of or reliance on the information provided herein.
We acknowledge the Kaurna peoples who are the traditional Custodians of the Adelaide region. We pay tribute to their physical and spiritual connection to land, waters and community, enduring now as it has been throughout time. We pay respect to them, their culture and to Elders past and present. We would also like to acknowledge and pay our respects to those Aboriginal and Torres Strait Islander people from other Nations who live, work, travel and contribute on Kaurna Country.
Marni Naa Pudni "Welcome"