Click here if you are having trouble viewing this message. If images are not appearing, try pausing Adblock.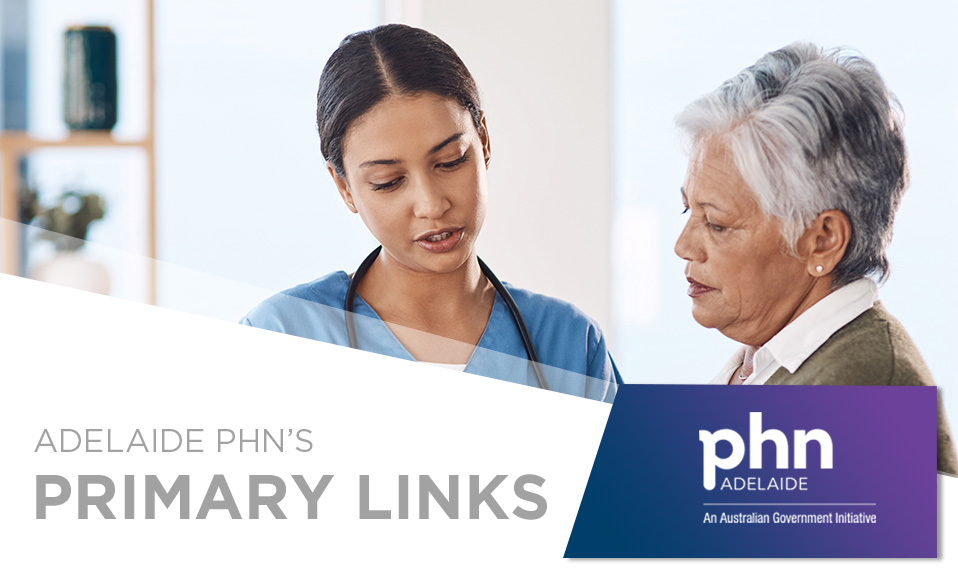 EDITION | 12 October 2023
A highlight of Adelaide PHN current activities. Find more Adelaide PHN announcements via our website here.
MyMedicare Patient Registration Resources Now Available!
Adelaide PHN wishes to inform General Practices and other esteemed stakeholders that MyMedicare is officially live as of Sunday, the 1st of October 2023.
Accordingly, the Department of Health and Aged Care have prepared and made available on their MyMedicare webpage the following range of patient focused resources to support general practices engaging their patients to register:
MyMedicare Registration Form: The MyMedicare Registration Form is available for general practices to download and provide to their patients from the departments website. Once a patient has completed the form, their practice can complete the MyMedicare registration process by entering the patient information collected on the form into the MyMedicare system.

Fact sheets: The Introducing MyMedicare – Fact sheet and Registering in MyMedicare – Fact Sheet are both available on the departments website and provide patient facing information.

FAQs document: The FAQ document answers patients' questions about what MyMedicare is, why and how to register, eligibility, benefits, and more.
For more information about MyMedicare and practice registration, please visiting the departments MyMedicare webpage or contact Adelaide PHN's Practice Support or Digital Health Teams.
Individual HealthPathways Logins
All users of HealthPathways are invited to complete a quick survey (4 minutes) to gather preferences and views about moving to individual user logins, rather than the current generic, or one password for all, login. This functionality is currently in development so your input is vital.
Click here to access the survey.
The survey is open until Tuesday 24 October 2023.
This survey is being undertaken by HealthPathways Community - Streamliners NZ Ltd, and for any enquiries please contact enquiries@sahealthpathways.com.au.
Please see below the next round of Initial Assessment Referral and Decision Support Tool (IAR-DST) group training for GPs.
GPs who complete the training will -
 

If you are a GP practicing in metropolitan Adelaide and haven't yet undertaken the training, please watch this short explainer video to learn more about the tool and see what benefits it can bring to your practice, or visit our website.
A highlight of upcoming local professional development opportunities for primary health care providers. Find more events via our website here.
A highlight of news relating to the delivery of primary health care in Adelaide. Find more Adelaide PHN announcements via our website here.
Limited Spaces: Free Certificates of Practical Demoscopy!

Wellbeing South Australia and Dermatology Australasia are excited to provide an incredible opportunity for GPs to participate in the Certificate of Practical Dermoscopy at no cost.
If you are a GP practising in South Australia, you are invited to participate in this course, as an initiative funded by Wellbeing South Australia.
Developed and delivered by Australian trained and based dermatologists, this blended course will teach participants the skills and knowledge to put dermoscopy theory into practice and develop a thorough understanding of how it can be used to manage patients with skin cancer.
The course will be provided to 140 GPs practising in South Australia and consists of both online study, available from 29 January to 19 May 2024, and a 1-day face-to-face workshop to be held in Adelaide on the 23 March and 6 April 2024.
For more information and to register, please click here.
Expanded Shingrix Program Announcement.
From 1 November

The Australian Government has announced that Shingrix® will replace Zostavax® on the National Immunisation Program (NIP) and will be funded for everyone aged 65 years and over, First Nations people 50 years and over, and immunocompromised people 18 years and over at high risk of herpes zoster infection.

Herpes zoster, commonly known as shingles, is a reactivation of the varicella-zoster virus in a person who has previously had varicella (chickenpox). Shingles usually presents as a painful rash and can lead to post-herpetic neuralgia, a neuropathic pain syndrome, and other complications.

Shingrix® will replace Zostavax® on the NIP based on recommendations from the Pharmaceutical Benefits Advisory Committee and the Australian Technical Advisory Group on Immunisation.

The full media release is available on the Department of Health and Aged Care website.
Applications are Open for the October 2023 intake of APNA's Transition to Practice Program (TPP).
Fully funded places available for nurses in APNA's TPP

APNA's TPP offers a 10-month, fully funded education framework for nurses transitioning to primary health care (PHC). It provides valuable clinical and professional support, and mentorship opportunities.
Who can apply?
Transitioning Nurses: Graduate and experienced nurses transitioning into PHC roles.
Clinical and Professional Mentors: Registered Nurses or Nurse Practitioners with PHC experience. 
This tailored program is designed to provide new PHC nurses with the support, knowledge, and tools needed to succeed in your career.  Experienced nurse mentors are paid and well supported.
Learn more at the TPP website or click here to apply now. 
A highlight of resources to support primary health care providers. Find more Adelaide PHN resources via our website resource library here.
Does your Patient Require a Routine Endoscopy or Colonoscopy? 
Many people who simply need a screening or surveillance procedure for recognised indications can now have a simplified experience. 
CALHN have designed a single service, multi-site, digitally supported pathway to allow for better access to routine endoscopic procedures. For many patients, this will reduce the time from referral to procedure by avoiding the need for outpatient review. This new standardised pathway allows structured data to be sent securely via an electronic form. 
If you would like to refer your patient to this pathway, please access the electronic form here.
CALHN will still accept faxed paper referrals by sending the form to 08 6365 1978.
This new referral process will go live on October 17, 2023. 
New Information from Lung Foundation Australia (LFA) on Silicosis Support Services 
Understanding a silicosis diagnosis can be overwhelming and often isolating. Through these free and confidential services, LFA aim to help people feel informed, supported, and connected. Please see below additional information about these three services:
Silicosis Support Nurse Service: This is a telephone-based service that provides information and support around understanding a silicosis diagnosis and includes symptom management and guidance on relevant support services.
Silicosis Social Work Service: This is a telephone-based service that provides information around navigating the practical and emotional impacts of living with silicosis. This includes processing a diagnosis, the impact on relationships, and ways to cope with the progression of this disease.
Silicosis Peer Support Groups: Australia-wide online support groups to help those impacted by silicosis to connect with others. This service brings together people living with or caring for someone with silicosis, and provides a space for members to share their experiences and to help navigate the unique challenges faced when living with this condition. There are two groups available – one for people living with silicosis and one for carers/ family members of someone with silicosis. 
Australian Immunisation Handbook: COVID-19 Chapter is Now Available.

The COVID-19 chapter of the Australian Immunisation Handbook consolidates all existing clinical guidance and information pertaining to COVID-19 into a single, user-friendly resource.

The chapter includes information about COVID-19 vaccines, recommendations for vaccination, and details about public health management of the disease. The COVID-19 chapter can be found here. 
Spring Update for The National Asthma Council Australia 

Spring is a time of much anticipated warmer weather and sunshine, and the opportunity to spend more time outdoors. However, it is also a difficult time for many people who are allergic to windborne pollen from grasses, weeds, and trees.
The National Asthma Council has a range of resources and fact sheets for health professionals and patients on topics such as thunderstorm asthma, allergic rhinitis, and pollen triggers, as well as a range of highly regarded webinars (Asthma in Spring, Adult Asthma, Paediatric Asthma, and more) and workshops (Spirometry Training, Practice Nurse Seminar and more) for health professionals.
October is Liver Awareness Month!
One in three Australians has some form of liver disease, and liver cancer (HCC) rates are increasing year on year, with 12-month survival only 49%. Whilst viral hepatitis and alcohol are still key drivers in liver disease, metabolic associated fatty liver disease will soon become the leading cause of liver cancer and adult liver transplantation in Australia.
The Liver Foundation is inviting you to register for the clinical audit below, available free of charge on the ThinkGP platform. There is also an Advanced Course and a series of short courses on all aspects of diagnosing and managing liver diseases in primary practice. All courses are fully accredited for CPD with RACGP and ACCRM.  To learn more on this topic, explore their suite of liver related activities here.
A highlight of research and consultation opportunities for primary health care providers.
Adelaide PHN distributes Primary Links to provide beneficial and relevant information. The content is sourced from credible organisations, but please note we do not undertake extensive quality reviews. While the Australian Government helped fund this document, it has not reviewed the content and is not responsible for any injury, loss or damage however arising from the use of or reliance on the information provided herein.
We acknowledge the Kaurna peoples who are the traditional Custodians of the Adelaide region. We pay tribute to their physical and spiritual connection to land, waters and community, enduring now as it has been throughout time. We pay respect to them, their culture and to Elders past and present. We would also like to acknowledge and pay our respects to those Aboriginal and Torres Strait Islander people from other Nations who live, work, travel and contribute on Kaurna Country.
Marni Naa Pudni "Welcome"