Click here if you are having trouble viewing this message. If images are not appearing, try pausing Adblock.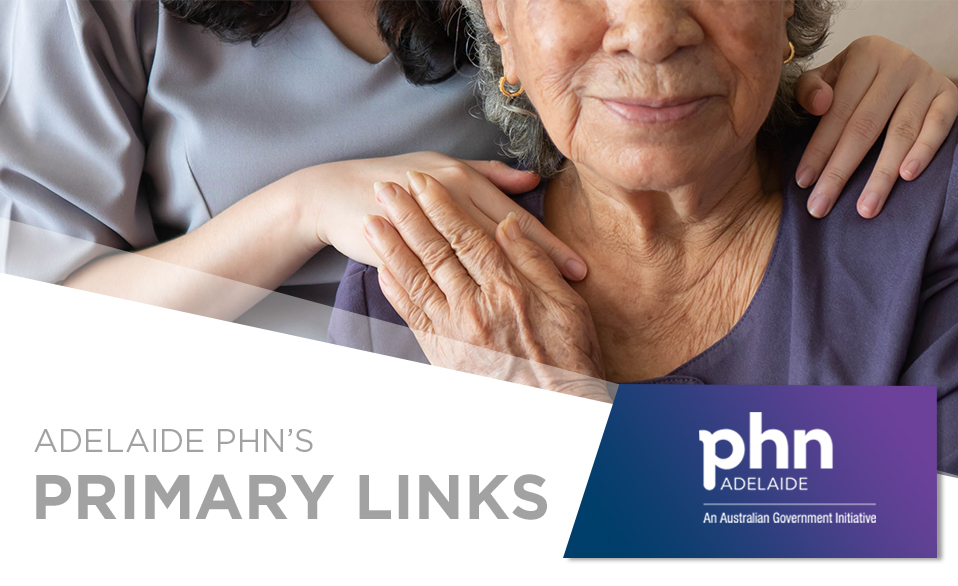 EDITION | 26 October 2023
A highlight of Adelaide PHN current activities. Find more Adelaide PHN announcements via our website here.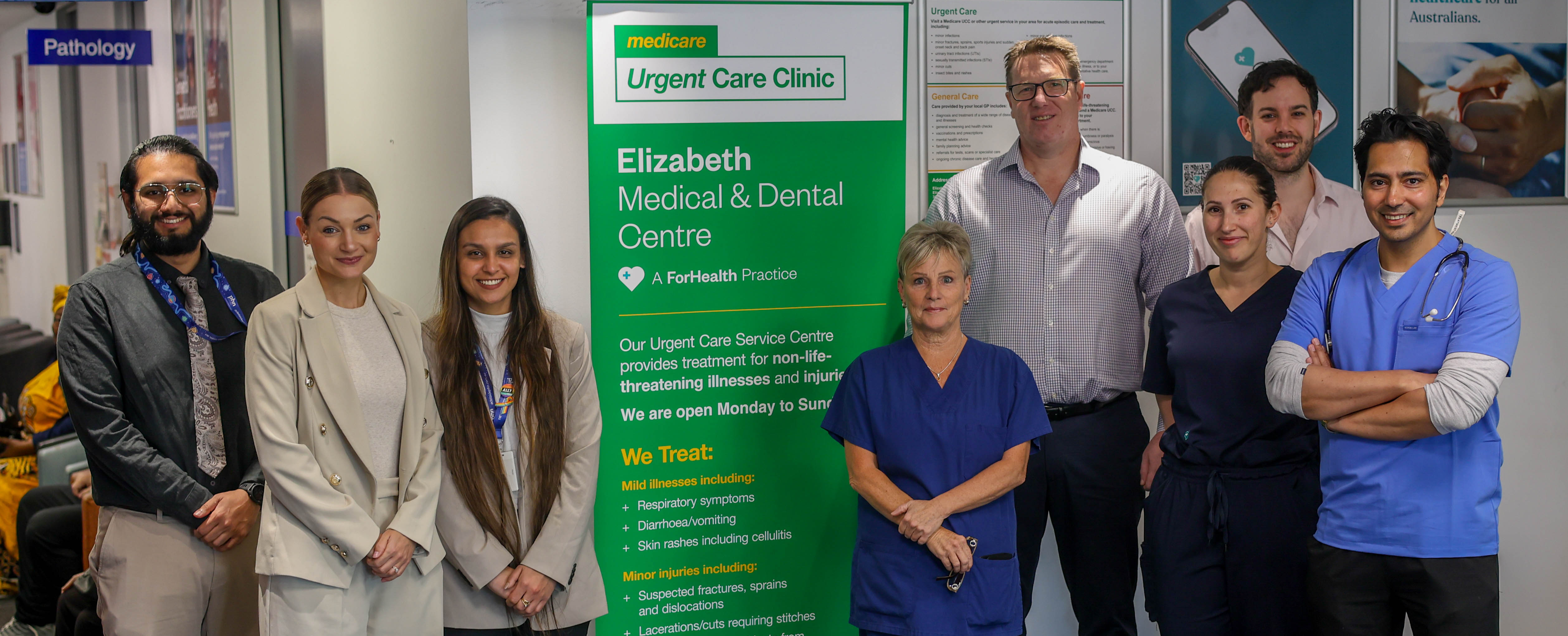 Elizabeth Medicare Urgent Care Clinic is now open for patients needing care for urgent, but (non) life-threatening, health conditions.
The Marion Medicare Urgent Care Clinic and Western Medicare Urgent Care Clinic are expected to open on 6 November and 4 December respectively, with a fourth clinic still to be announced.
The Medicare Urgent Care Clinic provides timely care for our community in a general practice setting, for things like sprains and fractures, cuts, wounds, minor illnesses, infections, and burns. 
Walk in, no appointment or referral needed.

Bulk billed, free care.

Open 7 days a week, from 10 am to 8 pm.

Staffed by doctors and nurses.

Avoid waiting in a hospital emergency department.  
The Medicare Urgent Care Clinic program is supported by funding from Adelaide PHN through the Australian Government's PHN Program.
We are delighted to be funding Palliative Care South
Australia for the Statewide Compassionate Community Conversation Series with FREE morning teas taking
place throughout SA in November 2023.

Join the conversation and discuss how together we can build a compassionate community in your local areae. Compassionate communities are filled with networks of support around people at the end stage of life. You will receive information and participate in discussions, including how to become a more compassionate neighbour and friend, what services and supports are currently available, and explore what compassionate communities could look like within your local
neighbourhood.

Click this link to for more information and to learn more.
 
Or contact PCSA via email events@palliativecaresa.org.au
or phone (08) 8271 1643.
MyMedicare Patient Registration Resources Reminder
Adelaide PHN wishes to remind General Practices and that MyMedicare went live Sunday 1 October 2023.
Accordingly, the Department of Health and Aged Care prepared and made available on their MyMedicare webpage the following range of patient focused resources to support general practices engaging their patients to register:
MyMedicare Registration Form: The MyMedicare Registration Form is available for general practices to download and provide to their patients from the departments website. Once a patient has completed the form, their practice can complete the MyMedicare registration process by entering the patient information collected on the form into the MyMedicare system.

Fact sheets: The Introducing MyMedicare – Fact sheet and Registering in MyMedicare – Fact Sheet are both available on the departments website and provide patient facing information.

FAQs document: The FAQ document answers patients' questions about what MyMedicare is, why and how to register, eligibility, benefits, and more.
For more information about MyMedicare and practice registration, please visit the departments MyMedicare webpage or contact Adelaide PHN's Practice Support or Digital Health Teams.
Living Fully, Caring Deeply: A Symposium on Palliative Care
Join Lesley Habel, Adelaide PHN's Aged Care Manager, on 8 November at the MAC Symposium: "Living Fully, Caring Deeply: A Symposium on Palliative Care" for a thought-provoking exploration of the pivotal themes shaping the future of compassionate care. This symposium will delve into the world of palliative care, with a special focus on CALD (Culturally and Linguistically Diverse) Perspectives, the perception of Advanced Care Directives within CALD communities, the unique relationship between food and palliative care and more. 
Please see below the next round of Initial Assessment Referral and Decision Support Tool (IAR-DST) group training for GPs.
GPs who complete the training will -

If you are a GP practicing in metropolitan Adelaide and haven't yet undertaken the training, please watch this short explainer video to learn more about the tool and see what benefits it can bring to your practice, or visit our website.
A highlight of upcoming local professional development opportunities for primary health care providers. Find more events via our website here.
A highlight of news relating to the delivery of primary health care in Adelaide. Find more Adelaide PHN announcements via our website here.
Update on Statewide eReferrals Management System

CALHN announced on 6 October, a single statewide electronic referral (eReferral) management system is being rolled out across local health networks. They are continuing to do some further testing and consultation with impacted teams to ensure when the system will go live that the process is as seamless as possible.  
 
As a result, CALHN's planned go-live from today (Wednesday 25 October) will now be delayed. CALHN will continue to update on when they are likely to start using the new system,  which will enable you to manage referrals, streamline workflows, and provide a secure, efficient platform.

Learn more about the State Wide eReferral System here.
 
If you have any questions, please contact the CALHN GP Integration Unit via Health.CALHNGPIntegrationUnit@sa.gov.au. 
Wellbeing SA announces the application period for the 2023-24 South Australian Suicide Prevention Community Grants opened on 19 October 2023.
Wellbeing SA is offering funding for projects in South Australia that align to the new South Australian Suicide Prevention Plan 2023-2026 that support evidence based positive action within an identified South Australian community or priority population/s.
To meet the needs of communities, two types of grants from a fund pool totalling $200,000 will be offered in 2023-24.
We encourage applicants to read the 2023-24 Grant Guide to gain an understanding of the purpose of these grants and eligibility requirements. 
Further information about these grants, including the application form link, are available at wellbeingsa.sa.gov.au/suicidepreventiongrants
Applications are to be submitted by 5:00pm on Friday 3 November 2023.
Immunisation Foundation of Australia launches Whooping Cough Day on November 8.
This new campaign comes amid concern by infectious disease experts that Australia is "well overdue" for a whooping cough epidemic. Major outbreaks of the respiratory infection generally occur every three to five years, with the most recent Australian epidemic peaking in late 2015.
 
The campaign is based on the evidence and insights that:
Adults require booster vaccines at least every 10 years to stay up to date with whooping cough protection. 

More than half of all cases of whooping cough occur in adults.

Some people, including those with asthma, are at increased risk of severe illness and being hospitalised.

Whooping cough is not only dangerous, but also highly contagious. 
Practices are encouraged to display posters in their waiting rooms to support community awareness.
Important information regarding Open Arms apps The Right Mix, PTSD Coach, High Res and Operation Life
Open Arms apps, mental health tools for veterans, will no longer be available for download from the Apple or Google Play store, as of 16 October 2023. Tools from the apps have been migrated to the Self-help section of the Open Arms website. 

If you are interested in promoting digital resources to support your patients' mental health journey, visit headtohealth.gov for more information on what's available. 
Open Arms will continue working to improving the digital support offered through the Open Arms website. For free and confidential military aware support, Open Arms is available 24/7 through 1800 011 046.
A highlight of resources to support primary health care providers. Find more Adelaide PHN resources via our website resource library here.
Supporting GPs in Dementia Patient Care
The GP Advice Service, run by Dementia Support Australia is for clinicians who are providing care for people with behaviours and psychological symptoms of dementia (BPSD). The service allows GPs to gain direct access to clinical advice from a medical specialist to help manage these symptoms.
Dementia Support Australia's team of medical specialists include geriatricians and psychogeriatricians who specialise in the care of people experiencing BPSD.
All advice is based on clinical information provided by the GP, including an overview of the patient's presentation and history.
Dementia Support Australia can provide one to one advice to GPs regarding the clinical case via email or by phone at a time that best suits.
Further information about the service can be found on the Dementia Support Australia website https://www.dementia.com.au/ or by calling the 24 hour helpline 1800 699 799 and speaking with one of their team's dementia consultants.
New Palliative Care Information Service
 
Palliative Care Connect is a statewide service that provides information and links to palliative care and bereavement supports in South Australia. An information line is available for people with life-limiting illnesses and their family members, friends, and carers, as well as health care professionals.
Palliative Care Navigators, available through the information line, provide information and service linkages. They also support general practitioners and other health care professions, including those who work in palliative care units, acute care, and aged care services to organise and link people to appropriate palliative care, supports, or services. In 2024, Palliative Care Connect will feature a new website, improved volunteer coordination, and access to bereavement supports. 
Call 1800 725 548, Monday to Friday from 8:30am - 4:00pm, or email health.pcnavigation@sa.gov.au. 
Look Good Feel Better - Free Community Service Program
Look Good Feel Better is a free, national community service program, run by the Cancer Patients Foundation. Look Good Feel Better have been operating in Australia for 33 years and offers free in-person and online workshops and Confidence Kits to help people with any type of cancer manage the most common physical and psychological impacts of treatment. Their workshops cover topics from skincare, cosmetics, and headwear options, through to grooming, fitness, mobility, and mental wellbeing. Their Confidence Kits contain a range of skincare and cosmetic products, in addition to practical written and video guides. The program is open to anyone undergoing any type of treatment for any type of cancer, anywhere in Australia. Click here for resources designed for health professionals.
Individuals can self-refer into the program.
Health professionals who wish to order resources or require further information can reach out via info@lgfb.org.au
A highlight of research and consultation opportunities for primary health care providers.
Adelaide PHN distributes Primary Links to provide beneficial and relevant information. The content is sourced from credible organisations, but please note we do not undertake extensive quality reviews. While the Australian Government helped fund this document, it has not reviewed the content and is not responsible for any injury, loss or damage however arising from the use of or reliance on the information provided herein.
We acknowledge the Kaurna peoples who are the traditional Custodians of the Adelaide region. We pay tribute to their physical and spiritual connection to land, waters and community, enduring now as it has been throughout time. We pay respect to them, their culture and to Elders past and present. We would also like to acknowledge and pay our respects to those Aboriginal and Torres Strait Islander people from other Nations who live, work, travel and contribute on Kaurna Country.
Marni Naa Pudni "Welcome"