Click here if you are having trouble viewing this message. If images are not appearing, try pausing Adblock.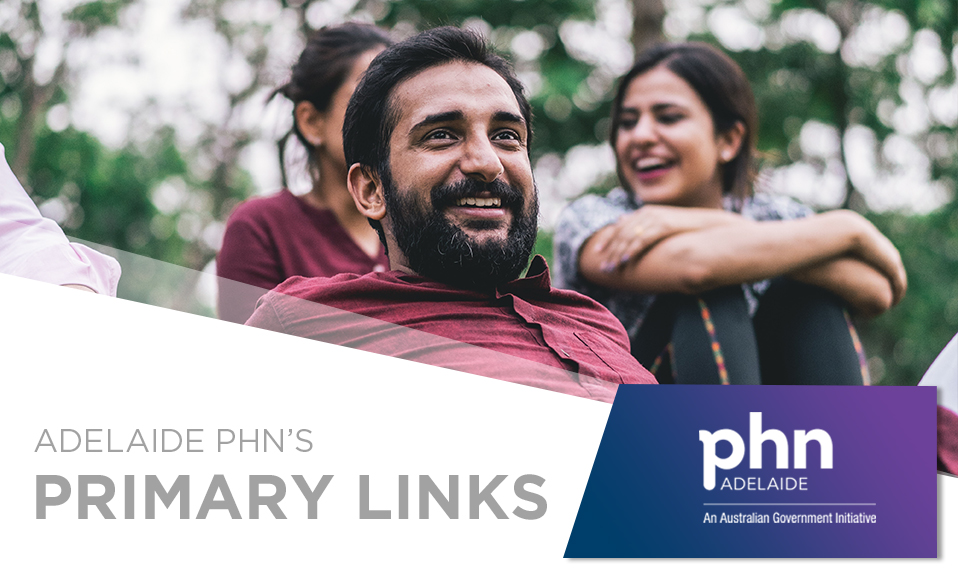 EDITION | 9 November 2023
A highlight of Adelaide PHN current activities. Find more Adelaide PHN announcements via our website here.
We Are Pleased to Announce the Launch of our 2022-23 Annual Report. 
Our Annual Report showcases the breadth of our achievements, the depth of our impact, and the trajectory that lies ahead for our organisation. It demonstrates our commitment in shaping the health system and delivering better outcomes to our community. 
Key achievements from across the year include:
Establishing South Australia's first Safe Haven site in Salisbury, supporting those experiencing psychological distress in the north of Adelaide.

Commissioning care finder organisations across our region, supporting people in navigating the health system and accessing appropriate levels of care.

Establishing Australia's first Aboriginal Internship Program.
To learn more about our commitment to shaping the health system and delivering better outcomes to our community, please visit adelaidephn.com.au/annualreport.

Marion Medicare Urgent Care Clinic is Now Open for Patients Needing Care for Urgent, but (Non) Life-Threatening, Health Conditions.
The Marion Medicare Urgent Care Clinic is located at 453 Morphett Rd, Oaklands Park SA 5046. 
The Medicare Urgent Care Clinic provides timely care for our community in a general practice setting, for things like sprains and fractures, cuts, wounds, minor illnesses, infections, and burns. 
Walk in, no appointment or referral needed.

Bulk billed.

Open 7 days a week, from 10am to 8pm.

Staffed by doctors and nurses.

Avoid waiting in a hospital emergency department.  
The Medicare Urgent Care Clinic program is supported by funding from Adelaide PHN through the Australian Government's PHN Program.
Procurement Process Completed for Northern Adelaide Head To Health Centre.
Adelaide PHN is pleased to announce that it has successfully completed the procurement process for commissioning the Northern Adelaide Head To Health Centre for the period from October 2023 to June 2025, with Sonder selected as the commissioned service provider.
The centre will offer immediate, short, and medium-term support, service navigation, and provide a welcoming, low stigma, soft entry point environment. This will support people experiencing distress, crisis, or mental health conditions that are too complex for many existing primary care services.  
Sonder commenced establishing the centre in October 2023 and services are expected to begin in Elizabeth CBD in April 2024.
If you have questions about the new service, please access the Northern Adelaide Head To Health Centre listing through our service directory.
Comprehensive Medical Assessment for Residential Aged Care Homes - Pathway Now Live.
A Comprehensive Medical Assessment (CMA) provides a structured opportunity to plan and review the health, physical, and psychosocial wellbeing of people residing in aged care.
HealthPathways SA have recently launched their Comprehensive Medical Assessment for Residential Aged Care Homes Pathway. In line with the RACGP Aged Care Clinical Guide (Silver Book), the CMA pathway provides multidimensional guidance on identifying care needs to guide timely care planning.
If you are a health professional in South Australia and would like to have access, register now. For more information about HealthPathways SA visit the Project Site or contact the team via enquiries@sahealthpathways.com.au.
This Pathway was developed by HealthPathways SA, which is a partnership between Adelaide PHN, Country Adelaide PHN, and SA Health.
Alternatives to Suicide (Alt2Su) Groups.
Adelaide PHN, in partnership with Wellbeing SA and Country SA PHN has provided funding for LELAN to pilot the Alternatives to Suicide (Alt2Su) approach in South Australia.
Alt2Su are run as peer-led community-based groups, centred on mutual connection and meaning making around suicide distress, thoughts, and experiences. The approach (developed by the Wildflower Alliance) responds to suicide differently, not trying to fix or eliminate suicidal thoughts, but sitting with them however uncomfortable that may be. This allows for conversation that focuses on why someone might be feeling that way, instead of fixating on the act of suicide itself.  
Face-to-face groups are being held throughout November. To learn more or book a session, please visit the LELAN website.
Please see below the next round of Initial Assessment Referral and Decision Support Tool (IAR-DST) group training for GPs.
GPs who complete the training will:

If you are a GP practicing in metropolitan Adelaide and haven't yet undertaken the training, please watch this short explainer video to learn more about the tool and see what benefits it can bring to your practice, or visit our website.
A highlight of upcoming local professional development opportunities for primary health care providers. Find more events via our website here.
A highlight of news relating to the delivery of primary health care in Adelaide. Find more Adelaide PHN announcements via our website here.
Expressions of Interest Are Now Open for APNA's Building Nurse Capacity Program.
Building Nurse Capacity helps Primary Health Care (PHC) nurses develop their own nurse-delivered, team-based care models (also known as nurse clinics) from the ground up. Successful clinics receive 18 months of expert support from APNA and a $12,000 incentive payment, with the possibility of an extension.
Who can apply?
The program is open to nurses and nurse practitioners working in PHC anywhere in Australia, in any setting. Ideas for clinics must focus on one of Australia's five priority health areas:
Cardiovascular Health.

Diabetes Mellitus.

Cancer Control (screening and prevention focus).

Mental Health.

Injury Prevention and Control (healthy ageing and frailty focus).
Click here to submit an expression of interest
before January 5 2024.
DVA: Glucose Monitors for Patients with Diabetes.
As of 1 November 2023, requests for Continuous Glucose Monitors (CGM) can be prescribed by a client's GP, diabetes educator, diabetes clinic, Registered Nurse, and/ or specialist.
Initial order requests for Insulin Pumps, through the Diabetes Products Order Form, must be made by an Endocrinologist. Replacement requests can be prescribed by a suitably qualified health provider (i.e. GP, diabetes educator, diabetes clinic, etc).
Veteran Gold Card holders, or White Card holders with diabetes are eligible as an accepted condition.
For more information on diabetes products, or DVA's diabetes support services and resources, visit the DVA website. Or for information on eligibility, and how to assist a patient make a claim, visit the DVA website or call 1800 VETERAN.
A highlight of resources to support primary health care providers. Find more Adelaide PHN resources via our website resource library here.
New 3-Hydroxy-3-MethylGlutaryl Coenzyme A Reductase (HMGCR) Antibody Assay.
SA Pathology Immunology Directorate is offering a new HMGCR autoantibody assay.
HMGCR autoantibodies are used as a biomarker of immune mediated necrotizing myopathy (IMNM) associated with lipid lowering drugs (statins).

Measurement of HMGCR autoantibodies constitutes an important part of clinical work-up for patients with myositis. Detection of these antibodies in the serum has high sensitivity and specificity for statin-associated IMNM.
The cost of the test is $33. As this test is a non-MBS item, all GP-referred requests must be accompanied by a completed Agreement to Pay form.

For more information, please contact the Flinders Medical Centre Immunology Laboratory on 8204 4295 or on-call Immunopathologist on 8222 3000.
Face Dementia Campaign.
Face Dementia is a public awareness campaign currently running in Adelaide until September 2024. The campaign is part of a research project led by the University of Sydney in conjunction with six Australian universities. The research aims to increase awareness of dementia, reduce dementia-related stigma, and improve timely diagnosis. 
Activities include public educational, community, and social media events, as well as a website and printed resources.
People with concerns are encouraged to complete a checklist of dementia symptoms and changes and to ask their GP for an assessment. Please note, the checklist is not intended to diagnose dementia, it is a tool to help people have conversations with their GP and/ or practice nurse, as well as their family. The checklist resulted from a literature review of existing tools and was refined by a panel including specialist doctors and GPs.
One Talk at a Time.
Child sexual abuse is far too common, but we all have the power to prevent child sexual abuse and support the safety and wellbeing of children and young people in Australia. 

Just over 1 in 4 Australians have experienced some form of child sexual abuse. Child sexual abuse can lead to a range of short- and long-term effects on health and wellbeing, including health risk behaviours, mental health disorders, and increased health service utilisation.

Having ongoing conversations with children, young people, and other children about child sexual abuse can help prevent child sexual abuse but it can be hard to know how to have these conversations. The Australian Government has released the One Talk at a Time campaign to support adults with children and young people in their life to have these conversations. 

Click here to learn more and access a range of supportive resources.
A highlight of research and consultation opportunities for primary health care providers.
Adelaide PHN distributes Primary Links to provide beneficial and relevant information. The content is sourced from credible organisations, but please note we do not undertake extensive quality reviews. While the Australian Government helped fund this document, it has not reviewed the content and is not responsible for any injury, loss or damage however arising from the use of or reliance on the information provided herein.
We acknowledge the Kaurna peoples who are the traditional Custodians of the Adelaide region. We pay tribute to their physical and spiritual connection to land, waters and community, enduring now as it has been throughout time. We pay respect to them, their culture and to Elders past and present. We would also like to acknowledge and pay our respects to those Aboriginal and Torres Strait Islander people from other Nations who live, work, travel and contribute on Kaurna Country.
Marni Naa Pudni "Welcome"